A rare 16th century copy of the Holy Quran written in gold ink preserved by a Rashtriya Swayamsevak Sangh-inspired organisation is kept on display at the 108th Indian Science Congress (ISC) currently being held Nagpur in Maharashtra.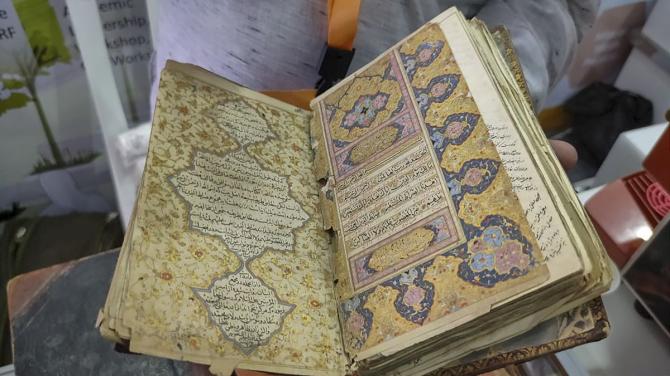 An official of the organisation that has displayed the gold ink Quran on Tuesday said there are only four copies of this holy book in the world.
The copy of the Quran and some ancient manuscripts, a few of them believed to be centuries old, are displayed at a stall put up by the Nagpur-based Research For Resurgence Foundation (RFRF) at the ISC exhibition.
RFRF is the research wing of Bhartiya Shikshan Mandal and works for preserving ancient Indian knowledge systems and implementing it in the present perspective.
The mandal was formed to accomplish a national resurgence in the field of education, according to its website.
"This gold ink Quran was written in the 16th century. There are only four copies of this Quran in the world," RFRF Knowledge Resource Centre Director Bhujang Bobade told PTI.
Bobade, who is also the principal investigator at the National Manuscript Authority in New Delhi, said the footnotes in this Quran are written in the Nastaliq script.
He said Nastaliq and Kufi are the two scripts used in Persian. Nastaliq is considered the world's best script.
Another speciality of the rare gold ink Quran manuscript is it contains 385 pages without a single mistake.
"There are 385 pages with miniature writings in gold ink. But despite the small size, there is not a single mistake on any of these pages. This is the uniqueness of this book," said Bobade.
He said the copy of the Quaran was given to them by the family of Diwan of the Nizam of Hyderabad.
The advisor to Iran's President had specially visited to see the RFRF collection, he said.
He said RFRF has 15,000 manuscripts of Indian history, religions and sciences of ancient India.
"The world knows about Akbarnama written by Abu Fazal in 1577. RFRF has that book but we also have Tibb-e-Akbar written in Persian which the world doesn't know about. Tibb-e-Akbar was written in the 17th century," Bobade said.
He said RFRF's collection also includes Taarikh-e-Taj which explains the history of the Taj Mahal.
"The world knows about the Taj Mahal but they do not know its actual history like the exact date when Mumtaz Mahal died. Taarikh-e-Taj states Mumtaz Mahal died on June 17, 1631 on Wednesday at 9.30 pm. Similarly, it also mentions who all worked there and the locations from where stones and marbles were brought," Bobade said.