'How can we forget their deaths? It may be easy for others, but not for us.'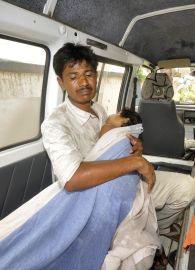 Not a single child in the Bihar village where the midday meal tragedy killed 23 children last month has attended school since.
One parent, Pano Devi, told Rediff.com that she is not prepared to send her daughter Nisha Kumari to the government school or eat free lunch there via the midday meal scheme.
Pano Devi lost two children in the July 15 tragedy.
A resident of Dharmasati Gandaman village in Bihar's Saran district where the children died after they ate the midday meal at a government primary school, Pano Devi insists she will send her daughter to a private school instead of a government school.
"I don't want her to die," she says.
Pano Devi is not alone.
"We will not send our children to the same school," says Rameshwar Mahto who lost three grandchildren in the tragedy.
Sanju Devi, another parent in the village, told Rediff.com over the telephone from the village, which is located about 120 km from the state capital Patna, "We will not take any chances. We have lost trust."
Mahto, who often visits the ground near the school where all the children were buried after the tragedy, asks, "How can we forget their deaths? It may be easy for others, but not for us."
Amarjeet Sinha, Bihar's principal secretary, education, says the state government has shut the primary school and clubbed it with a middle school in the village.
Early this month, 22 of the 24 children who survived eating the contaminated midday meal that horrific day were discharged from a Patna hospital. Two other children were discharged later.
Saran District Magistrate Abhijit Sinha says a memorial will be set up at the school in Gandaman village.
The Special Investigation Team probing the tragedy has yet to issue its final report.
Meena Devi, the school principal, who was charged with murder and criminal conspiracy, is in judicial custody. The report of a lie detector test she underwent is awaited.
A court rejected Meena Devi's bail application early August, says Saran Superintendent of Police Sujit Kumar.
The police raided her home twice and allegedly recovered a bottle of pesticide whose traces were suspected to be present in the midday meal.
District officials allege that Meena Devi forced the school cook to use contaminated cooking oil, over-ruling the latter's objections that it had a strange smell.
A forensic lab report confirmed traces of insecticide in the cooking oil which was used to cook lunch that day, the police say.
Sixteen million children in 72,000 schools across Bihar eat the midday meal every school day.
Photograph: Reuters