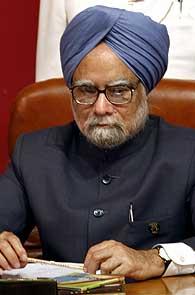 Criticising the Congress-led United Progressive Alliance government at the Centre for the country's economic situation, Bharatiya Janata Party President Rajnath Singh on Wednesday said the nation's fiscal health was deteriorating despite having an economist as the prime minister.
"The reins of the country should be in the hands of a man of steel instead of a 'man of still'. A person who never speaks should not be the prime minister of the country," he said in a veiled attack on Prime Minister Manmohan Singh.
"The country does not need an economist prime minister, but a realistic one," Singh told a rally of BJP workers during his first visit to Assam since becoming the party's national president in January.
Referring to the country's financial situation, he claimed that inflation was under control during the BJP-led National Democratic Alliance's rule.
"But now, everything is becoming costly. Fiscal deficit and current account deficit are rising," he said.
The devaluation of the rupee is a 'well-made' conspiracy by Congress as its leaders were now withdrawing black money stashed in Swiss banks, Singh alleged, adding that wrong economic planning and corruption by the Congress government were responsible for the country's financial woes.
Singh also warned the PM, who is a Rajya Sabha Member of Parliament from the state, of the alleged 'gradual and serious demographic change' in Assam due to the continuous illegal influx of Bangladeshis.
He urged the Centre to initiate a dialogue with the neighbouring country to stop it.
"Manmohan Singhji, please speak up and show some will power. You have ruled the country for nine years. Please raise the issue (of illegal immigration) with Bangladesh as it is going to cause serious demographic changes in the entire north east," he told the rally.
The country needs strong relations with its neighbours but it should not allow illegal migration, he added.
BJP Vice President and state in-charge S S Ahluwalia was also present in the meeting.