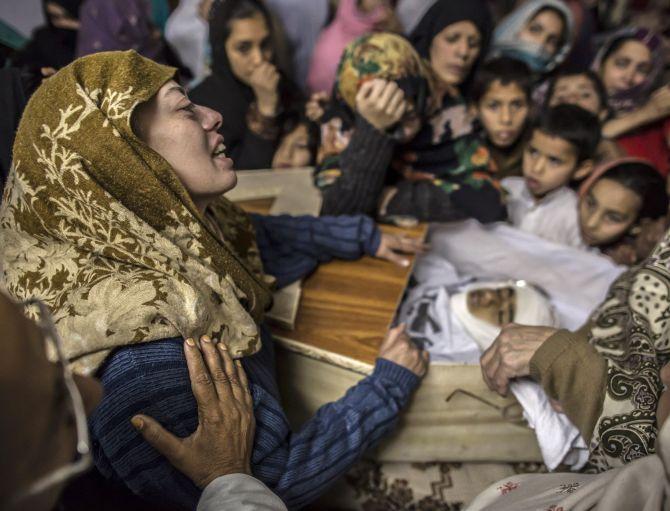 A mother mourns her son Mohammed Ali Khan, 15, a student who was killed during an attack by Taliban gunmen on the Army Public School, at her house in Peshawar. Photograph: Zohra Bensemra/Reuters
On Tuesday, Taliban terrorists barged into the Army Public School in Peshawar and began firing on all present there. They took no hostages, did not discriminate between the young and old and killed as many as they could.
They killed 132 children and nine others during their eight-hour rampage.
Some students, who were lucky enough to escape, recount their horror and the massacre that unfolded in front of them.
These are some of their tales:
"A lot of children are under the benches, kill them," is what a Taliban terrorist said as he and his group of men made their way through the hallways of the Army Public School in Peshawar, terrorizing and shooting children on Tuesday morning, said Ahmed Faraz, who was shot in the shoulder by the gunmen.
Ahmed Faraz, a ninth-grader who escaped the massacre which has claimed the lives of 132 children and 9 staffers, recalls how he was in the auditorium when the terrorists barged in. "I hid under a bench, but my shoulder was peeking out and they shot me," he said, adding, "When they went to the other room, I ran to the exit."
---
'The only thing they told us is 'read the kalma'
Another teenage survivor, Shahrukh Khan, described how he played dead after being shot in both legs to escape from the militants as they rampaged through the school, hunting for people to kill.
The 16-year-old said he and his classmates ducked below their desks when four gunmen burst into their room. "I saw a pair of big black boots coming towards me, this guy was probably hunting for students hiding beneath the benches," Khan said, adding that he decided to play dead after being shot in both legs, stuffing his tie into his mouth to stifle his screams."
---
'I saw the bodies of my friends, some shot 3 or 4 times'
Aamir Ali, a second-year engineering student, said, "I was sitting in the corridor with 10 of my classmates when we heard firing. We immediately ran towards the classroom to hide there but they chased us down and found us. They were dressed in shalwar kameez and the only thing they told us is: 'read the kalma'."
Another student with tears in his eyes said that when they came out of hiding and moved towards the exit of the school they saw the dead bodies of their friends. "I saw dead bodies of my friends lying in the corridors. They were bleeding. Some were shot three times, some four times."