Days before Narendra Modi arrives in the US to speak at the UN, meet Barack Obama, gupshup with the likes of Nadella, Pichai, Zuckerberg, and address desis in Silicon Valley, his ministers will help set the commercial and strategic tone for the prime minister's visit.
Aziz Haniffa/Rediff.com reports from Washington, DC.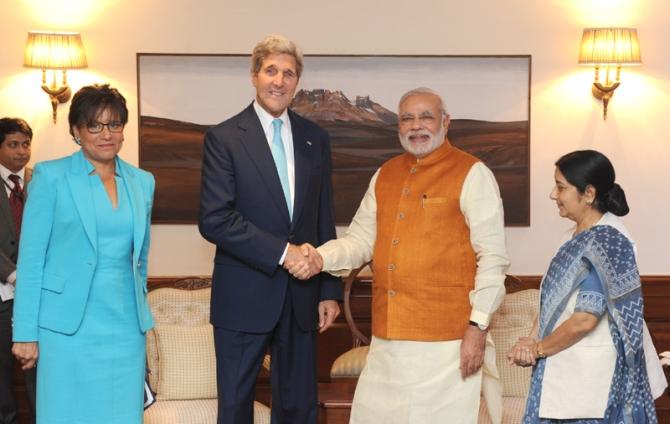 IMAGE: US Secretary of State John Kerry, second from left, and US Secretary of Commerce Penny Pritzker, left, with Prime Minister Narendra Modi and External Affairs Minister Sushma Swaraj in New Delhi, August 1, 2014.
Kerry, Pritzker and Swaraj will star in the events leading up to Modi's US visit. Photograph: Press Information Bureau
Four days before Prime Minister Narendra Modi arrives in the United States for his third meeting with President Barack Obama -- this time in New York -- preceded by a visit to Silicon Valley, a flurry of warm-up acts in Washington, DC -- even though Modi will not visit the nation's capital -- are on tap.
These meetings, that will manifest the highest level of US-India engagement since Obama's visit to New Delhi in January will star the likes of Vice-President Joe Biden, Secretary of State John F Kerry, Energy Secretary Dr Ernest Moniz, Commerce Secretary Penny Pritzker, and senior Indian ministers, External Affairs Minister Sushma Swaraj, Minister for Coal, Power and Renewable Energy Piyush Goyal and Commerce Minister Nirmala Sitharaman, along with the who's who from America Inc and India Inc.
All of these interactions will take place on the margins of the first-ever US-India Strategic and Commercial Dialogue September 21-22 co-chaired by Kerry and Pritzker, who will lead the US team and Swaraj and Sitharaman who will lead the Indian delegation.
Indian Ambassador Arun Kumar Singh said the decision to expand the India-US Strategic Dialogue to include Commercial was a consequence of Obama's visit to India.
"Lots of events happening around this Strategic and Commercial Dialogue reflecting ongoing activity related to trade and economic cooperation and the potential in this area," was an acknowledgment by the US of India's critical role globally, a role that could be enhanced by India's growth as an economic powerhouse.
During "President Obama's visit, the two countries set a target of $500 billion (in bilateral trade) annually (from the current $100 billion) and clearly find new ways and mechanisms to deepen this relationship," the ambassador added.
"This will happen," Ambassador Singh predicted, "as we progress further in Make in India in terms of expanding infrastructure in India and as we tap the opportunities that are there in the digital economy, renewable energy, and other areas."
He reiterated that the high-level engagements both at the official and unofficial levels encompassing India Inc and America Inc, and including leading policy wonks from think-tanks in the US from the Carnegie Endowment for International Peace to the Peterson Institute for International Economics "reflects the desire on both sides to deepen this relationship."
The kick-off of these discussions began with the much respected and admired American economics guru C Fred Bergsten, Director Emeritus, Peterson Institute of International Economics, and a close friend of former prime minister Manmohan Singh, releasing his new report, India's Rise: Toward Trade-Led Growth, emphasising the importance of trade policy to Indian reform, and on US-India economic relations in the global political context.
At 8 am on Monday, September 21, Sitharaman is scheduled to release a NASSCOM report pointing to the importance of India's IT sector to the US economy and which details the full-scope of these companies and Indian professionals not only in growing this sector in the US, but also the jobs it creates while tying it all in to the debate surrounding immigration and H-1B visas, which Republican party presidential front-runner Donald Trump and other right-wing conservatives want to eliminate.
This will be followed by Sitharaman and Pritzker participating in a half-day programme sponsored by the Carnegie Endowment titled, US-India Economic Ties: Ready for Take-Off? to discuss the prospects for transformed economic ties between Washington and Delhi.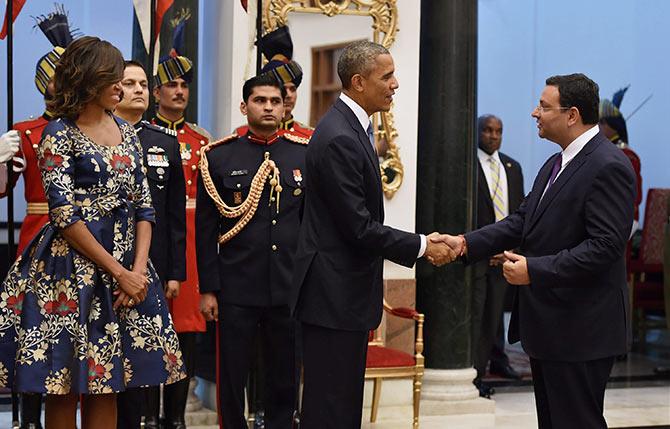 IMAGE: US First Lady Michelle Obama looks on as US President Barack Obama shakes hands with Tata group Chairman Cyrus Mistry, one of the star speakers at the Washington, DC events. Photograph: Vijay Verma/PTI
Besides a conversation between Pritzker and Sitharaman, leading American and Indian CEOs, including the likes of Michael S Burke, David M Cote, Charles R Kaye, Kiran Mazumdar-Shaw, Cyrus P Mistry and Sunil Bharti Mittal will brainstorm on how to deepen the bilateral economic engagement.
Later, the US-India CEOs forum led by Cote of Honeywell and Mistry of the Tatas will also take place as part of the US-India Strategic and Commercial Dialogue.
The Carnegie meeting will also include a discussion on the Economic and Strategic Imperatives of Enhanced Bilateral Trade featuring Dr Bergsten, Pravin Krishna, and Mumbai-born Dr Ashley J Tellis, Senior Associate at Carnegie and one of the US' foremost strategic experts.
Simultaneously, at the Washington Marriott Wardman Park hotel, the 6th US-India Energy Partnership Summit titled, US-India: Past Cooperation, Future Strategies and New Opportunities will take place co-chaired by Moniz and Goyal.
Among those billed to participate are former US energy secretary Steven Chu, former administrator, US Agency for International Development Dr Rajiv Shah and President Obama's Chief Science Adviser John Holdren.
Following the Carnegie conference, Pritzker and Sitharaman will head for the Hay Adams Hotel to attend a reception organised by the Confederation of Indian Industry and Indiaspora focusing 'on the critical role of the Indian Diaspora in the context of the US-India bilateral commercial partnership.'
M R Rangaswami, Silicon Valley entrepreneur and the founder of Indiaspora, told Rediff.com that the reception titled Celebrating the Dynamic Indo-American Diaspora would be just that with Pritzker and Sitharaman acknowledging the catalytic role played by the Indian-American community.
"The three million strong Indian Diaspora in the United States is heavily invested in the American political and economic landscape," Rangaswami said, adding, "This highly educated Indian-American community is not only a game changer in fueling India's growth on the global arena, but also is the solid foundation to deepen the critical US-India political and economic ties -- covering a wide range of areas including politics, medicine, science, and business."
"Indian Americans," he noted, "have carved a niche for themselves as critical human capital who are very much part of the social fabric that creates the everyday American story of success."
The highlight of all these events on the sidelines of the US-India Strategic and Commercial Dialogue is the 40th anniversary celebration of the US-India Business Council scheduled for the same evening and to feature Biden, Kerry, Swaraj Sitharaman and other high-ranking American and Indian government officials, along with captains of industry from both countries in the Mellon Auditorium of the headquarters of the US Chamber of Commerce, where USIBC is housed.
'The founding principle of the Council,' USIBC Chairman and Mastercard President and CEO Ajay Banga said, 'four decades ago -- which grew out of the vision of then Secretary of State Henry Kissinger -- remains even more true today: The world's largest democracies share a love of freedom and an entrepreneurial spirit that -- if nurtured -- can help realise the full potential of India-US relations.'