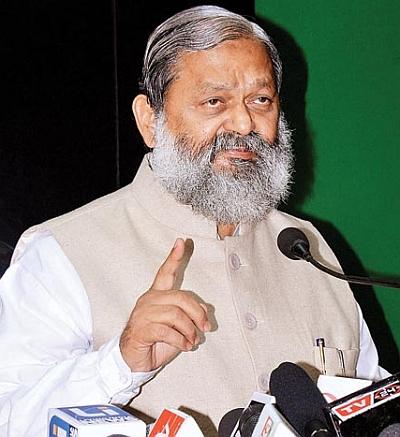 A Hindu can never be a terrorist and there cannot be any term like "Hindu terrorism", senior Haryana minister Anil Vij said on Wednesday, debunking that the 2007 Samjhauta Express train blast was the handiwork of a group having right-wing leanings.
The outspoken health minister alleged that the former Congress-led central government had engineered a "political plot" in the blast case to show that "Hindu terror exists".
"A Hindu cannot be a terrorist... A Hindu can never be a terrorist and there cannot be any term like Hindu terrorism," he told reporters in Chandigarh after some media reports suggested that the main suspects in the blast case were Pakistanis who had been allowed to leave the country during the United Progressive Alliance government.
"It is a very serious matter that Pakistanis who were caught were let off. And people of this country were arrested and branded as Hindu terrorists. This was the previous Congress-led UPA government's game. Those Pakistanis must have been freed at the behest of the then government," Vij said.
"Now, those who were freed are enjoying in Pakistan. Investigations are under progress, but they are not replying to the summons," he said.
Sixty-eight people were killed in the blasts in two coaches of cross-border Indo-Pak Samjhauta Express in Panipat in Haryana on February 18, 2007.
In March this year, a special National Investigation Agency court had issued summons to 13 Pakistani witnesses for deposing before it in connection with the case next month.
Attacking the Congress, Vij said, "Their motive was to establish political plot that in India Hindu terrorism exists, whereas the truth is that a Hindu cannot be a terrorist. There cannot be any terminology like Hindu terrorism."
He went on to add, "If a Hindu were to be a terrorist, then terrorism would not have been in the entire world. This menace would have been wiped out."
The National Investigation Agency had on June 20, 2011 filed the charge sheet before the special court at Panchkula under various provisions of the Indian Penal Code and Unlawful Activities (Prevention) Act against five persons -- Naba Kumar Sarkar alias Swami Aseemanand, Sunil Joshi (now dead), Lokesh Sharma, Sandeep Dange and Ramchandra Kalasangra alias Ramji.
The case pertains to the criminal conspiracy which resulted in bomb blasts in the Attari Express (Samjhauta) train near Panipat.
"Due to political reasons, the then Congress government ... wanted to show that Hindu terror exists because of which they played this game," Vij alleged.