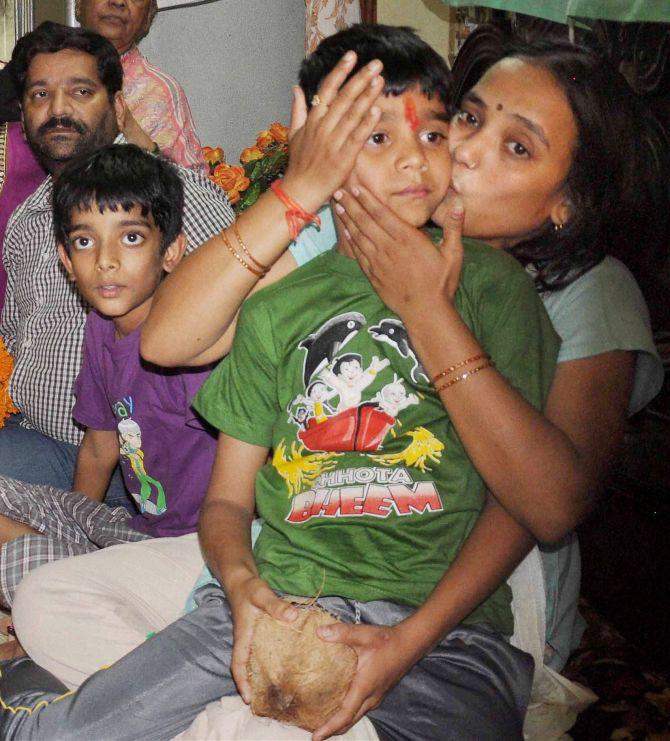 An eleven-year-old boy, who went missing nine days ago in Bhopal, was found abandoned in a forest adjacent to Ghari area on Sunday, police said.
"A teacher, Mohansingh Evna was passing on his motorbike near the forest when he saw Nishant Jhope, clad only in underwear, surrounded by monkeys. He was crying for help. Evna in turn informed us," Gharatganj police station inspector Sudhakar Barsakar said.
The class 5 student had gone missing while on his way to school in the state capital on August 14. He was reunited with his father, Barsakar added.
Nishant has so far told police that two persons had dropped him in the jungle saying his uncle will pick him and take him home, the officer said.
Meanwhile, Bhopal Senior Superintendent of Police Raman Singh Sikarwar told reporters in the state capital that "the abductors, who are possibly three, had demanded ransom of Rs 50 lakh for the release of the boy".
He said one of the kidnappers remained put in Bhopal and made calls for ransom every night from August 16 to August 22 to Nishant's parents.
The kidnapper used a particular cell number to make calls, the SSP added.
Sikarwar further said that police picked up two persons working in a mobile shop in Sehore district from where the kidnappers had purchased the SIM card by submitting fake identity papers.
"This suggests that the two kidnappers stayed in Sehore district with the abductee while another camped in Bhopal during the entire episode," the SSP said.
State Home Minister Babulal Gaur had announced a reward of Rs 50,000 for information on Nishant's whereabouts.
Policemen and local intelligence agencies had been trying to trace Nishant.
Chief Minister Shivraj Singh Chouhan had recently issued directives to officers to intensify a drive to trace missing children in the state in the wake of Nishant's disappearance.
Chouhan had also asked authorities to ascertain if any organised racket was behind the kidnappings of children.
Image: Nishant Jhope reunited with his mother after he was found in a forest near Bhopal by a teacher passing by. Photograph: PTI
© Copyright 2023 PTI. All rights reserved. Republication or redistribution of PTI content, including by framing or similar means, is expressly prohibited without the prior written consent.