A Ganesh Nadar meets the stunned father of Alexis Prem Kumar, the Indian Jesuit priest who was abducted by the Taliban in the Herat province of Afghanistan.
Alexis Prem Kumar, the Indian Jesuit priest who was abducted by the Taliban in the Herat province of Afghanistan on June 2, was the country head of the Jesuit Refugee Service. He belongs to Variyanvayal village near Devakottai in Sivaganga district of Tamil Nadu.
"Why would anyone abduct a Jesuit priest?" asks his old and stunned father A S M Antony to anyone and everyone who cares to listen to him.
The father, a retired teacher, lives with one of his sons. Two of his five children have opted for the service of God.
"Alexis is 47 now. He did his masters and embraced priesthood. He is my eldest son. One of my daughters, Elizabeth, too is in the service of God. She is a sister and principal of a convent in Vellore."
"Alexis had a one-month break in February this year. One week he spent in his office in Delhi and was here for three weeks. He was happy to be home. He told me that though Afghanistan was still reeling under regular violence and militancy, the area he was working in was peaceful and I should not worry about him," Antony says.
"He used to call us once a week, either on Saturday or Sunday. He would speak to everyone at home. I have never called him and I don't have his number. I also don't have his address. I never asked him," says his father who seems to be numbed by the pain.
His mobile phone rings continuously and he tells most people that he doesn't know the latest news. According to latest agency reports, there have been some arrests in the case and a search has been launched for Prem Kumar. Some reports say he has been traced and is safe.
"An official from the ministry of external affairs in Delhi called us to tell us that he was missing. The Jesuits run a school in our area. I immediately called and asked them. They made inquiries and confirmed to me that he had been abducted," Antony said.
"He was with three other locals when this happened. There were five armed gunmen. They told the locals to leave and took him away. Why would anyone want to kidnap a Jesuit priest? He was working for the poor there. Why?" he says, his voice breaking.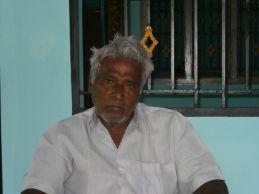 Antony's cousin along with his wife had come to console him. They told him to be practical and wait, to pray, and that they would also pray for his son. "That is all we can do, nothing else, you are a journalist, you must be having journalist friends in Afghanistan, call them and find out. Will you please let me know," they said.
Alexis Prem Kumar became a priest when he was 25. Afghanistan was not his first posting abroad, he was in Sri Lanka for a year working with displaced Tamils.
In India too he used to work in the Lankan refugee camps. He has also worked in the Kodaikanal hills among tribals and made them send their children to school.
He joined the Jesuit refugee service six years ago. He was their India head before moving to Afghanistan as country head there. He has been in Afghanistan for the last three years.
Images: (Top) Alexis Prem Kumar blesses a child and (below) his father A S M Antony.