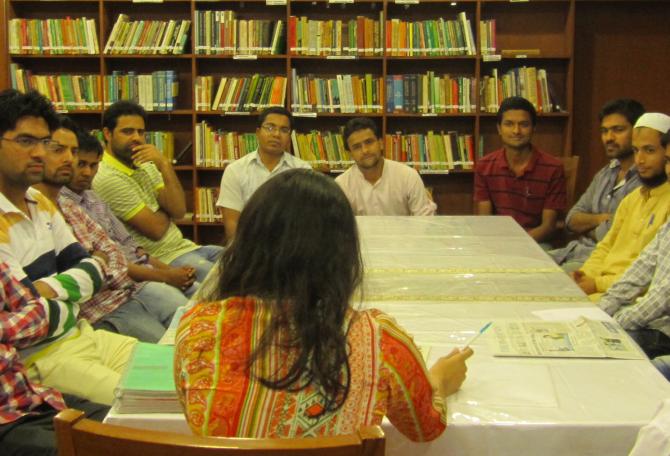 The Zakat Foundation of India runs welfare initiatives for the destitute and helps with the education of poor students. Upasna Pandey/ Rediff.com discover the origins of this organisation
When Shah Faesel from Jammu and Kashmir topped the Civil Services Exam in 2010, it marked the beginning of a new dream. This year a new chapter was added after Afaq Ahmad Giri joined the ranks of those who made it through the Union Public Service Commission entrance examinations.
For Dr Syed Zafar Mahmood, who founded the Zakat Foundation of India, it is a realisation of dream to enable youth from minorities to join mainstream and be empowered.
"Ever since 2010, when Shah Faesal, who was the first from Jammu and Kashmir topped the civil services, we have seen a steady rise in awareness and interest in the national exams and we are supporting such aspirants," says Dr Sayed Zafar Mahmood, founding president of Zakat Foundation of India and Interfaith Coalition for Peace, which has been sponsoring civil service aspirants from Muslim and other minority communities.
The ZFI was set up in 1997 by Dr Zafar, who retired as a chief commissioner, income tax, in 2009.
He started with running welfare initiatives for the destitute and helping pay of tuition fees of poor students, support for widows, single women, among others.
But in 2007, Dr Zafar realised that more needed to be done.
"I was inspired by Sir Syed Ahmad Khan who in 1887 started the Mohammedan Civil Services Fund Association to finance the travel of Muslims to London to write the ICS examination. The Sir Syed Coaching and Guidance Centre for Civil Services was set up in 2007. In eight years, 63 of its students have cleared UPSC including the 15 in the current year, the 63 include seven Christians. Of the 40-odd it sponsored this year, 26 cleared the UPSC prelims and 15 made it to the selection list," he said.
Dr Zafar explains the reasons for setting up ZFI.
"Among Islam's five basic pillars, 'zakat' is the third. According to this mandate, each Muslim has to annually donate as charity 2.5 per cent of his wealth and annual savings. In addition, there is the 'sadaqah', an optional means of charity extending to all that is not needed by the family," Dr Zafar.
"The ZFI is a registered trust and it undertakes the organised collection and utilisation of zakat, sadaqah and other charitable donations. I got an opportunity to organise the Haj pilgrimages as part of the Indian consulate in Saudi Arabia, which was a great learning opportunity. Also, I served on the Sachar Committee, appointed in 2005 to ascertain the socio-economic condition of Muslims in India. The Committee travelled and met departments, miniseries across states, it was an exhaustive exercise. The main findings were that Muslims are lagging behind every field and there is need for institutional measures. I realised that the community needs to also take responsibility," recalls Dr Zafar.
There is an annual written test and interview for selection of ZFI `fellows' and the focus is to get an all India representation. "We are more keen to have girl aspirants as their representation is the poorest but there are not many coming forward for the coaching," laments Dr Zafar.
Zainab Saeed of West Bengal, qualified for UPSC on her third attempt this year. She told Rediff.com that "there need to be many more ZFI like organizations in smaller cities and towns. I came to Delhi to attend free mock interview sessions which were organised by ZFI, which proved very helpful."
"The core purpose is to assimilate Muslims, in more numbers, from different parts of the country, into the mainstream governance of the country. We need to inspire them, sponsor them and help prepare them better for the civil services. We organise orientation sessions across backward areas across the country to build awareness, I start by showing photographs of North Block and South Block and young district collectors, police officers, and revenue officers. I urge the youth that they could sit in these offices by appearing for civil services. This creates impact and there are people who show faith in ZFI," shares Dr Zafar.
Over the years, more people have shown confidence in giving charity for the civil service coaching program of ZFI.
ZFI allows students to choose best coaching institutes in Delhi. "ZFI provides hostel accommodation and we pay for the coaching fee which is around Rs 1.75 lakh per aspirant. It is around a 20 month cycle for each aspirant which includes preparation for prelims, mains and interview level," explains Dr Zafar.
Dr Zafar says that "Civil services are the most fair and institutionalised way of empowering people from diverse backgrounds. But unfortunately, sufficient numbers of Muslims are not appearing for civil services exams."
Yunice R Ismail, ZFI fellow from 2013, now posted as assistant collector in West Bengal, told Rediff.com that "in the poorer parts of the country, there is ignorance about the benefits and empowerment one gets by joining the civil services. Also, the coaching centres there are not of high quality."
Ismail, who belongs to Kerela, hopes to be part of the orientation for Muslim dominant areas such as Malappuram in the state. He is also using social media to reach out to create awareness about civil services.
"We need to bring more community role models and instil confidence in the youth," he adds.
Shahnawaz came to ZFI in 2013 and has attempted once to clear UPSC prelim exams.
"I have been focusing on my strategy to crack the prelims and then the interview. At ZFI, we get exposure to a diverse group of aspirants so we benefit in our preparations. Also, the group discussions, which are organised are enriching as these are done by retired or serving bureaucrats and prove to be beneficial. I spend around 12 hours every day for preparations and am confident I will make it in the next attempt," said Shahnawaz.
The steps may be small but it is important that a beginning has been made. More such efforts are needed to take the nation forward and ensure that no one is left behind.
Image: Students participate in mock interview sessions organised by ZFI. Photograph: ZFI