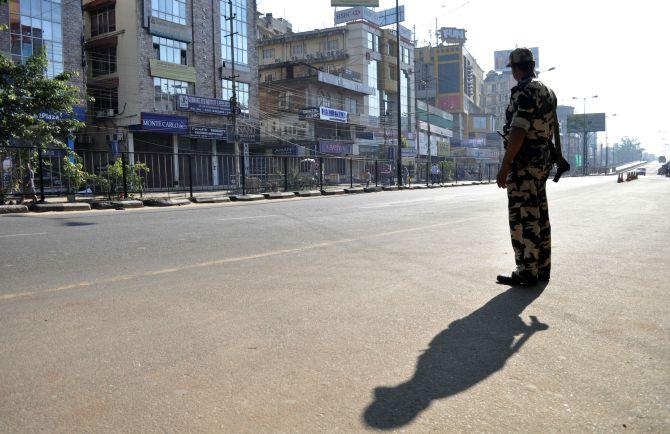 Normal life was paralysed in Assam during a 12-hour-long state-wide bandh led by the Bajrang Dal and supported by the Bharatiya Janata Party, Vishwa Hindu Parishad and several other organisations demanding action against the All India United Democratic Front and its leader Badaruddin Ajmal for alleged links with 'jihadi forces in Bangladesh'.
Around 70 Bajrang Dal supporters were arrested from all over the state for allegedly trying to damage property during the bandh, police officers said.
While government offices remained open in the capital city private sector organisations remained closed notwithstanding the directives issued by the government to defy the bandh.
The public transport system came to a grinding halt all over the state and city bus and truck services were rendered out of gear in Guwahati city.
Bajrang Dal and its allies were demanding the disbandment of the AIUDF and the arrest of its leader MP Badaruddin Ajmal after a media report revealed close links between the party and fundamentalist organisations in Bangladesh. The report alleged that the AIUDF was involved in sending Muslim youth from Assam to Bangladesh to undergo fundamentalist indoctrination.
Meanwhile, Ajmal has denied the media report and has termed it as "false, baseless and politically motivated."
"The AIUDF is committed to national security, sovereignty, integrity and unity. We have been taking a strong stand against terrorism. The news channel has telecast defamatory, baseless and motivated news against me and AIUDF on the basis of unauthentic intelligence report. We are dragging the channel to the court. It has put my personal image, my business, my political career and the prestige of my family at jeopardy," Ajmal said.
Meanwhile, Assam Chief Minister Tarun Gogoi said that the government was not going to take any action against the AIUDF or Ajmal on the basis of media reports as it did not have any evidence of AIUDF's link with jihadi forces. He, however, stated that there would be no compromise on national security.
Guwahati Senior Superintendent of Police Anand Prakash Tiwari said that 18 Bajrang Dal supporters were arrested from the city for trying to forcefully implement the bandh.
He added that the bandh supporters tried to obstruct traffic at many places by burning tyres but police cleared them immediately and picked up the activists.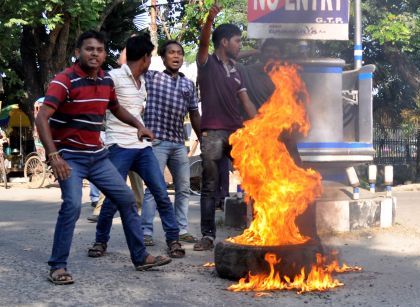 The BJP state unit has also extended its support to the bandh.
At Rangia in Kamrup district, 40 Bajrang Dal activists were arrested when they tried to stop railway workers from joining duty in the morning.
A senior police official said the Bajrang Dal supporters also attempted to block the Indo-Bhutan road at Sitara by allegedly burning tyres but they were arrested and the route was cleared.
The police resorted to mild lathi charge on protesters when they tried to block traffic and forcefully close some shops at Tezpur in Sonitpur district, a police officer said.
"Over 10 activists have been picked up," he said.
Patrolling has been enhanced and additional security personnel posted in vulnerable areas.
Additional Inputs: Agencies