Movement of at least 91 trains was affected in Punjab on Thursday as farmers in large numbers squatted on railway tracks beginning their three-day 'rail roko' agitation.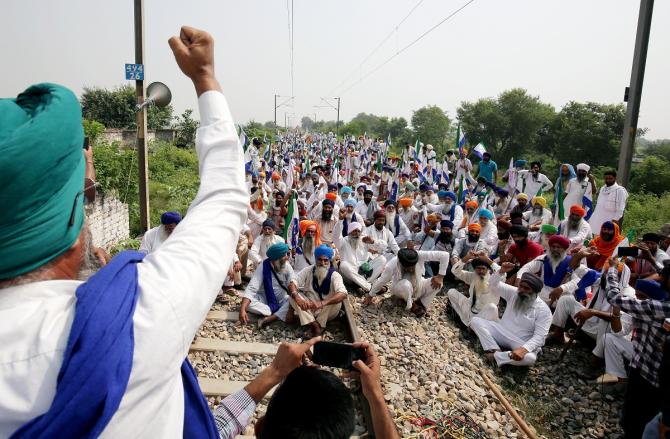 Farmers mounted their protest demanding a financial package for losses caused by the recent floods, a legal guarantee to minimum support price, and a sweeping debt waiver.
According to railway officials, out of 91 trains under the Ferozepur division, 51 trains were cancelled, 24 trains were short terminated, five trains were short originated, and 11 were diverted.
Protesters said they will carry out their agitation against the Centre till September 30.
On Thursday, farmers agitated at 17 places in Moga, Hoshiarpur, Gurdaspur, Jalandhar, Tarn Taran, Sangrur, Patiala, Ferozepur, Bathinda, and Amritsar.
In Amritsar, farmers squatted on the Amritsar-Delhi railway track in Devidas Pura.
Several farmer groups, including Kisan Mazdoor Sangharsh Committee, Bharti Kisan Union (Krantikari), BKU (Ekta Azaad), Azaad Kisan Committee Doaba, BKU (Behramke), BKU (Shaheed Bhagat Singh), and BKU (Chottu Ram), are participating in the protest.
Their demands include a financial package for the flood-affected people in north India, a legal guarantee for minimum support price, or MSP, on all crops, and a debt waiver for farmers.
Farmers want a Rs 50,000-crore flood relief package for north Indian states and MSP as per the recommendations of the Swaminathan Commission report, farmer leader Gurbachan Singh said in Amritsar.
He demanded waiver of the entire debt of farmers and labourers, and Rs 10 lakh and a government job in compensation to the kin of each farmer who died during the agitation against the now-repealed three farm laws.
In Hoshiarpur, members of Azad Kisan Committee Doaba staged a dharna at the local railway station.
Addressing a gathering, State President of Azad Kisan Committee Doaba, Harpal Singh Sangha, said it was imperative that the government bring a law on MSP to safeguard farmers against sharp price fluctuations.
Farmers are also demanding cancellation of all police cases registered against them during their 2020-21 Delhi border protest.
In Ferozepur, farmer leader Jasbir Singh Piddi said they obstructed railway tracks at Ferozepur Cantt Railway Station and Mallanwala Railway Station.
"Nineteen farmer unions, including Bharti Kisan Union (Krantikari), Bharti Kissan Union Behram Ke, Kisan Majdoor Morcha Punjab and others are participating in this protest against the union government," he said.