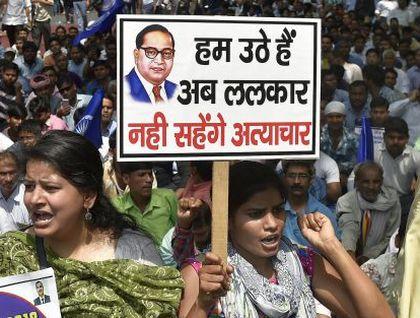 A first information report was registered against six people, including two village heads, for allegedly denying drinking water to a woman Dalit officer in Kaushambi, Uttar Pradesh.
A deputy chief veterinary officer was allegedly denied drinking water because of her Dalit identity in Ambawa Poorab village in Manjhanpur block, around 167 km away from the state capital Lucknow, on July 31.
A first information report under the SC/ST (Prevention of Atrocities) Act was registered against head of Ambawa Poorab village Shiv Sampat, Pankaj Yadav, the husband of Bhaila Makdoompur village head, Saibasa village head Ansar Ali, district panchyat member Jhallar Tiwari, District Panchayati Raj Officer (DPRO) Ravidutt Mishra, and Rajesh Singh at Manjhanpur police station, SP Kaushambi Pradeep Gupta said.
He said the matter is being thoroughly probed and strict action will be initiated against those found guilty.
The officer, Dr Seema, said she had gone to the village on the directions of the DPRO to review developmental works.
She claimed that she was not given water for two-and-a-half-hours despite her being a diabetic.
"I was told to visit the village only after contacting DPRO Ravi Dutt Mishra and BDC (block development chief) Tiwari, popularly known as Jhallar in the block. They behaved very abnormally with me, and when I asked for water, I was not given water for two-and-a-half-hours by six people sitting there. I am a diabetic. My arms and limbs started trembling and I had to rush out from there," Seema told PTI.
"I was also told that the bottle would get spoiled (if I drink water from it) and had to be thrown away," Seema said.
She alleged that when she sought water from the villagers, village head Sampat and the DPRO gestured them not not to give her water.
The opposition parties attacked the government over the 'rising incidents of Dalit atrocities' in Bharatiya Janata Party-ruled states.
While the Congress demanded that a high-level probe be ordered into the incident, the Samajwadi Party accused the BJP of 'not believing in the Constitution'.
UP Congress spokesperson Ashok Singh said: "Incidents of Dalit atrocities are continuously rising in the BJP-ruled states, including Uttar Pradesh. Dalit officials are being threatened and insulted. We have been raising this issue continuously and will continue to do so."
"People of the state are now well versed with the behaviour and character of the BJP and will give them a befitting reply in the elections. The government must conduct a high-level probe and take immediate action against the guilty. This is a question of the respect and honour of a section of society," Singh said.
When contacted, SP spokesperson Sunil Singh Sajan said: "When a Dalit MLA of the ruling party is visiting an ashram, and after her visit it is being purified with Ganga jal, then what can be said about this government. The slogan of 'Sabka Saath, Sabka Vikaas' is perhaps the biggest lie, as they (BJP) look down upon the Dalits and backward castes."
"They (the BJP) still consider them (Dalits) as untouchables and do not believe in the Constitution, but want Manuwaadi (casteist) system to be implemented," Sajan said.
© Copyright 2021 PTI. All rights reserved. Republication or redistribution of PTI content, including by framing or similar means, is expressly prohibited without the prior written consent.