Prime Minister Narendra Modi spent his 68th birthday Monday in his Lok Sabha constituency -- Varanasi -- during which he gave a pep talk to young school children telling them never to feel afraid to ask questions, saying it is a key aspect of learning.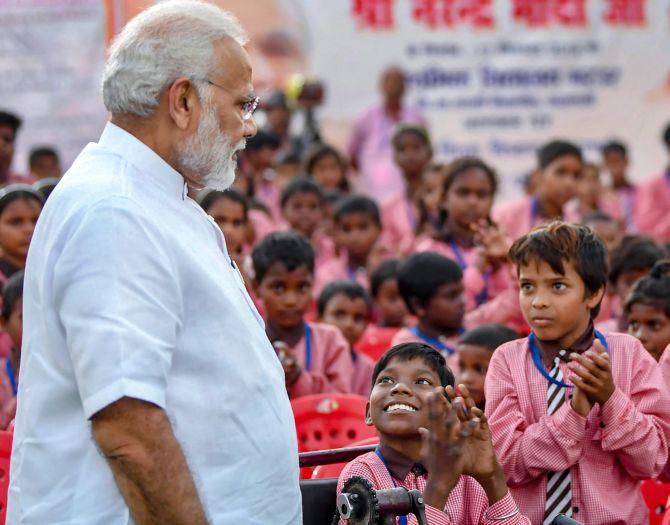 Modi, who is on a two-day visit to Varanasi, first interacted with students of a primary school at Narur on the outskirts of the temple town and later met students of the Kashi Vidyapeeth and the children assisted by them at the Diesel Locomotive Works campus.
"As students, it is vital to ask questions. Never feel afraid to ask questions. It is a key aspect of learning," Modi said in his interaction at the Narur school on a variety of subjects, calling the children "future of India".
A smile lit up the face of the school children when the prime minister said they must give importance to sports and must go out and play since it is essential.
"Students must give importance to sports. It is important to learn various skills, this will help you forever."
After the prime minister left the school, one of the students said, "Modi kaka told us 'khelogey to khilogey' (you will bloom only if you play).
"I came to your school on the special day of Vishwakarma jayanti. My greetings to everyone on this special day," he told the students.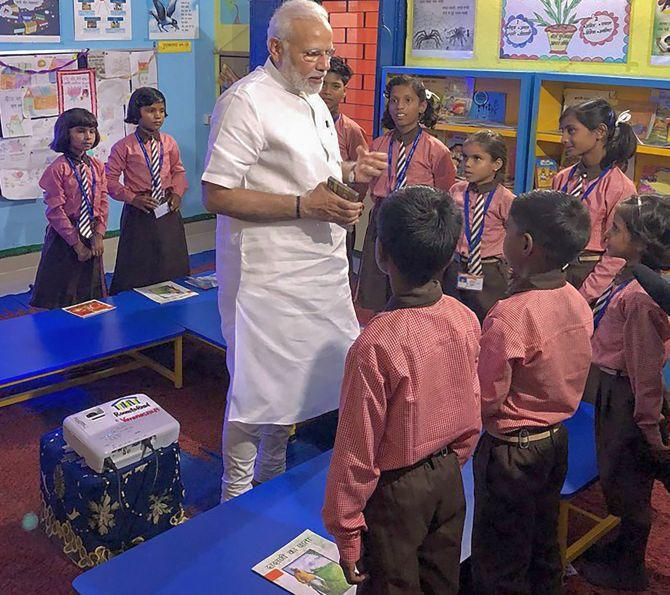 Earlier, the students welcomed him enthusiastically saying "Swagatam PM." The school is aided by a non-profit organisation, 'Room to Read'.
The children also presented the prime minister greeting cards.
Senior Bharatiya Janata Party leader and local MLA Neelkanth Tewari said that as part of Modi's birthday celebrations 68 cakes weighing 68 kg each were cut at 68 locations in Varanasi.
Tewari, who is a UP minister, said, "Special prayers were being offered in 68 temples to pray for the long life of the PM. About a thousand earthen lamps have been lit at 90 locations."
Medical camps were held at 72 places, he added.
A cleanliness drive was launched on the streets leading to various ghats in the city, including the Ganga ghat and the Vishwanath Temple.
At Panini Kanya Vidyalaya, an 'yagna' (special worship) was conducted for the prime minister's long life.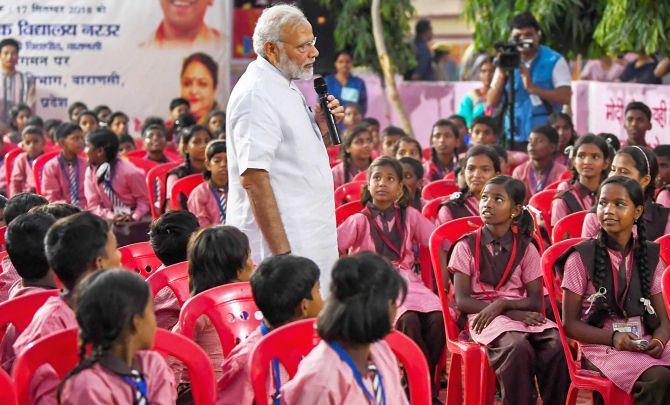 Modi was elected to the Lok Sabha for the first time in 2014 from Varanasi and Vadodara, but chose to retain the former saying "Mujhe to maa ganga ne bulaya hai".
Earlier, on his arrival, the prime minister was received at the airport by Chief Minister Yogi Adityanath and state BJP president Mahendra Nath Pandey.
Anganwadi workers too were present to thank the prime minister for the slew of benefits announced by him for them recently.
After spending the night, Modi will on Tuesday lay the foundation stone of various development projects, cumulatively worth more than Rs 500 crore, according to a statement by the prime minister's office.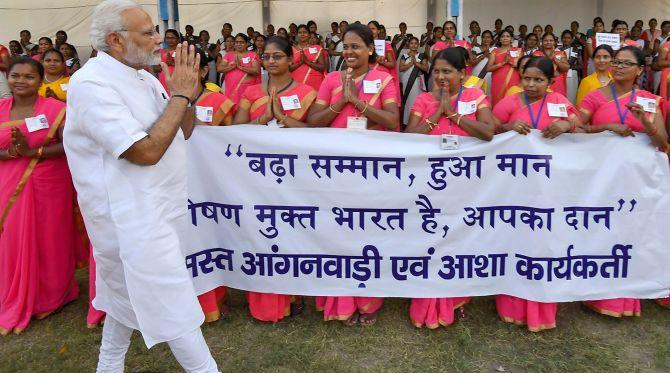 The event will be held at the amphitheatre of Banaras Hindu University.
Among the projects to be inaugurated by Modi are Integrated Power Development Scheme for Puraani Kashi and an Atal Incubation Centre at the BHU.
The projects for which the foundation stone will be laid include the Regional Ophthalmology Centre at the BHU. The prime minister will also address a gathering on Tuesday, the statement said.
Wishes pour in from all over for Modi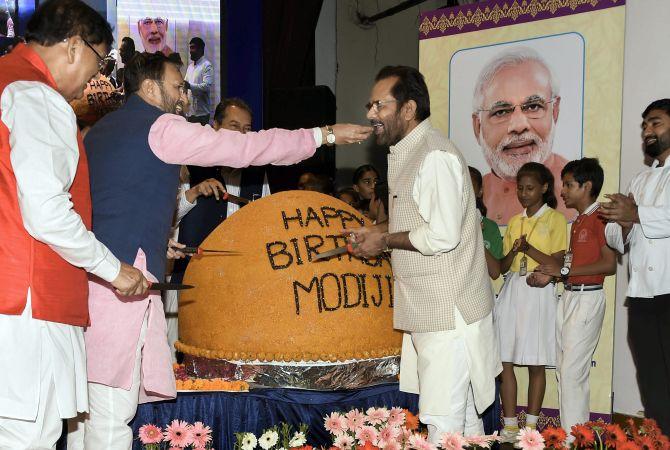 Greetings from all quarters, including his political rivals, poured in on Monday for Prime Minister Narendra Modi who celebrated his 68th birthday in his parliamentary constituency Varanasi.
Union Minister Prakash Javadekar and his cabinet colleague Mukhtar Abbas Naqvi unveiled a 568-kg laddoo on the occasion.
President Ramnath Kovind, Vice President M Venkaiah Naidu, Bharatiya Janata Party chief Amit Shah, Congress president Rahul Gandhi, West Bengal chief minister Mamata Banerjee, her Delhi counterpart Arvind Kejriwal and National Conference leader Omar Abdullah were among the first to greet Modi.
Modi thanked them for their wishes in a series of tweets.
"Birthday greetings to our Prime Minister @narendramodi. Wish him a long life and many years of dedicated service to the people of the country," Kovind tweeted.
Former president Pranab Mukherjee 'hoped' that the PM is 'blessed with a long, healthy and happy life and continue to serve the nation for many more years to come'.
'Pranab Da, your wishes are always a source of strength for me. Thank you,' Modi responded.
Bollywood personalities Amitabh Bachchan, Rishi Kapoor, Akshay Kumar and Madhuri Dixit also wished the PM on Twitter.
Naidu, who is in Malta, called up Modi to greet him.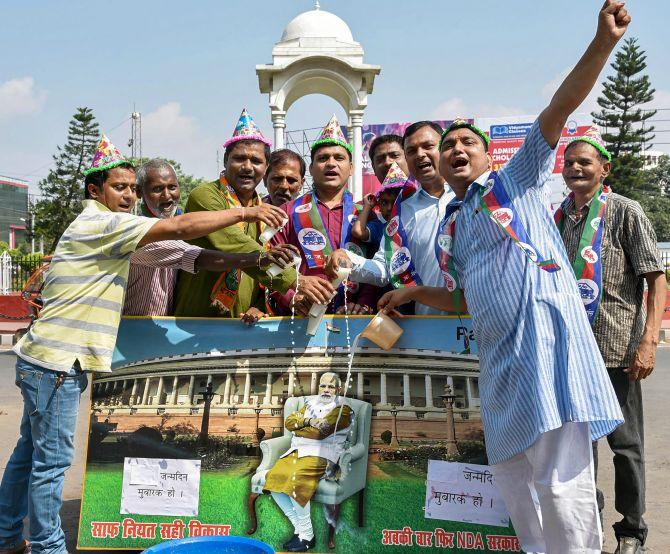 Participating at a function organised by Sulabh International Social Service Organisation, which is celebrating the PM's birthday as 'Swachhta Diwas', Javadekar said, "Sanitation coverage has significantly increased in the country in last four years."
Under the 'Swachhta Campaign' more than nine crore toilets have been constructed and 450 lakh villages have been declared open defecation free, Javadekar said.
Stating that sanitation coverage was only 30 per cent in the country in the first 60 to 62 years, the Union human resource development minister said under the leadership of Modi the coverage now stood at 90 per cent.
Union Minority Affairs Minister Mukhtar Abbas Naqvi said sanitation has become a mass movement.
'PM Sh @narendramodi has been working with the commitment to 'Clean India, Healthy India'. 'Swachh Bharat Abhiyan' #SwachhtaHiSeva has today become an effective mission with the participation & passion of common people of the country. (sic)' Naqvi later tweeted.
Dravida Munnetra Kazhagam leader M K Stalin as well as Punjab Chief Minister Amrinder Singh, Bihar's Nitish Kumar and Odisha's Naveen Patnaik and Modi's Cabinet colleagues, including Rajnath Singh, Sushma Swaraj and Arun Jaitley, also extended their greetings.
Shah hailed Modi's leadership, saying India under him had become synonymous with development and he had infused energy into every section of society like never before.
India has a government under Modi, which is committed to the development of the poor, farmers and every section of society, the BJP chief said in a tweet.
Praying for a long and healthy life for the prime minister, he described Modi as a leader who is loved by all and has provided a decisive and visionary leadership to country.
Rahul Gandhi wished good health and happiness to the prime minister on his birthday.
"Happy Birthday to our PM, Narendra Modi ji! Wishing him good health and happiness always," he said on Twitter.