Indian women are being fooled by job offers in Kuwait, but there's little they can do except turn to the Indian embassy for help. A Ganesh Nadar/Rediff.com reports.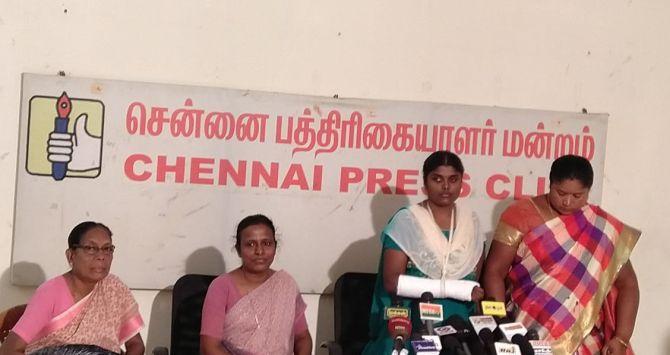 At least 50 Indian women, who had gone to Kuwait lured by job offers to work as maids, are currently holed up at the Indian embassy after being cheated by agents, awaiting their repatriation to India.
Four women who had fled Kuwait held a press conference recently in Chennai, in which they narrated their woes.
M Amudha, G Rajeshwari, Vasantha Mani and Muthulakshmi, all from Tamil Nadu, were presented at the press conference organised by the National Domestic Workers Movement. The NDWM, which was formed in Mumbai in 1985, has two lakh workers enrolled with it and is now spread across 17 states.
Vasantha Mani told Rediff.com, "I was promised a job as a tailor with Rs 40,000 as salary. But after I landed there the agent there said that there was no vacancy for a tailor and I had to work as a domestic maid.
"I agreed as I had no choice. I was made to work in two houses, one in the morning and another in the afternoon.
"I was doing two jobs and yet my pay was Rs 20,000 and not the promised Rs 40,000. I worked for just 13 days, and returned to the agent's office in Kuwait.
"But he refused to send me back. I was kept in his office for 45 days and ultimately I had to pay money to come back. There are many women in that office there waiting to came back home."
In many cases, when the maids leave their employer over adverse work conditions, the latter files a police complaint with the police, which the women come to know of only when they reach the airport. So the embassy has to first get the cases cleared before sending them back, which is why the women are being housed at the embassy.
Josephine Valarmathi, president of NDWM in Tamil Nadu, said, "The women's families contacted us when they could not get in touch with them kin in Kuwait. We forwarded their petition to the Indian embassy there and we also informed Indian Frontliners, which is a service organisation working in Kuwait since 1997, of their plight."
Valarmathy told us about another maid who paid the agent Rs 160,000 to return home, but after taking her money the agent left her outside the Indian embassy. "She is on her way back home," Valarmathy said, after the embassy's intervention.
According to Indian Frontliners, there are many women currently housed in the Indian embassy waiting to be sent back. "Two families petitioned us and we now know that their relatives are safe in the Indian embassy," Valarmathy said.
Even though the NWDM basically addresses issues concerning Indian domestic workers, they subsequently got involved with workers going to the Gulf. "Between 2010 and 2015 the Protector of Emigrants told us to conduct classes for maids and labourers who were going to the Middle East.
"We coached them about the procedures there, the safeguards that they should take and also who they should contact if there was any problem. At that time we gave them the number and address of the Indian embassy there and we also shared our contact details.
"So when they called us, we had to respond and now it has become part of our regular work. Every year we get about 70 petitions from both men and women, with 98% are from the Middle East."
The workers are repatriated with the help of the government.
"The biggest handicap these women face there is that the agent takes away their passport and their mobile phone when they land there," Valarmathy said.
"The problem is further aggravated now because of the e-immigration system. Now if you have studied up to the 10th standard you don't have to visit the office of Protector of Immigrants, you apply online and you get the work permit. So they don't know of any safeguards there and the agents exploit this ignorance."
Indian Frontliners general secretary and social worker Keerani Venkatamathi told Rediff.com, "You cannot take any action against the agents in Kuwait.
"That's because the licence is in the name of a local who, after getting a licence will put five up tables in his office and rent out each table to five different Indians. They pay a rent to the local with the licence.
"The maids we are dealing with were handled by a Tamil-speaking agent whose name will not appear in any paper, so you cannot do anything legally against him.
"There are many women waiting in the Indian embassy, and the embassy has also taken on rent another place where men are waiting to be repatriated. The embassy officers are very good and they work hard to help Indians here."
Venkatamathi added, "The problem is in India. The agents there tell these poor uneducated women that you don't have to pay any money, you don't have to pay for the ticket, everything is free and you will earn a very good salary there. They don't know that the agents make good money from the employer in Kuwait and they don't bother about working conditions."
U S Sibi, second secretary (labour) in the Indian Embassy in Kuwait, told this correspondent over phone, "There are a little more than 50 women here waiting to go back.
"After they come to Kuwait they find they cannot manage and so come to us. We are doing our best to help them.
"People should not come here without knowing all the details of their job and employer, and also should not believe agents who paint a rosy picture."