Five days after the tragic triple train accident near this station, it was business as usual in Bahanaga Bazar with a handful passengers, including a few sightseers thronging the tiny way station.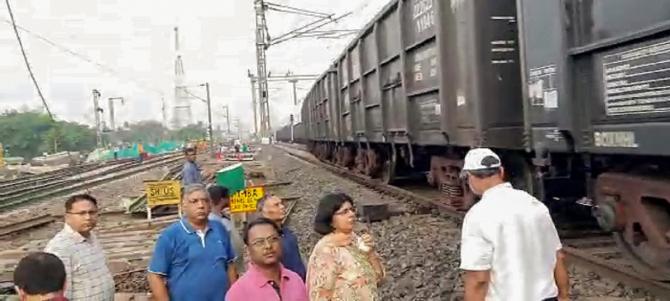 Despite the scorching heat, people armed with their mobile cameras are Bahanaga Bazar to see the mangled remains of the trains involved in the crash.
Though Railway authorities had screened off the area with green cloth, the strewn coaches now removed on the sides of the tracks can be easily seen.
"I have come from Bhubaneswar to see the accident site. I'm still at a loss of words to express my feelings," said Ashok Behera, who visited the spot with his wife Rupa.
"May God help the injured recover early," Rupa said.
Like the Behera couple, Arjun Jena, a class 12 student from Balasore town, came to the site with his friends.
"I shiver at the thought of what the victims went through … Though I don't suspect sabotage, I'm sure there's a need to look at every angle during any probe," Arjun said.
His classmate Gaurav, also a class 12 student, said he had visited the spot on Sunday too.
"I had come here on Sunday afternoon when everything was in a mess.
Hundreds of policemen and relief and rescue personnel were at the spot then looking for bodies," he said.
"Now, almost 100 hours later, things have cooled down and normal train movement has started. Though many trains still stand cancelled, I hope the route will be fully operational in the next couple of days," he said.
While onlookers continue to throng the spot, relatives of those who remain missing continue to pass through this station as their first stop in search of missing relatives before traveling to hospitals and morgues in Balasore, Bhubaneswar and Cuttack.
"I was travelling with my brother. After the accident, I managed to get off the train, though severely injured. Once out of the train, I kept calling my brother, but did not get a response. Then I fainted before waking up in a hospital in Balasore," said Krishna Das, a resident of Paschim Medinipur in West Bengal.
"Four days have passed and I have checked almost all hospitals in Balasore, Bhubaneswar and Cuttack over the last three days but haven't found him," he told reporters.
Sonali Biswas, from Bankura district in West Bengal, who was on the train and escaped unhurt, has also been looking for her aunt who was on the train.
"I looked for her for a couple of days in various hospitals. I then called up my brother to come to Bhubaneswar and help me find her. But till now, she remains traceless," she told a TV channel. AIIMS, Bhubaneswar where most of the unclaimed bodies are now housed has become most relatives second stop after Bahanga Bazar and Balasore.
Meanwhile, a Central Bureau of Investigation team has reached Bahanaga for the investigation into the accident.
The team will inspect the accident site and question railway officials.
On Monday, commissioner of railway safety visited the station and took stock of the situation at the signal room and control room.