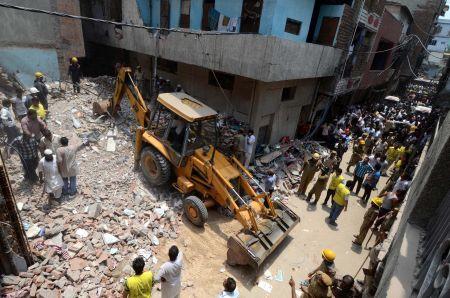 Ten people including five children and three women were killed while two others injured when a 50-year-old dilapidated four-storeyed building collapsed on Saturday in a congested area in north Delhi, police said.
Two injured persons, who were rescued from under the debris are recuperating in the hospital, police said. "Ten people including five children and three women have been killed in the building collapse while two persons have been injured. Rescue operations are still on and debris is being removed," said Deputy Commissioner of Police (North) Madhur Verma.
An assistant engineer and a junior engineer of New Delhi Municipal Council's Karol Bagh zone have been suspended, NDMC Public Relations Officer Yogendra Singh Mann said, adding that an inquiry has been ordered into the incident in Inderlok area.
"The commissioner has ordered an inquiry into the incident under additional commissioner (Engineering) of the corporation and errant civic officials in this connection will not be spared, if found guilty of any irregularity," he said.
NDMC officials suspect construction work at an adjacent building may be one of the reasons behind the building collapse.
According to fire officials, they got a call around 9 am about a building collapsing at Tulsi Nagar in Inderlok following which four fire tenders were rushed to the spot for the rescue operations. "We got a call about the incident at 8:55 am. The building was around 50 years old and a number of families lived there," said Verma. He said it was an "unauthorised" building and investigations were underway in this regard.
In its pre-monsoon survey for the first four months of the year, the NDMC had found 140 buildings in north Delhi as dangerous. A total of 144 buildings were identified as dangerous for the period, with Sadar Paharganj zone alone accounting for 137 such structures, according to the survey report recently released by the NDMC.
Image: A bulldozer clears the debris while locals look at the collapsed three-storey residential building in Tulsi Nagar area of Inderlok, New Delhi on Saturday. Photograph: PTI