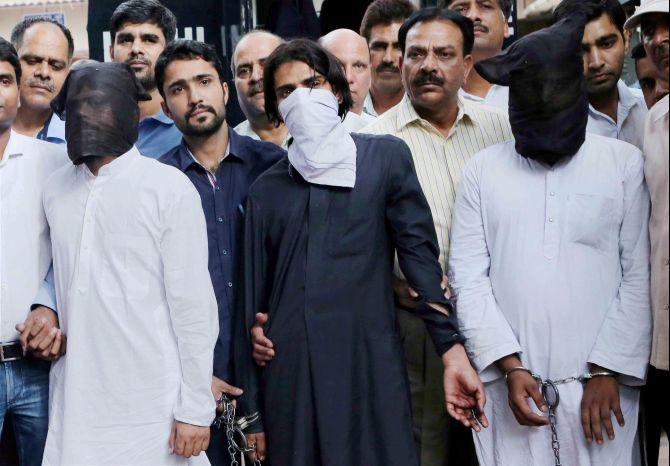 Four of the 10 terror suspects who were detained by Delhi Police for their alleged ideological leaning towards banned outfit Jaish-e-Mohammed were released on Saturday due to lack of adequate evidence, three days after being questioned by its Special Cell.
The Delhi Police has also approached the Indian Computer Emergency Response Team (CERT-In), the government of India's nodal agency that deals with cyber security threats, to help them in the investigation.
Of the four suspects who were released on Saturday, three are residents of east Delhi's Chand Bagh locality and the other is from Ghaziabad's Loni area. They were let off from the force's anti-terrorism unit Special Cell's Lodhi Colony office around 4 pm.
"We have arranged for a Delhi-based clinical psychologist and the four of them have been asked to visit him on a regular basis. The psychologist will provide us with a report on their progress every week," Special Commissioner of Police (Special Cell) Arvind Deep said.
He said during questioning it emerged that the youths had extreme anger within them as a result of which they were vulnerable, making them potential inductees in terror rings.
The four youths were freed after investigators said they did not find adequate evidence to prove their involvement in the suspected Jaish-e-Mohammed ring, which was busted earlier this week with the arrest of three youths and Improvised Explosive Device were recovered from their possession, police sources said.
13 persons were picked up by the Special Cell after a late night operation on Tuesday. Of them, three -- Sajid, Sameer Ahmed, and Shakir Ansari -- have been arrested, four let off and six are still being questioned by the investigators.
Meanwhile, the police on Saturday approached the CERT-In to help them in the investigation, with encrypted messages and decoding online conversations which have emerged as the biggest hurdles in the probe so far, Deep said.
Most of the conversations over Whatsapp among the prime accused Sajid, his associates Sameer and Shakir, and the detained persons were found to be in Urdu, for which a translator has also been engaged.
The CERT-In will make sure that access to the technical data do not lead to tampering of evidence in any way, a senior official said, adding that CERT-In will also help in decoding encrypted codes and accessing secured data, mainly exchanged during closed chats.
The police also claimed to have found several videos of JeM chief Maulana Masood Azhar, who is wanted by India in connection with 2001 Parliament attack case and the terror strike on Pathankot Aibase in January.
Police has, however, still not been able to ascertain the source of funds for the suspects who were allegedly tasked with executing serial strikes in the city, senior officials said.
The four youths who were set free today were given counselling by community leaders and a psychiatrist before their release, sources said adding that the police is pondering over similar arrangement for all the suspects who were picked up after a series of late night raids on Tuesday.
Investigators interrogating the three youths arrested for alleged links with banned Jaish-e- Mohammed had on Friday said the arrested trio and their associates were shown videos pertaining to alleged atrocities against Muslims in Jammu and Kashmir, Muzaffarnagar and Iraq to induct them into the outfit and execute terror strikes in the national capital.
Investigators had earlier claimed that the trio was initially inspired by the dreaded ISIS and later shifted their ideological leaning. Sajid was self-radicalised and propagated ideology which was in line with that of the Islamic State until he came in touch with a cyber entity, Talha, believed to be close to Masood Azhar.
© Copyright 2023 PTI. All rights reserved. Republication or redistribution of PTI content, including by framing or similar means, is expressly prohibited without the prior written consent.