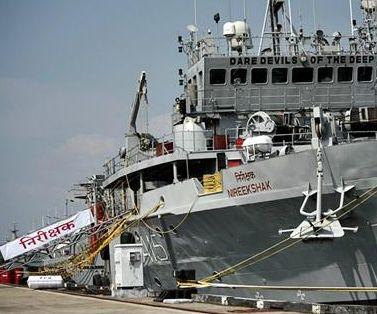 A sailor lost his leg while two others were injured in an oxygen cylinder explosion on board an Indian naval ship.
Incident occurred on April 16 on board INS Nireekshak and the Navy, which had remained tight lipped till now, has ordered an inquiry.
The explosion took place while a diving bailout bottle, a small 12-inch oxygen bottle which is carried by divers in their diving helmet, was being charged, a Navy official said.
He said that such an incident has never happened in history of the Indian Navy.
"The explosion happened while the crew was working on the deck of the ship," he said.
Three sailors were injured, including one who sustained serious injuries and his right leg has been amputated from just above the knee.
Two other sailors received splinter injuries in the stomach region and legs.
They were admitted in MilitaryHospital, Trivandrum as ship was on it way to Mumbai from Visakhapatnam.
The sailors were stated to be in a stable condition and have now been shifted to Mumbai.