A Paytm employee in Gurgaon has tested positive for the novel coronavirus, the company said in a statement on Wednesday, advising its employees to work from home for the next couple of days.
With the latest case being confirmed, the total number of people infected with the coronavirus has gone up to 29 in the country of which 16 are Italian tourists, a Health Ministry official said.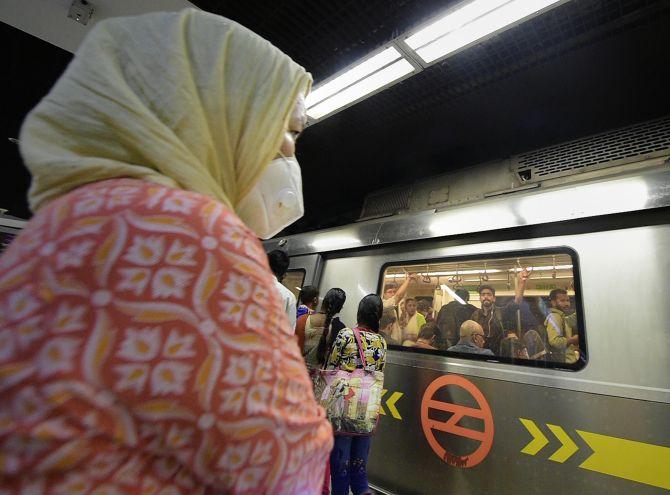 Earlier in the day, the government had announced that the number of coronavirus cases in India had risen to 28, including 16 Italians touring through Rajasthan, the government announced on Wednesday as consternation bordering on panic over the contagious disease with flu like symptoms spread across the country.
All international passengers will henceforth be screened at airports, Health Minister Harsh Vardhan said at a press conference.
So far, travellers from only 12 countries were screened at airports for the disease that has claimed over 3,000 lives and infected more than 90,000 worldwide.
17 Indians abroad have been infected, 16 from a cruise ship in Japan 'being treated at onshore medical facilities' and one from the United Arab Emirates, the Ministry of External Affairs said.
With Holi less than a week away on March 10, Prime Minister Narendra Modi, Home Minister Amit Shah, Bharatiya Janata Party president J P Nadda and Delhi Chief Minister Arvind Kejriwal said they would not celebrate the festival of colours or hold any Holi Milan gathering.
President Ram Nath Kovind's office also said Rashtrapati Bhavan will not hold any Holi gathering.
'Experts across the world have advised to reduce mass gatherings to avoid the spread of COVID19 Novel Coronavirus.
'Hence this year, I have decided not to participate in any 'Holi milan' programme,' the prime minister tweeted.
Giving a break-up of the cases in the country, Health Minister Harsh Vardhan said one patient is from Delhi, six more, his relatives, are from Agra, one is from Telangana and there are 16 Italians as well as their Indian driver in Rajasthan.
The figure includes three earlier cases in Kerala who have been discharged.
The minister said the government has adopted a cluster approach, as part of which health authorities will check and sensitise every household within a three kilometre radius of the house of the infected person.
The government also intends to set up a laboratory in Iran so Indians there can be tested for possible exposure to the virus before being brought back, he said.
An estimated 1,200 Indians, mostly students and pilgrims, are in Iran.
As Indians all over came to grips with the global epidemic, the health crisis was discussed at a meeting of the Union cabinet.
Union minister Prakash Javadekar said over six lakh people had been screened for coronavirus symptoms in 21 airports.
Briefing reporters, the Information and Broadcasting minister said more than 10 lakh people entering India from the open borders with Nepal, Bhutan and Myanmar have also been screened.
While only the virology institute based in Pune is fit for conducting coronavirus tests, the government has now set up 15 more labs and is in the process of establishing 19 additional centres, he said.
"The government is proactively engaged in dealing with coronavirus. The prime minister is monitoring the situation daily," he said.
Several state governments, including in Rajasthan and Delhi, screened visitors and others for the disease in hotels and guesthouses.
With 16 Italian tourists, who came to Rajasthan by road from Delhi, testing positive, the desert state swung into action to contain the infection.
State Health Minister Raghu Sharma said in the assembly that at least 215 people had come into contact with the group.
These included 53 people in Jhunjhunu, 14 each in Jodhpur and Jaisalmer, 44 in Bikaner, six in Udaipur and 76 people in Jaipur.
Swab samples of 93 people were taken with 51 suspected patients tested negative whereas reports of 41 others are still pending, he said.
He said Italy has the third largest number of coronavirus cases in the world (more than 2,500) and the tourists should have been screened earlier.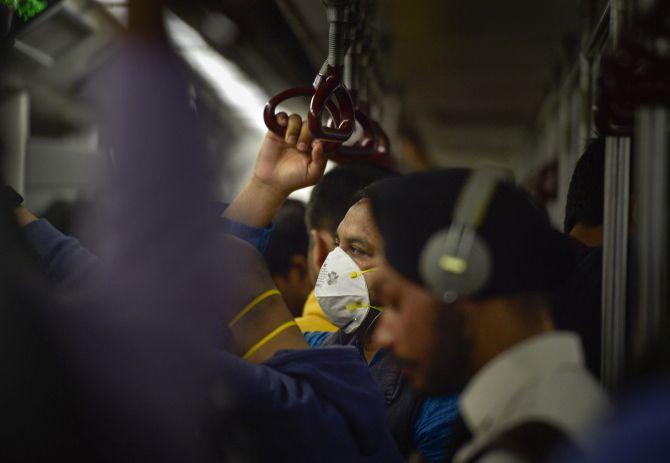 A 69-year-old man was the first one in the group to test positive for the disease.
Subsequently, his wife, too, tested positive at Jaipur's Sawai Man Singh Hospital, where the couple is now admitted.
14 Italians and an Indian (driver), who were in the same group as the affected Italian couple, tested positive for the virus as per information provided by the Health Ministry.
They were earlier quarantined at Indo-Tibetan Border Police (ITBP) force centre in Chhawla.
However, 21 Italian tourists and their three Indian tour operators have been shifted out from the ITBP quarantine centre on Wednesday as they were exposed to novel coronavirus, officials said.
They said the foreigners have been sent to a private hospital in Gurgaon and a centre in the national capital while the Indians have been transferred to the Safdarjung Hospital.
These people will be further quarantined while the rest in this group will be kept in preventive isolation, they said.
The centre already has 112 people, 76 Indians and 36 foreigners, since February 27 after they were evacuated by an Indian Air Force (IAF) plane from China's Wuhan, the epicentre of the deadly coronavirus.
Paytm employee had vacationed in Italy
The leading digital payments firm has said the infected employee had recently returned from a vacation in Italy.
The company has advised all its employees to work from home for the next couple of days while the Gurgaon unit gets sanitised, the statement said, adding its daily operations will not be impacted.
"One of our colleagues based out of Gurgaon office who recently returned from Italy post a vacation has sadly been tested positive for Coronavirus. He is receiving appropriate treatment. As a precautionary measure, we have suggested his team members to get health tests done immediately," a Paytm spokesperson said.
"We have also advised all our colleagues to work from home for a couple of days while we get our offices sanitised. However, there will not be any impact on our daily operations and Paytm services will continue as usual," the spokesperson added.
People and corporate firms in Gurgaon are taking preventive steps.
While protective gears like masks and hand sanitiser were distributed in some companies, some firms set up facilities to check the body temperature of their employees before they entered offices.
"Several employees including security guards at my office wore masks as a precautionary measure against the new virus," a software engineer told PTI.
Another techie said, "Masks were distributed in my office while people were also discussing who has visited which country abroad recently."
A statement from the Haryana Health Department said, 956 people are under observation in the state, of whom 938 with travel history to affected countries are asymptomatic.
'18 passengers with travel history from affected countries in various districts like Ambala, Faridabad, Gurugram, Hisar, Kaithal, Karnal, Panchkula, Rohtak and Sirsa were admitted out of which 14 Passengers have been discharged as their result is negative for ncOv, however they are still under surveillance at home as per protocol,' the statement added.
'Two passengers from Gurugram and two from Faridabad are admitted,' according to the statement.
'Till date, 32 samples have been sent out of which 29 found Negative for ncoV and result of three is awaited,' it added.
CBSE allows students to carry face masks, sanitisers to board exams
Students appearing for class 10 and 12 board examination will be allowed to carry masks and hand sanitiser in the exam centre in view of coronavirus scare, the Central Board of Secondary Education (CBSE) announced on Wednesday.
"Face masks and sanitisers may be carried by students in the examination centre," CBSE Secretary Anurag Tripathi said.
Class 10 and 12 board examinations began on February 15.
9 Italian tourists, Indian guide, Iran-returned Army officer quarantined in Madhya Pradesh
Nine Italian tourists and their Indian guide were quarantined near Chhatarpur on Wednesday for suspected exposure to the novel coronavirus, officials said.
The Italian tourists and their Indian guide arrived in Chhatarpur in Madhya Pradesh on Tuesday evening by road after travelling by a train to Jhansi from Agra, they said.
They were taken to a quarantine facility set up at Naugaon town near Chhatarpur, district collector Sheelendra Singh told PTI.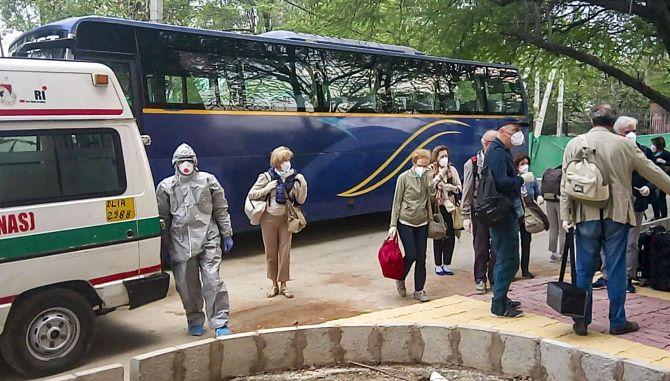 "Two of them are suffering form cough and cold. They have been quarantined as a precaution. A team of doctors has been taking samples of the Italian tourists and their guide," Singh said.
The holiday-makers and their Indian guide were quarantined at TB Hospital in Naugaon, around 23km from Chhatarpur, where an isolation ward has been set up for suspected coronavirus patients, district hospital civil surgeon R S Tripathi said.
The government-run hospital currently does not have any tuberculosis (TB) patient and it has been converted into a quarantine facility, Tripathi said.
Khajuraho Airport Director Pradeepta Kumar Bej said the Italian tourists were first sent to the district hospital as a precaution because their travel history involved visits to the coronavirus-affected countries.
District collector Singh said health officials are keeping a close watch on the Italian tourists and their Indian guide at the quarantine facility which he is going to visit.
A local tourist guide, Rameshwar Gupta, said the Italian group had reached Jhansi from Agra with the Indian guide by a train on Tuesday.
After spending the entire day in Orchha, the group reached Khajuraho in the evening, he said.
Gupta said the group visited temples in Khajuraho on Wednesday morning and was scheduled to board a flight to Varanasi in the afternoon.
Tripathi said all 10 were brought to the hospital on Wednesday evening.
A team of doctors has been sent to the Naugaon hospital from Chhatarpur, the civil surgeon added.
Meanwhile, an Army officer who returned from Iran last month has been isolated in Indore. However, there were conflicting versions of where he was isolated.
A health official said the 32-year-old officer had been quarantined at the military hospital at Mhow near Indore, while senior Army officials said he was at home.
The conflicting versions could not be immediately reconciled.
The officer had returned from Tehran, Iran's capital, on February 25.
Dr Santosh Sisodia, district in-charge of Integrated Disease Surveillance Program, claimed that the officer was admitted to isolation ward of the military hospital on Tuesday when he complained of sore throat.
"His condition is fine. He has been kept under medical observation in an isolation ward. His blood and swab samples are being sent to the National Institute of Virology in Pune for testing," Sisodia added.
Iran announced on Tuesday that 11 more people had died from the new coronavirus on Monday, taking the death toll in the country to 77.
In all, 2,336 people have been infected in Iran since the COVID-19 outbreak.
Delhi govt sets up task force, schools cancel events
In Delhi, Kejriwal said efforts are on to check and screen 88 people who came in contact with the Delhi man who tested positive for coronavirus.
Vardhan said the 45-year-old man from Mayur Vihar and six of his relatives from Agra whom he recently visited are being treated at the Safdarjung hospital.
Kejriwal said a task force headed by him has been formed to tackle the situation emerging from the coronavirus infection.
"We are concerned about situation but no need to panic," he said.
A coronavirus testing lab will be set up at the Lady Hardinge Hospital and also at the LNJP Hospital if necessary, Kejriwal said.
As the coronavirus came perilously close to home and dos and don'ts about the disease were circulated, some advocated that the Indian way of greeting, the Namaste, was the way to go. Many people went into panic mode and started stocking up on hand sanitisers and masks.
Many shops, including in the national capital, said stocks of both had run out.
However, Kejriwal said there is no shortage of masks.
Chief Minister Arvind Kejriwal on Wednesday formed a task force and said efforts are on to screen the people who came in contact with the infected Delhi man and 16 Italian tourists, while many resident welfare associations (RWA) and schools in the city and its outskirts cancelled events involving gatherings.
Isolation wards in 19 government and six private hospitals are being readied in case of need across the national capital and thermal scanning of all passengers landing from abroad is being conducted at the airport, Kejriwal said.
Despite appeal by authorities not to panic, several people complained that masks and sanitiser were unavailable at chemist and other shops and even online sellers were showing them out of stock.
Asked about alleged black-marketing of masks and hand sanitiser in the wake of coronavirus outbreak, Kejriwal said the government will look into it and take all necessary preventive steps. He asserted there is no shortage of masks.
Worried over the spread of virus, three schools in the national capital and adjoining areas announced holidays for students and staff, while two schools advanced their spring break and others sent out advisories to parents.
Most of the schools have cancelled their planned events and several were planning to sanitise premises.
A large number of people commuting through the metro were seen wearing masks or covering their faces.
The Delhi Metro Rail Corporation (DMRC) said it would increase the frequency of cleaning on its premises in view of the coronavirus outbreak.
It has also issued Do's and Dont's in both English and Hindi regarding the virus.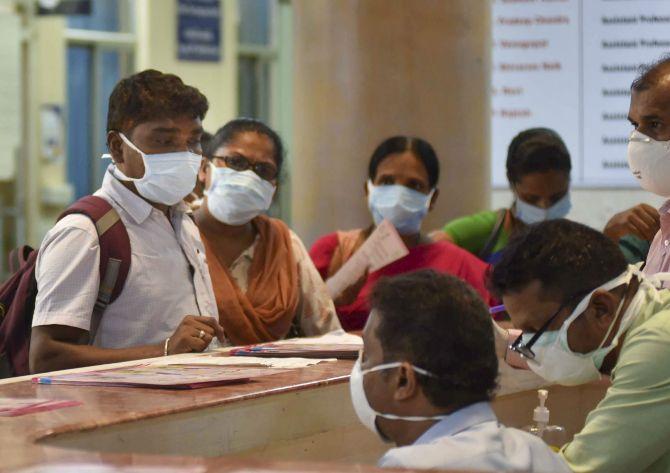 Atul Goyal, president of URJA - United Residents Joint Action, the apex body of RWAs in Delhi -- said it has also issued an advisory to all RWAs to not have public engagements or 'Holi Milan' due to coronavirus scare.
"Holi is approaching but most of the RWAs will not be celebrating Holi. We have issued an advisory to all RWAs to not have public engagements and avoid use of water in view of the coronavirus scare," he said.
Sports and recreational classes were also being cancelled by some organisers.
Addressing a press conference, Kejriwal said a state-level task force headed by him has been formed to tackle the emerging situation and there is no need to panic.
"We are concerned about the situation but there is no need to panic. We are doing whatever we can to check the coronavirus from spreading... members of all the important departments in Delhi, state officials, and police officials have been included in the task force," he said.
A coronovirus testing lab will be set up at the Lady Hardinge Hospital and also at the LNJP Hospital if necessary, the chief minister said.
"We have one confirmed case in Delhi till now and the patient has been admitted to Safdarjung Hospital. He is the resident of Mayur Vihar, who had travelled first from Italy to Budapest and then from Vienna to Delhi.
"We have identified 88 people who he came in contact with after coming back to India. We are trying to conduct screening on all those 88 identified people," he told reporters.
Kejriwal said thermal scanning of all the passengers landing from abroad is being conducted on the airports. They are referred to the RML hospital in case any symptoms are observed, Kejriwal added.
Until now, 1,16,579 patients have been screened at the airport.
On the Italian tourists, he said, they 'had come from Italy and were staying in Surya hotel. But we have also traced and identified the people who had come in contact with those passengers and they have been kept in isolation'.
"Around 13-14 rooms of the hotel have been sealed to ensure that they properly sanitised before putting into use," he said.
"The same steps have been taken in the Grand Hotel, where they stayed afterward. The passengers are currently in Chhawla ITBP camp and we are preparing to transfer them to Safdarjung Hospital for treatment as they have been found positive," he said.
Municipal bodies are also contacting and screening tourists from four countries -- China, Iran, Italy and South Korea -- where most cases of the infection have come to light. The screening is being done at hotels and guesthouses in the city, he said.
The New Delhi Municipal Council (NDMC) said it has formed two rapid response teams for screening of residents who visited coronavirus affected countries after January 15 and has already screened 56 houses.
The NDMC area has residences of lawmakers and other VIPs, besides the Parliament House, Rashtrapati Bhavan, diplomatic enclave and five-star hotels.
The civic body has also asked all hotels and guest houses in the area to send report regarding guests coming from the affected countries or any person showing symptoms of fever or flu.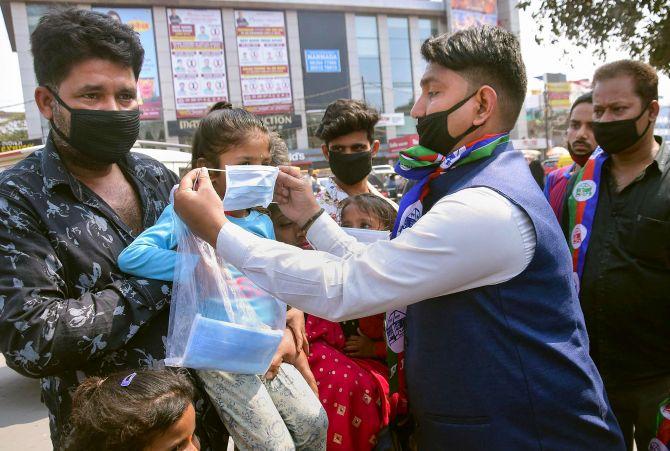 On Tuesday, a five-star hotel asked its staff, who were present at one of its restaurants where an individual tested positive for coronavirus dined on February 28, to go on self-quarantine for 14 days.
Kejriwal said school children also need to be made aware of coronavirus and steps to prevent the disease from spreading.
The Jamia Millia Islamia organised an awareness lecture on COVID-19 which was attended by over 200 students.
The traders' association were doing their bit including procuring masks and distributing them to customers.
Ashok Randhawa, president of the Sarojini Nagar mini market traders' association, said they will also put up banners in the market informing people about various precautions to be taken in the wake of the current situation.
"We will be distributing masks to customers who visit the market. We are planning to procure 1,000 to 2,000 masks in the next few days and will be distributing them to customers.
Atul Bhargava of the New Delhi Traders' Association (NDTA), under which the Connaught Place market comes, said he has been creating awareness among traders of the market by sending messages on two WhatsApp groups of their association.
The Khan Market sees a high footfall of foreign tourists. Sanjeev Mehra of the Khan Market Traders' Association said the tourists visiting the market themselves are quite aware and can be seen wearing masks.
Delhi Bharatiya Janata Party spokesperson Tajinder Pal Singh Bagga has urged the police to suspend the use of breath analyser tests for alcohol consumption.
Giving a break-up of those who have tested positive for the virus, Harsh Vardhan had said out of the total 28 COVID-19 cases in India, one person is from Delhi, six of his relatives in Agra, 16 Italians and their Indian driver, one in Telangana and the three earlier cases in Kerala.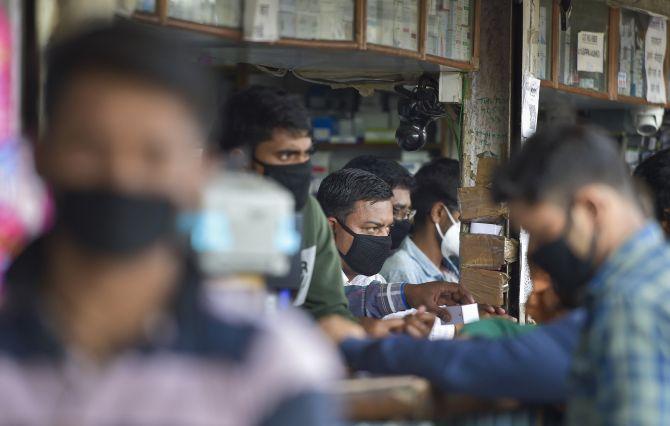 Health Ministry to be consulted before organising international meets, conferences
All government departments will consult the health ministry before organising conferences and international meets in the country in the coming days, it was decided on Wednesday at an inter-ministerial meeting chaired by the principal secretary to the prime minister.
A statement from the Prime Minister's Office said in the light of recommendations made by public health experts to avoid 'big public gatherings', 'it was decided that all government departments and ministries shall consult Ministry of Health before organising conferences and international meetings in the country at present'.
At the meeting, chaired by P K Mishra, the Home Ministry was tasked with working closely with state governments, including relevant district administration officials, to ensure compliance with screening protocols at Integrated Check Posts (ICPs) on India's land borders.
The National Informatics Centre has been asked to provide the requisite support to the Bureau of Immigration and MHA in this regard, the statement said.
Decisions were also taken to rapidly implement opening of proper testing, isolation and quarantine facilities in various parts of the country, down to the district level in partnership with state governments.
A broad spectrum of issues were reviewed at the meeting.
'Two important changes since yesterday to further enhance our level of preparedness, namely introduction of universal screening at all international airports and sea-ports through use of thermal imagery equipment, as well as mandatory filling of declaration forms of places visited by tourists and travellers returning from abroad, were noted by all concerned for operationalisation,' the statement said.
To disseminate information in a timely manner, including relevant advisories and "Do's and Don'ts", Ministry of Information and Broadcasting was tasked with working closely with the health and HRD ministries and the National Disaster Management Authority (NDMA).
The health ministry briefed that the 24-hour medical helpline operational across the country since January 23 has so far received over 6000 phone calls, the statement said.
It was highlighted that participation of the communities and local bodies is essential to combat the public health challenge posed by the virus.
It was also decided to explore the greater involvement of private sector.
Wednesday's meet was the latest in a series of stock-taking meetings at the PMO, with the first held on January 25.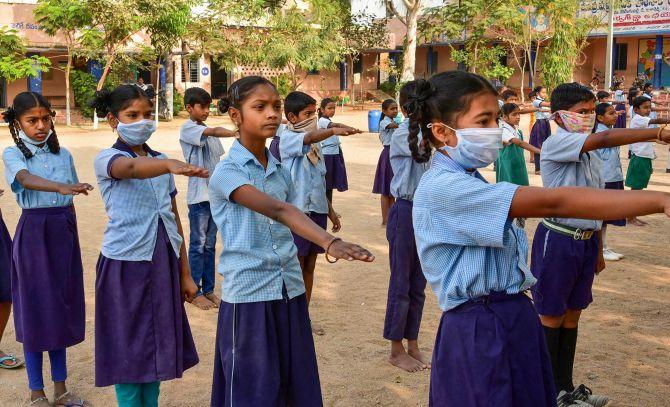 It was attended by the Cabinet Secretary, the Foreign Secretary, secretaries of ministries of Health, Civil Aviation, Information and Broadcasting, Shipping, Tourism, Chairman (Airport Authority of India), Secretary (Border Management), MHA and senior officials from defence forces, National Disaster Management Authority (NDMA), Niti Aayog and the PMO.
'The pro-active measures taken so far which have contained spread of the virus in India, despite a big population and geographical proximity to the epicentre of the disease, were appreciated by all. At the same time, it was decided to further enhance the effectiveness of the steps taken by adopting a pan-government approach, in partnership with the states,' the statement said.
Hyderabad techie suspected for infection
The coronavirus scare gripped the IT corridor in Hyderabad on Wednesday with one building in a complex, housing software firms, being vacated for sanitisation for a day as a precautionary measure after an employee there was suspected to have contracted the virus and other employees asked to work from home.
The building being vacated triggered rumors, including on social media, about the spread of the virus, forcing the authorities to clarify that operations in the building would resume from Thursday.
State Principal Secretary (IT) Jayesh Ranjan said the positive COVID-19 cases in the country are those with travel history to foreign countries.
He said the IT firm's office in which the techie, who is suspected to have contracted the virus, worked, is located on the ninth floor of the building concerned.
The firm employed 350 people and about 23 were part of the work group in which the techie worked.
The sample of the employee concerned has been sent to the National Institute of Virology at Pune.
There is no truth in rumours that the entire building complex was evacuated, Ranjan said.
All offices in the building would resume working from Thursday, he said.
Observing that some IT firms which are not related to any sort of COVID-19 precautionary measures have also sent their employees home on Wednesday, he said such steps are not warranted.
It would create a panic situation, he said.
It would be better if the IT firms consulted the government before initiating any such steps, Ranjan added.
Dismissing rumours about the IT corridor being vacated, Cyberabad Police Commissioner V C Sajjanar said the building concerned has been vacated only for a day for sanitisation and employees would resume working from Thursday.
Maha Govt says no need to use mask for general public
The Maharashtra government, meanwhile, issued a statement on Wednesday saying that except the medical staff treating the infection or those who have come in contact with patients, others need not use face masks.
For those with other existing health conditions the use of a mask may create unintended complications, it added.
With the virus spreading fast in many countries, people are flocking to medical stores to stock on hand sanitisers and face masks. There are reports of these products disappearing from stores in some places.
In a statement titled 'CORONA-KNOW IT TO FIGHT IT', the state health department said the general public need not use face masks.
'General population can use folded cotton handkerchiefs for self-protection which can be reused by keeping in bleach solution or hot water for half hour followed by the thorough washing,' it said.
'For a person with an existing medical condition, wearing a mask may inadvertently complicate the situation,' it added.
N-95 masks which are sold in shops are meant only for medical staff treating patients, it said.
The persons with a history of travel to COVID-19 affected areas or those having contact with infected persons showing symptoms of the COVID-19 should use the masks, it said.
In Maharashtra, of the 167 travelers quarantined since January upon landing at the Mumbai airport, only nine are currently admitted to isolation wards.
The state has not reported any confirmed case of virus infection.
3 suspected cases in Himachal so far, CM tells assembly
Three suspected cases of coronavirus have been reported in Himachal Pradesh so far while 214 people were kept under observation at their homes for 28 days, Chief Minister Jai Ram Thakur told the state assembly on Wednesday.
The CM said while no confirmed coronavirus case has been reported from the state, 181 people from those kept under observation have completed their mandatory surveillance period.
The CM told the House that the three suspected coronavirus patients in the state were admitted to two hospital on Tuesday.
They had travelled to high-risk countries in the past 14 days and had complained of sore throat and fever.
One of them was admitted to an isolation ward in Shimla's Indira Gandhi Medical College (IGMC) and the two others have been kept under observation at Dr Rajendra Prasad Medical College Hospital in Kangra's Tanda.
The two patients admitted to the Tanda hospital had travelled to Italy whereas third patient came from South Korea on February 29, he added.
The samples of all three patients have been sent to a Delhi laboratory for testing.
The CM said the Centre had sent a list of 145 persons for keeping an eye from the coronavirus point of view on February 3.
The district health officers kept all of them under surveillance.
After this, 67 people, including several foreigners, reported themselves.
The two people, who came from Wuhan, were reported by the Centre on February 18 and 22, he added.