Outrage in Himachal Pradesh over widow of ex-Army man being dragged out of her home and assaulted in public after being accused of practising witchcraft.
Ashwani Sharma reports.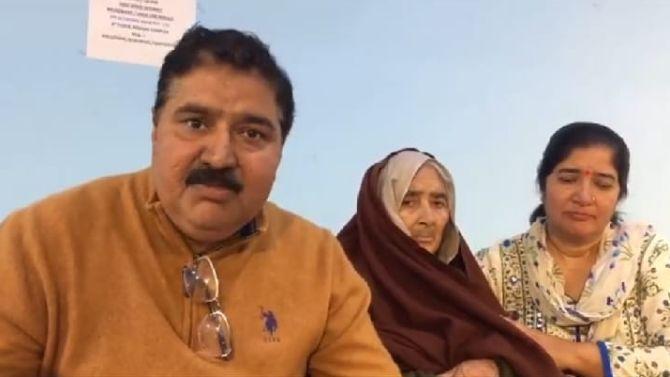 For the past few days she has been lying numb, tucked deep into the quilt and totally motionless. She has hardly spoken nor could she even eat properly. "Wish I had died rather than face such humiliation at the fag end of my life," she murmured when this correspondent visited her.
Her family, mainly daughter Tripti and son-in-law Ajay Kumar, is too scared to go back to Samahla village in Sarkaghat area of Mandi district after the violence inflicted on the 80-year old widow of ex-soldier Bidhi Chand on November 6.
What shocks, and even brings shame, to Himachal Pradesh -- a state known as 'Dev Bhoomi' (land of deities) -- is that the incident happened in Chief Minister Jai Ram Thakur's home district, also an area known for its high literacy and its educated class mostly serving the state government or the Indian Army.
The widow was thrashed mercilessly by a mob of more than 100 people who attacked her house, dragged the victim into the street, paraded her publically. A few also cut her hair and hit her repeatedly, refusing to listen to her pleas of innocence. Her "crime"? She was accused of practising witchcraft and defying a local deity.
Even as the incident sent shockwaves across the state, after a video of the incident went viral on social media, the police in Mandi district maintained silence. The video footage also shows men and women raising slogans in favour of the local deity accompanied by drumbeats and sound of bells as the woman is seen begging for her life and asking for water to drink.
Admits Deputy Commissioner Mandi Rugved Milind Thakur, "Such an incident is unacceptable. Some people, now arrested by the police, tried to link their act of barbarism with religious faith and the deity culture of the hills. It's completely absurd. The administration will not let it happen. The perpetrators have been booked."
However, the police swung into action only on November 9, after Chief Minister Jai Ram Thakur passed strict orders asking for legal action against the accused.
The police have arrested 24 persons, seven of them women, after registering an FIR (no. 184/2019) under Sections 147 (rioting), 149 (unlawful assembly), 452 (house trespass for assault), 435 (mischief by fire), 355 (assault or use of criminal force) and 427 (mischief causing damage) of the IPC at Sarkaghat police station. No one has been booked for serious offences like threat to life.
The district administration has also imposed Section 144 preventing public assembly in the area apprehending reaction from followers of the local deity as the main accused happen to be 'caretakers" of the deity.
Superintendent of police (Mandi), Diwakar Chand Sharma, admits that the incident happened on November 6 and the police acted only after the chief minister's orders.
Inhabitants of the village revealed to Rediff.com that till the chilling video went viral on social media, none from the local administration and police had reached out to the victim.
"Those involved in the crime had threatened to punish anyone uttering a word about it to the police or administration," said Sanjay Sharma, a social activist who rescued the woman from her house and brought to Hamirpur, where her married daughter lives.
On Monday, the Himachal Pradesh high court took suo motu cognisance of the incident based on media reports, and asked for a detailed report from the state government within a week's time.
A bench led by Chief Justice L Narayana Swamy asked Advocate General Ashok Sharma to ensure full police protection for the victim and her family, besides getting her full medical examination done to ensure that no harm was caused to her.
A young block development committee chairperson, Prajwal Busta, shot off a petition on Sunday night to the National Human Rights Commission seeking its urgent intervention, especially as the violence was carried out in the name of faith and deity culture.
"It's strange how a few men misused the deity-devta's name to torture and intimidate the widow. The police action is also an eyewash as no sections of the law relating to criminal intimidation or threat to life have been added in the FIR," she alleged, recalling two earlier similar incidents in the panchayat when the victim was tortured, harassed and attacked. Her complaint to the local panchayat was also not given due consideration, and she was forced to withdraw it. The police were said to be in the know of the atrocities against her and yet did not act.
The woman had lost her husband when she was 25 years of age, a few years after havaldar Bidhi Chand, a soldier of 10-Dogra regiment returned home after the 1971 war. The couple have three daughters all of whom are married.
"It's actually most shocking. The allegations of witchcraft against the widow seem to be absurd. It looks like some people want to grab her property. It's very easy to brand a widow and lonely woman as a person practising witchcraft or sorcerer. Deity culture is very pious and doesn't support acts of barbarism against a woman," says Birbal Sharma, a social activist and veteran journalist in Mandi.
The deputy commissioner of police of Mandi has sent a team to the area to find out why people resorted to violence and lynching against the aged widow when there has been no such history in the region.
It's basically in the districts of Kullu -- where deity culture is very strong -- or Chamba, Sirmaur and Shimla districts where some incidents of witchcraft and tantrik practices been reported some years back.
"In the recent past at least I have not heard of such cases reported to the police even from these districts. The incident is beyond my comprehension," says former director general of police I D Bhandari who took to social media to term it as "barbarism of high order in an educated society".