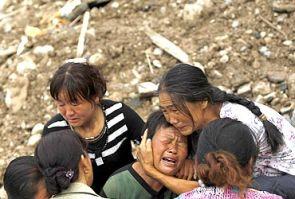 At least 16 people were killed and over 36 others went missing in heavy rains, landslides and flash floods in China's Sichuan and Shanxi provinces.
State television has shown grim pictures of multi-story buildings as well as bridges with vehicles being washed away by surging flood waters in Sichuan province which also suffered extensive damage during the recent earthquake.
Twelve construction workers were killed and seven others injured when their make-shift house was buried under the debris of a collapsed wall in ShanxiProvince.
Two people were killed and 21 others went missing in a rainstorm-triggered landslide in SichuanProvince.
Another landslide in the village of Shanxi in the city of Dujiangyan flattened 11 homes. Rainstorms have been battering the city since Monday evening, local officials said.
More than 2,000 people, who had been trapped in a highway tunnel in SichuanProvince, have been rescued and relocated.
One person was killed and 15 others went missing in Sichuan after severe rainstorms battered the region, including some quake-stricken areas leading to the collapse of a bridge, officials said.
The province was hit by rainstorms since Monday.
Rain-triggered flooding has left four people from the quake-hit counties of Beichuan, Anxian and Qingchuan, missing, they said.
In QingchuanCounty, rain-triggered landslides have also caused one death and affected the lives of 7,051 people.
The cumulative precipitation in Qingchuan since Monday has reached 1,000 mm, state-run Xinhua news agency reported.
The government of quake-hit ShifangCity said floods and landslides caused by rainstorms have left five people missing and one person severely injured.
Three bridges have collapsed since Monday evening due to rain-triggered floods in the cities of Jiangyou and Deyang, the headquarters said.
So far five vehicles were confirmed to have fallen off the PanjiangBridge into the river in JiangyouCity, according to officials.
Three people were saved while six others remained missing.
More than 2,000 people were dispatched to search for the missing downstream.
Three major rivers in the province have been swollen, with water levels surpassing warning marks, the provincial flood control and drought relief headquarters said.