As many as 16 of 17 MLAs of Congress were suspended from the Gujarat assembly on Monday for the remainder of the budget session till March 29 for creating ruckus and staging protests in the House over the disqualification of Rahul Gandhi as an MP.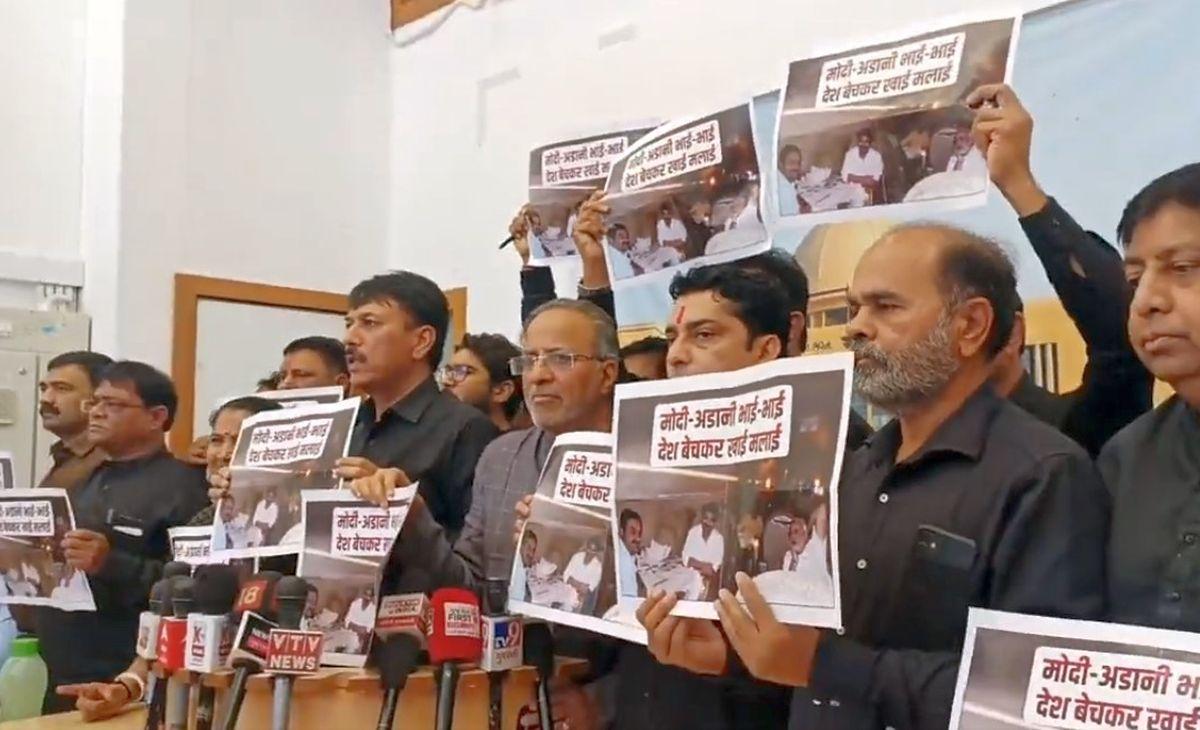 Some MLAs of the main Opposition party, including Imran Khedawala, Geniben Thakor and Amrtutji Thakor, were evicted by marshals as they sat in the well of the House and refused to go back to their seats despite repeated appeals made by Speaker Shankar Chaudhary.
Except for Anant Patel, the rest 16 MLAs of Congress were present in the House on Monday.
As soon as the question hour began, Congress Legislative Party leader Amit Chavda demanded a discussion on the disqualification of Rahul Gandhi from Lok Sabha claiming he had been "silenced by the Bharatiya Janata Party government" for raising the issues concerning people.
Gandhi was disqualified as an MP after a court in Surat convicted him on March 23 in a 2019 criminal defamation case over his "Modi surname" remark and sentenced him to jail for two years.
On Monday, all MLAs of Congress entered the Gujarat Assembly wearing black clothes as a mark of protest against Gandhi's disqualification.
Speaker Shankar Chaudhary asked Chavda to sit down, saying no discussion is allowed during question hour and asked him to raise the issue later.
At this point, other MLAs of Congress rushed near the well and started raising slogans saying "Modi-Adani Bhai Bhai". They also showed placards and photos linking PM Narendra Modi and Gautam Adani.
When all the 16 MLAs refused to stop sloganeering and trooped into the well, Chaudhary warned the Opposition against wasting "people's time".
As the MLAs stayed put, the Speaker suspended them for a day and asked marshals to evict those lawmakers who refused to go out and continued to sit in the well area.
After the end of the question hour, state Legislative and Parliamentary Affairs minister Rushikesh Patel slammed Congress for the chaos and moved a motion to suspend all of them till the end of the ongoing Budget session on March 29.
"Despite knowing that the subject they were raising was not of Gujarat, these Congress members created chaos and raised slogans as a pre-planned strategy. They misled the people of Gujarat through this. Thus, we request you to suspend them till the end of the session," said Patel.
Ministers Balwantsinh Rajput and Raghavji Patel also supported Patel's proposal for a harsher punishment. The motion moved by Patel was unanimously passed after Aam Aadmi Party MLAs did not raise any objection.
"These Congress MLAs came wearing black clothes and raised slogans. I requested them not to engage in such activity. Thus, as per rule 52 of the Assembly, I hereby suspend all those MLAs who staged protests and raised slogans in the House," said Chaudhary.
Subsequently, Congress MLAs were suspended for the remainder of the Budget session by voice vote.
© Copyright 2023 PTI. All rights reserved. Republication or redistribution of PTI content, including by framing or similar means, is expressly prohibited without the prior written consent.