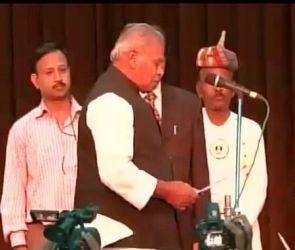 A total 14 ministers, including 3 Rashtriya Janata Dal defectors, were inducted into the 12-day old Jitan Ram Manjhi cabinet in Bihar on Monday.
With the induction of the new ministers today, the strength of the ministry has gone up to 31, including the chief minister.
The new ministers, including two women, were administered oath by Governor D Y Patil at the Raj Bhawan but were yet to be allotted their portfolios.
Those inducted into Manjhi ministry included Rajiv Ranjan Singh Lallan, Shrawan Kumar, Ramlakhan Ram Raman, Ramdhani Singh, Samrat Chaudhary, Mahachandra Prasad Singh, Jay Kumar Singh, Manoj Kumar Singh, Javed Iqbal Ansari, Bima Bharti, Ranju Geeta, Baidyanath Sahni, Naushad Alam and Binod Prasad Yadav.
Ramlakhan Ram Raman, Samrat Chaudhary and Javed Iqbal Ansari are the 3 defectors from Lalu Prasad's RJD. They were on the forefront of the flight of 13 RJD MLAs from the party and did not return to it unlike the others.
The 3 had resigned from the state Assembly recently and were made nominated members of the legislative council.
Rajiv Ranjan Singh Lallan, a close aide of former chief minister Nitish Kumar, was also nominated MLC recently. He had lost from Munger in the recent Lok Sabha election.
Gautam Singh, who was among the 18 ministers who had taken oath on May 20, resigned early in the day to work for party organisation.
As per constitutional provisions, there is still scope to induct five more ministers in the Manjhi cabinet.
Kumar and BJP leader Sushil Kumar Modi, besides Manjhi were among those who were present at the oath ceremony.
© Copyright 2023 PTI. All rights reserved. Republication or redistribution of PTI content, including by framing or similar means, is expressly prohibited without the prior written consent.