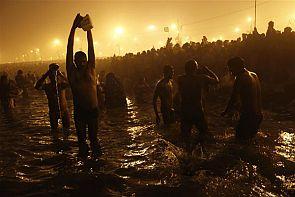 About 10 lakh people on Sunday night took a dip in the Saryu river amid tight security, marking the start of 14-Kosi Parikrama in which devotees undertake 45-km round of the periphery of Ayodhya.
The pilgrimage, which started at around 8 pm on Sunday will conclude on Tuesday.
The local administration is on its toes to conduct the Parikrama peacefully and a large contingent of security forces has been deployed in Ayodhya, including 10 companies of paramilitary forces.
The administration had expected more than 10 lakh devotees to take part in this religious gathering.
More than two dozen administrative officers from different government departments have been deputed in Ayodhya, and are serving as magisterial duties at Parikrama.
Senior Superintendent of Police K B Singh told PTI that heavy deployment of forces have been done at the vital security points of Ayodhya, and "we are alert round the clock till the completion of 14-Kosi Parikrama".