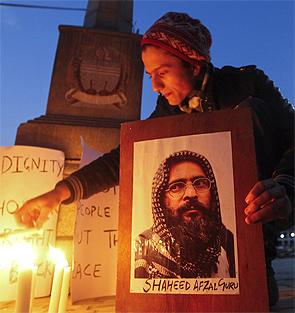 The terror attack on Parliament 12 years ago, on this very day, had evoked nation-wide outrage and botched India's fragile ties with Pakistan further.
Seven civilians and five terrorists were killed in the attack, while all the Members of Parliament managed to escape unhurt.
Have India's security agencies, which could not prevent a terror strike on the most prominent symbol of our democracy, learnt anything from the attack?
Let's not be too cynical about the issue, says C D Sahay, former chief of premier intelligence agency Research and Analysis Wing.
"Today, there is greater awareness about the possibility of terror attacks. The debate on terrorism has assumed centre-stage. People are aware of the threat to our national existence and to our democratic values," he said.
"The Parliament attack indicated that terrorism was no longer confined to Kashmir. The attack made the country stand united and the incident was universally condemned. But things began to change during the last stage of the investigation, when the entire issue became political," he rued.
"Today, in the wake of terror attacks that sense of unity and the uniform condemnation is missing. The serial blasts in Patna did not even prompt a national discourse. We seem to have taken a bi-partisan approach even to terror attacks," said Sahay.
"Creating institutions such as the National Investigation Agency may be important, but there should be a change in how we approach the issue. A national debate on terrorism is needed," he added.
Intelligence Bureau officials, meanwhile, have a more positive take on the issue.
"Terror has become steadily more home-grown after the attack on Parliament. A terror attack can take place anywhere. While terrorist leaders like (Parliament attack mastermind) Maulana Masood Azhar have become weaker, leaders like (Lashkar-e-Tayiba founder) Hafiz Saeed have become stronger," said an official in the IB.
Groups like the LeT have ventured beyond Kashmir valley and made the issue of terrorism in India a global one, with far-reaching consequences, he said.
To make matters worse, these terrorists have managed to infiltrate deeper with the help of local groups and the politicisation of terror has inadvertently helped them, said the official.
The death sentence awarded to Parliament attack convict Afzal Guru and his subsequent hanging has been one of the most debated issues this year.
Though the Union government was apprehensive about a backlash over the hanging in Kashmir, the protests in the Valley died down after the initial furore.
But the talks between separatists and the representatives of the central government broke down in the wake of Guru's hanging.
Image: A Kashmiri student with a picture of Afzal Guru lights a candle during a protest on the banks of the Dal Lake in Srinagar ' Photograph: Danish Ismail/Reuters