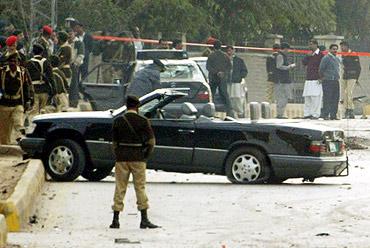 At least 10 people, including some students of a Sunni seminary, were killed and over 80 others injured in sectarian violence that erupted in Pakistani garrison city of Rawalpindi on Friday after a clash during a Muharram procession, following which a curfew was imposed.
Army soldiers were called out and all mobile services were suspended to control the situation. At least 10 people were killed in sectarian violence, Dunya News channel reported. Around 80 others, including several policemen, were injured in the violence.
The Punjab government decided to impose the indefinite curfew in Rawalpindi on the advice of the Commissioner and Inspector General of police after the deadly clashes, in which a market and several vehicles and petrol pumps were burnt, spiralled out of control.
Government and police officials said that the clashes started when a Shia procession was passing through Raja Bazar area of Rawalpindi.
"Initial investigations suggest that some miscreants raised slogans and shouted at the participants of the procession near Fawara Chowk from a seminary belonging to another sect," a police official said.
"This led to some angry protesters entering the seminary and dragging out three students and beating them leading to their deaths," he said, declining to be named.
Another official said the trouble spread when someone from the procession started firing and some protesters also grabbed the guns of the policemen, leading to more deaths and violence.
As panic spread, unidentified persons set a portion of the cloth market in Raja Bazaar on fire. Ten buildings were destroyed, according to reports. Some reports said Shias attacked Sunnis from a madrassa for insulting them. Some students from the seminary were allegedly burnt alive by a mob.
At least 100 shops in Faisal Cloth Market of Rawalpindi was set on fire and members of the two communities pelted stones at each other, police and witnesses said.
Although the firing stopped, the fire at Raja Bazaar could not be extinguished for a long time. Authorities said mobile services would remain suspended in Rawalpindi until Sunday morning.
An emergency was declared in the city's hospitals. Punjab Law Minister Rana Sanaullah said 80 per cent of Muharram processions in Pakistan's most populous province were conducted peacefully.
Though tension prevailed in Rawalpindi, Shia mourners taking part in processions proceeded to their destinations. The Shias were observing Ashura, which commemorates the death of Prophet Mohammed's grandson. Shias have often been targeted by terrorist groups during Muharram in recent years.
Friday's violence occurred even though strict security arrangements were put in place across Pakistan and cellular phone services were shut down in many cities to prevent violence.
The clampdown was enforced by thousands of security personnel. The arrangements were stricter this year because of threats posed by militants in the wake of the killing of
Pakistani Taliban chief Hakimullah Mehsud in an American drone attack and Nasiruddin Haqqani, a senior leader of the Haqqani network, in Islamabad.