One person was killed and another injured in a fresh violence between suspected militants and a group of people in an area bordering Bishnupur and Churachandpur districts in strife-torn Manipur, police said on Thursday.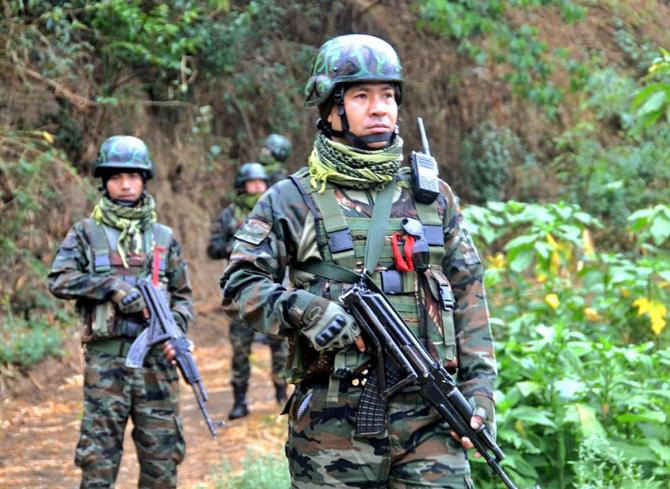 Toijam Chandramoni, 30, was shot dead during the violence on Wednesday, and Leichombam Abungnao, aged 22, was injured when suspected militants opened fire at the group of people, mostly comprising those who were displaced during the recent ethnic clashes in Churachandpur and took shelter in a relief camp at Moirang in Bishnupur, the officer said.
There were reports that militants late Tuesday night torched the houses of some villagers at Toronglaobi in Bishnupur district, he said.
"The villagers and those living in the Moirang camp were angry over the burning of their houses. As these people came to know that militants could torch a school located in an area near Thamnapokpi in Bishnupur and Kanganthei in Churachandpur, they went to the locality.
"Once, they reached the spot, militants opened fire at them, leaving two persons injured. One of the two succumbed to his injuries when he was taken to a hospital," the senior police officer said.
Following the violence, the authorities clamped curfew for 24 hours in the area and reduced the curfew relaxation hours in several other districts.
Meanwhile, the house of Manipur PWD Minister Konthoujam Govindas in Bishnupur district was vandalised on Wednesday by a group of people claiming that the government in the violence-hit state was not doing enough to protect locals from militants belonging to another community, an official said.
The minister who is a BJP leader and his family members, however, were not present at the house when the mob, comprising mostly women, attacked the house in Ningthoukhong area and damaged a portion of a gate, windows, a few furniture and electronic gadgets.
This was the first time a minister's house was attacked during the ongoing ethnic violence between Meitei and Kuki community people in the state that started three weeks ago.
Army and paramilitary forces have been deployed to control the situation in the state.
Clashes broke out in Manipur after a 'Tribal Solidarity March' was organised in the hill districts on May 3 to protest against the Meitei community's demand for Scheduled Tribe (ST) status.
The violence in Manipur was preceded by tension over the eviction of Kuki villagers from reserve forest land, which had led to a series of smaller agitations.
Meiteis account for about 53 per cent of Manipur's population and live mostly in the Imphal Valley. Tribals -- Nagas and Kukis -- constitute another 40 per cent of the population and reside in the hill districts.
The ethnic clashes claimed over 70 lives and some 10,000 army and paramilitary personnel had to be deployed to restore normalcy in the northeastern state.
© Copyright 2023 PTI. All rights reserved. Republication or redistribution of PTI content, including by framing or similar means, is expressly prohibited without the prior written consent.