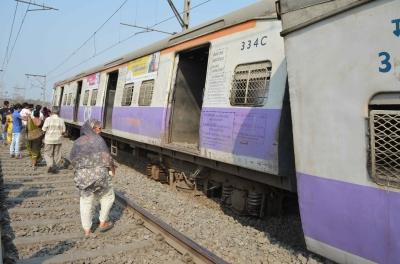 One person was killed and three others injured after five coaches of a suburban train derailed near Titwala in Thane district, railway authorities said.

The mishap, which occurred when the Chhatrapati Shivaji Terminus-bound local train derailed near Titwala, also threw traffic on the Central line out of gear.

"Five coaches of the N-18 (Kasara-CST) local derailed between Titwala and Ambivli stations (61 km from CST) at 2.30 pm today, resulting in the death of one person and injuries to three others," said a CR statement.

Rail traffic on the up and down lines between Kalyan and Titwala has been suspended due to the accident, railways said.

The Kalyan-Kasara rail segment, on which the accident occurred, is a very busy route which connects the financial capital of Mumbai with the northern and eastern cities of the country.

A break-down train and medical van have reached the accident site, along with senior officials, as efforts are underway to restore traffic flow in the affected section, the statement added.
Image: The derailed train near Titwala ' Photograph: Sahil Salvi