Prime Minister Narendra Modi gets a grand welcome at Madison Square Garden, fit for a rock star.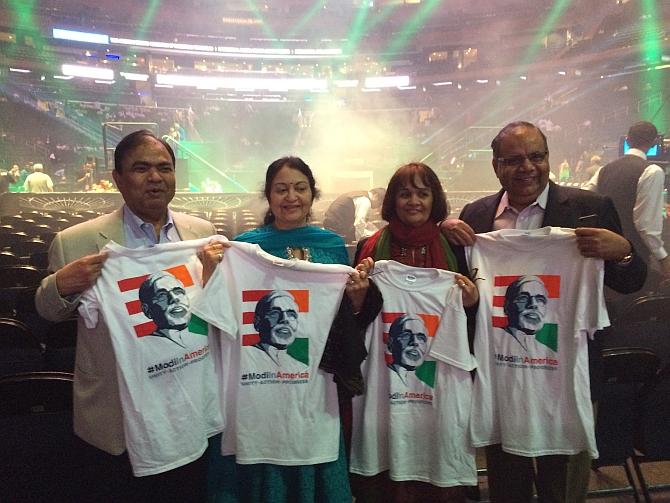 Some sported Modi tee-shirts and others posed with them at Madison Square Garden: Photograph: Paresh Gandhi/Rediff.com

Indian-Americans from across the United States gave a "rock star" treatment to Prime Minister Narendra Modi at the prestigious Madison Square Garden in the Big Apple, where nearly 20,000 strong gathering of Indian Diaspora welcomed the Indian leader.
Shouting slogans like 'Narendra Modi Zindabaad', 'Bharat Mata Ki Jai' and 'Welcome Modi', Indian-Americans started arriving at the venue since early in the morning. People were seen waiting in long queues.
By 9 pm a large number of people were dressed in Modi T-shirt with portrait of Modi on it. Many were holding banners and slogans like 'America Loves Modi'.
---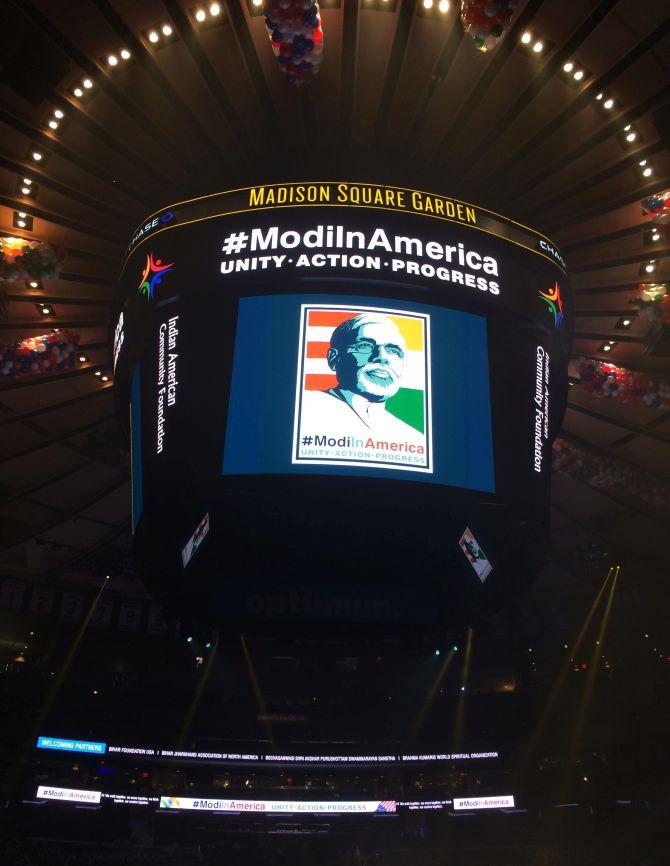 Image: The stage at Madison Square Garden is all set to host PM Narendra Modi, in what it being called 'the event of the year'. Photograph: Paresh Gandhi/Rediff.com
Some 20,000 people packed the Madison Square Garden for the largest event of its kind for the Indian-American community organised by the recently formed Indian-American Community Foundation, and supported by more than 400 Indian-American organizers from across the country.
"He is a rock star," said young college going Deepa Kaur.
"We have a lot of expectations from him," she said.
Never seen before, the organisers had lined up a number of cultural events including popular songs, folk dances. People were seen dancing to the tune of these cultural events.
More than 200 media, a significantly large number of them from India, had registered for the event; which organisers said is unprecedented for an Indian American event.

---
Image: Carrying banners and dressed in their finest, many fans of PM Narendra Modi collected outside Madison Square Garden before the event began
"He is the first prime minister who is connected to the NRI (non-resident Indian community). That's why you see such a large number of people. We filled up the seats in just two weeks. It has never happened in the history of the Madison Square Garden that seats gets filled up some three weeks before the event," said Anil Sharma, one of the volunteers of the event.
In fact, more than 2,000 volunteers worked day and night for the past three weeks to make he programme a success.
"It's Modi mania," said Ankit Patel. "It's a lifetime event," he said.
In fact, the event attracted some three dozen Congressmen including several power lawmakers like Senator Robert Menendez, Chairman of the Senate Foreign Relations Committee; Congressman Ed Royce, Chairman of the House Foreign Relations Committee, and Congressman Ami Bera.
South Carolina Governor Nikki Haley, Assistant Secretary of State for South and Central Asia Nisha Desai Biswal were also present. A huge contingent of Indian-American corporate leaders and IT professionals came in from the Silicon Valley for the mega event.
---
The New York Times in a headline 'Indian Leader Narendra Modi, Once Unwelcome in US gets a Rock Star Reception' story on Sunday wrote Modi will receive a rally fit for a rock star.
Modi's fans were seen carrying the Indian tricolour and wore traditional Indian garb with several groups of performers carrying drums and 'dhols' to give him a rousing welcome.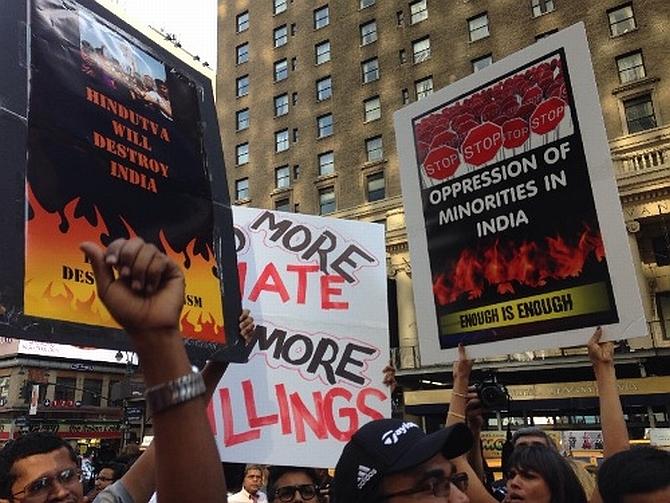 While most outside MSG cheered for Modi, there were a few protesters as well. Photograph: Chaya Babu/Rediff.com
There was also a group of Tibetan women carrying banners in support of Modi. Strict security arrangements are in place with police barricades at several locations.
There is also a large group of anti-Modi protesters who have gathered outside the garden shouting slogans against the prime minister.
They are carrying banners reading "Modi -- visa still denied", "Wanted Narendra Modi for crimes against humanity", "India must end oppression of minorities", "Hindutva will destroy India" -- led by the Alliance for Justice and Accountability.
Robindra Deb, an anti-Modi protester said, "We have gathered outside Madison Square Garden to remind the people of what happened in 2002 (Gujarat riots) under Modi's governance. Modi needs to be held accountable. Not the entire Indian American community supports him".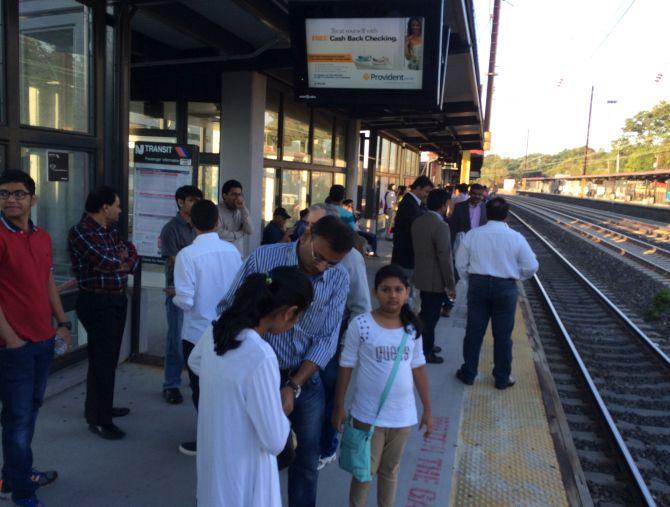 Image: This Indian-American family was snapped waiting at a railway station trying to catch a train to MSG. Photograph: Paresh Gandhi

Besides the main venue, there would be at least 50 other locations across the country where special arrangements have been made for the live telecast of the prime minister's speech and other events that include a nearly two-hour-long entertainment programme.
At 16.4 per cent, Indian-Americans are the third largest Asian-American group in the US, numbering 2.8 million strong, which is almost 1 per cent of the US population.
---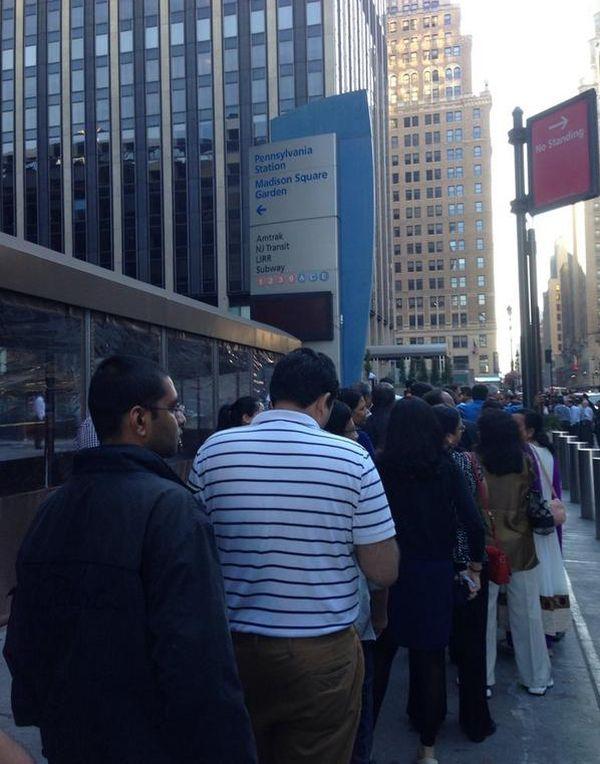 Image: What comes before the show? The long wait in the long queues. @PriscillaTellis tweets about the long lines.
---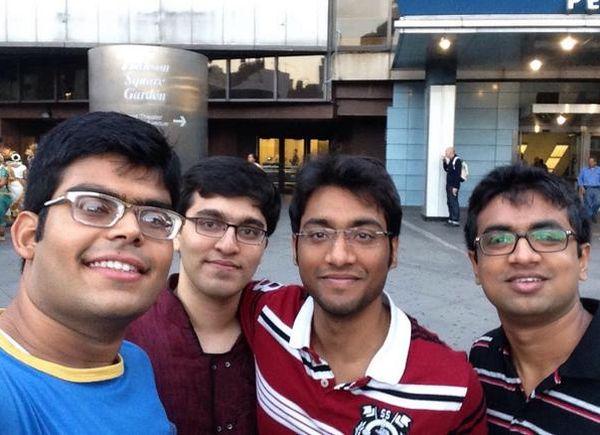 Image: And the long wait, also gives fans and supporters a chance to take selfies. Photograph: @amitsinghjiit/Twitter