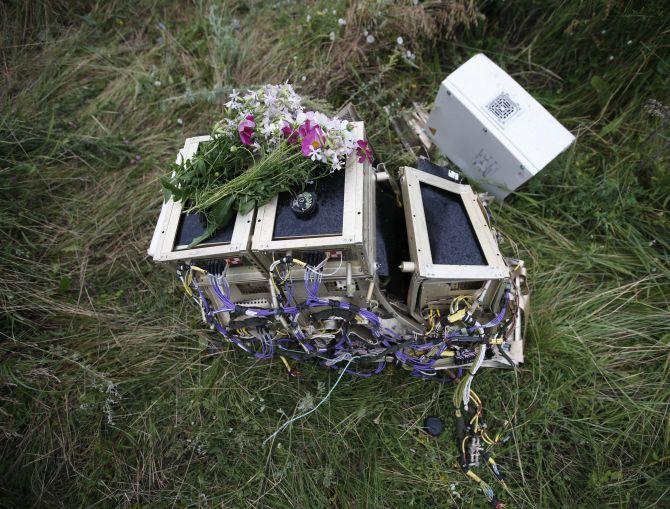 Rescue workers have so far recovered 181 bodies scattered over a vast area in eastern Ukraine even as pro-Russia rebels on Friday said they have recovered the black boxes from the wreckage of the Malaysian plane blown up by a missile, killing all 298 people on board.
Pro-Russia rebels claimed to have recovered the black box of Malaysia Airlines Flight MH17 and had announced that they are planning to have it moved to Moscow for examination.
Ukraine Foreign Ministry said 181 bodies have been located which are scattered over a vast stretch of farmland, so far at the crash site. The ministry cited local emergency workers at the site for the numbers. It said the bodies will be taken to Kharkiv, a government-controlled city 270 kilometre north of the crash site, for identification.
The Ukrainian government and the pro-Russian separatists in the east of the country have blamed each other for the alleged shooting down of the plane on Thursday.
Pro-Russian rebels have agreed to give international investigators access to the crash site and allow the recovery of bodies. "Rebels in eastern Ukraine will continue fighting in all areas except for the site of the Malaysian plane crash site," a rebel commander was quoted as saying.
The Boeing 777 – carrying 298 people – was en route from Amsterdam to the Malaysian capital, Kuala Lampur, when it crashed on Thursday in eastern Ukraine, near the Russian border.
The 15-member crew was from Malaysia and included two ethnic Indians, Sanjib Singh Sandhu, 41, and Angeline Premila Rajandran, 30.
Ukrainian President Petro Poroshenko accused "terrorists" of downing the jet, referring to pro-Russian separatists. "Terrorists have killed almost 300 persons with one shot," Poroshenko said
However, Russian defense ministry said it had picked up radar unit activity from a Ukrainian-controlled Buk missile system on the day the Malaysian airliner crashed.
The passenger jetliner came down close to the town of Shaktarsk in Ukraine's rebellion-wracked region of Donetsk after disappearing from radar screens.
Meanwhile, Malaysian Prime Minister Najib Razak on Friday demanded that perpetrators must swiftly be brought to justice. "This is a tragic day in what has already been a tragic year for Malaysia. The flight's passengers were from many nations but we are all united in grief."
"The government of Malaysia is dispatching a special flight to Kiev, carrying a special Malaysia disaster assistance and rescue team, as well as a medical team," Najib added.
Image: Flowers lie on debris from a Malaysian Airlines Boeing 777 plane which was downed on Thursday near the village of Rozsypne, in the Donetsk region. Photograph: Maxim Zmeyev/Reuters