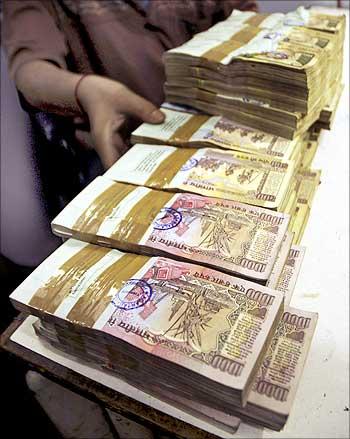 Over Rs 313 crore in cash has been seized by Election Commission since the announcement of the 16th general elections with Andhra Pradesh topping the list in cash and liquor interceptions during this period.
EC-appointed surveillance and flying squads intercepted cash, liquor and narcotics as part of the central poll body's directive to check black money use and illegal inducements to the electorate.
In the cash seizures list, Andhra Pradesh leads the tally with over Rs 153 crore intercepted followed by Karnataka with over Rs 28 crore, Maharashtra with over Rs 25.67 crore), Tamil Nadu with over Rs 25.05 crore and Uttar Pradesh with Rs 24.07 crore. The total cash seizure stood at Rs 3,13,31,76,868.
Complete Coverage: Elections 2014
As to liquor interceptions, EC teams seized a maximum of 1.44 crore litres in Andhra Pradesh followed by over 11.50 lakh litres in Punjab, 11.32 lakh litres in Gujarat, 8.46 lakh litres in West Bengal and 7.25 lakh litres in Uttar Pradesh. The total liquor seized between March 5, when the polls were announced, and Monday's last phase of voting stands at 2,25,67,476 litres.
As for narcotics seizure, EC teams intercepted a total of 1.85 lakh kg of drugs with the highest haul of 1.39 lakh kg coming in Punjab. Drug seizure was 24,881 kg in Uttar Pradesh and 10,266 kg in Rajasthan.
The total number of first information reports lodged in connection with a variety of poll-related violations stands at 75,306. The maximum number of FIRs was registered in Tamil Nadu with 13,641 followed by Uttar Pradesh with 13,565. Over 20,000 flying squads and static surveillance teams were deployed by EC during this period.