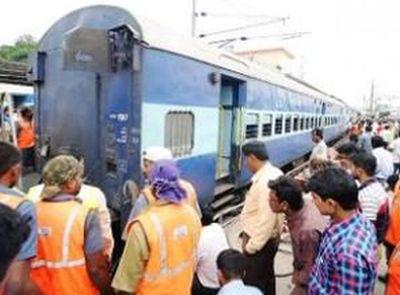 At least 39 passengers of Chennai-Mangalore Express were injured after four bogies derailed near Cuddalore in the wee hours on Friday.
The mishap occurred around 2 am on Friday when the four bogies of the Mangalore-bound train jumped the tracks at Puvanur near Vriddhachalam in Cuddalore district, police and southern Railway officials said.
Of the 39 injured, 36 were administered first aid while three others were admitted to a hospital in Vriddhachalam, Railway officials said.
Rail traffic was disrupted on the busy route. Several trains were halted at nearby stations. They were later operated on alternative route but were running late, officials added.
Senior police officials said the district administration was taking stock of the situation, with steps being taken to make alternative arrangements for some stranded passengers to be ferried to nearest rail and bus terminals to proceed to their respective destinations.
Meanwhile, Tamil Nadu Chief Minister J Jayalalithaa announced a compensation of Rs 50,000 for those with severe injuries and Rs 25,000 to persons with simple injuries.
In a statement, she expressed regret over the mishap and wished speedy recovery of the injured.
She said four persons were being treated as in-patients at Vriddhachalam and directed Cuddalore district administration to provide required medical and transportation facilities for the injured.