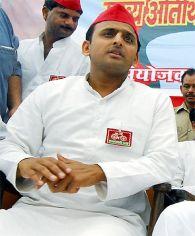 Rattled by Samajwadi Party's rout in Lok Sabha polls, Uttar Pradesh Chief Minister Akhilesh Yadav on Tuesday sacked 36 leaders having status of minister of state in his government but ruled out his resignation.
Party sources said among those who got the axe were over 6 leaders of minority community, adding Akhilesh might sack some cabinet and state ministers too after the poor performance in the Lok Sabha polls, where the SP managed to get just 5 seats.
Amid demands for his resignation, Akhilesh, however, indicated that he was in no mood to quit and said reasons behind SP's poor show were being reviewed.
"The political equations of all the states are different... one state cannot be compared to another," he said in response to questions on whether he would follow his Bihar counterpart Nitish Kumar, who resigned after his party's poll debacle.
The chief minister who today presided over the first cabinet meeting after the completion of the polls said the reasons behind his SP's poor show are being reviewed in detail by the party chief Mulayam Singh Yadav.
Prominent among those who have been removed are Narendra Bhati and Surendra Mohan Agarwal, who had tasted defeat in Gautam Buddh Nagar and Kanpur seats respectively, RLD turncoat Anuradha Chowdhury, traders' body leader Sandeep Bansal, former Agra Mayor Anjula Mahaur, Surabhi Shukla, Ranjana Bajpai KC Pandey, Kamlesh Pathak, Ashu Malik, Satish Dixit and Manoj Rai.
Those from the minority community included Anis Mansori, Mohammad Abbas, Iqbal Ali, Haji Iqram and Kamruddin, they added.
Raja Chaturvedi and Ram Singh Rana, former student leaders, were also sacked.
The ruling party got five out of 80 seats in the Lok Sabha polls, just two years after it got a spectacular mandate in the assembly elections.
BJP and its ally Apna Dal clinched 73 while Congress got 2 seats.
Among the five seats, Yadav alone won on two seats -- Mainpuri and Azamgarh. Rest 3 are Kannauj, Badaun and Firozabad clinched by his daughter-in-law Dimple Yadav and nephews Dharmendra Yadav and Akshay Yadav respectively
The sacking came a day after the party held a meeting of party candidates to review its performance.