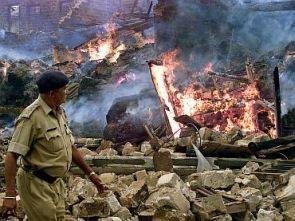 Congress charged that there has been a rise in communal incidents in the country during the National Democratic Alliance coalition's first 100 days in power even as it questioned Prime Minister Narendra Modi's "silence" over the matter.
"In the first 100 days, the most worrying factor is the way in which communal tension has not risen but rather has been made to rise," senior Congress leader Manish Tewari said.
He said that after the BJP-led government had assumed power, statements regarding Article 370 and Uniform Civil Code had appeared aimed at undermining communal peace.
Further, talking about the 'Love Jihad' controversy, Tewari said, "I still can't understand who can make the words 'love' and 'jihad' part of the same expression. But for communal polarisation, government has been very successful in doing that.
"In the middle of all this, the silence of the prime minister... The meaning of that silence is that somewhere down the line, there is encouragement from the government to these organisations," Tewari said at an event here to review the 100 days of the NDA government organised by the 'Wada na Todo Abhiyan'.
"We are very concerned that this is not related to any elections. It is not that communal tension is being fanned because there are elections in Maharashtra, Haryana.
"It is an effort being made in a very organised manner to change the basic identity of this country... the idea of India," Tewari said.
Speaking at the event, AAP's Reena Gupta charged that a phenomenon of "outsourcing of communalism" was being witnessed under the new regime.
"The new government is not monitoring black marketeers and hoarders, so inflation continues to be high. It is doing worse as far as environmental issues are concerned," Gupta alleged.
Another speaker, Devinder Sharma, a food policy analyst, said there was no drastic change in the economic policies of the previous UPA and the present NDA regimes.
PV Rajgopal of Ekta Parishad, meanwhile, alleged that the issue of land acquisition had gone backwards under the NDA government and there was concentration of power in one hand, which is not healthy for any democracy.
Image used only for representational purposes