'This is what Hindu Rashtra looks like, which has been enabled by conditions of democracy.'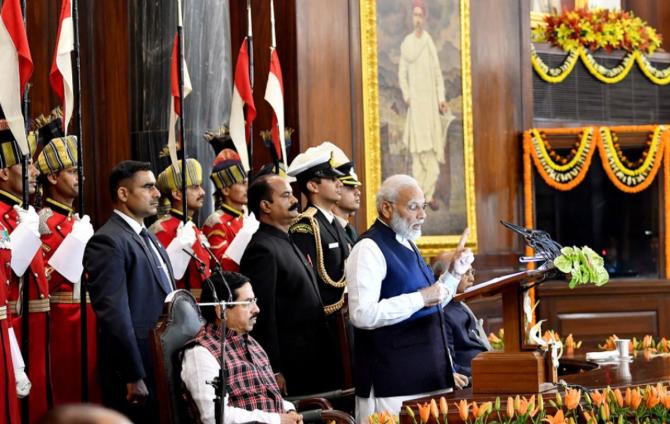 The Bharatiya Janata Party's steep rise, and the fact that it has virtually decimated the Opposition has given rise to fears that democracy itself is under threat from the de facto single-party rule that it has come to represent.
Its recourse to pushing legislatios through in Parliament without adequate debate -- like with the new farm laws that have sparked off angry farmers's protests -- or even discussions in parliamentary panels, has also led to the worry that India's Constitutional institutions may be under siege.
However Vinay Sitapati, author of Jugalbandi: The BJP before Modi, believes that the Bharatiya Janata Party is a deep believer in democracy and the Constitution.
And why not? The rise of Hindu nationalism -- and consequently the BJP -- as been enabled by both the Constitution and democracy, Sitapati says.
"Those who are against the BJP should see what they are up against. They are against a democratic force which uses political equality under the background of social majoritarianism," Vinay Sitapati tells Rediff.com's Saisuresh Sivaswamy and Syed Firdaus Ashraf in the second of a five-part interview.
The speech where Vajpayee says that 'Muslims don't want to live in peace. They fight with the majority where they are in minority and fight among themselves where they are in majority, God knows what they want', that one?
Yes, that speech in Goa. As P Chidambaram said, it is hard to imagine any prime minister speaking like that, and do it in that context.
Having said that, I don't want to be too harsh on Vajpayee. All great and grand people have contradictions within them, and Vajpayee was one of India's greatest prime ministers.
My previous book's subject was P V Narasimha Rao who was a great visionary, but he was corrupt.
And I could write all this because one of the advantages of me working in a university is that I can say what I want to say and do not hold back anything.
There is evidence of Rao bribing the Jharkhand Mukti Morcha MPs (during a no-confidence motion). And at the same time he had a great grand visionary complex.
I realised working on characters like Vajpayee that his sum is greater than the parts. His instincts had a larger sense of India.
In many cases, his conscience did prick him. But he always had the anxiety that he was a guest artiste when it came to his party.
And that at key moments when he fought with the party, he could be ejected.
To give one example, his relationship with Mrs Rajkumari Kaul, which was courageous.
In a party which is monastic, believes in vegetarianism, alcohol abstention... Vajpayee did not drink a lot but he enjoyed his occasional drinks.
There is a video of Vajpayee on December 5, 1992 where he speaks of the demolition of the Babri Masjid the next day. Lots of people use that video and say Vajpayee was communal?
The word 'communal' is a complicated one and I don't want to get into that because ultimately what do you mean by communal?
On the Ayodhya movement he was sending mixed messages. His instinct was that mixing religion and politics was wrong.
During the rath yatra he told Advani over phone that you are riding a tiger and it would be difficult to get off, but Advani did not listen to him.
He opposes the Ayodhya movement completely and his companion Mrs Rajkumari Kaul is stridently against the demolition of the Babri Masjid.
And therefore his first reaction after the demolition was that what happened was wrong.
At the same time, he realises that the movement is moving away from him and if he continues to keep away from it he will be sidelined further.
So the typical Vajpayee technique is not to go to Ayodhya, but to go to Aminabad near Lucknow and which is the story that you mention.
And here he famously says that the Supreme Court gave permission that you have to have one form of prayer and not the other form of prayer, but for that you have to level the ground.
This phrase from the video has become very famous, but it can be interpreted in many ways.
The key point is that after that speech on December 5, 1992, Vajpayee takes the train back to Delhi while Advani heads to Ayodhya.
When Vajpayee is in Delhi the Babri Masjid falls. Had he gone to Ayodhya with Advani and others he might not have become the prime minister of India.
His stature post the Babri demolition rose because he distinguished himself from others as he was not physically present on the spot.
That is the complex answer to your question.
You mention the need to maintain Hindu society's unity as one of the reasons for Vajpayee and Advani putting up with fluctuating fortunes.
Is that also the reason why Advani has so far not opened up about his relegation to insignificance after 2014, and probably will never open up?
Yes, I think so. Let me rephrase that. They have been indoctrinated by the fact that the reason for the defeat of Hindus historically was because of disunity.
The 3rd Battle of Panipat, for example. Hindus stab each other in the back, that is what (the Rashtriya Swayamsevak Sangh's second sarsanghchalak Madhav Sadashiv) Golwalkar had said.
This historical lesson has been told to them so many times that it has become an organisational form.
Hindu disunity of the past is the warning lesson to Advani. In his mind it is not that he thinks about it every day, but it is the DNA through which he has been formed.
And there are so many mechanisms within the RSS where they try to keep the flock united.
The reason they do not split is because they think about this from morning to evening and it is because this is the history they are taught.
So can one expect Hindu nationalists to follow India's Constitution?
That question I will leave to the readers.
My own analysis is and you can disagree with it. Procedurally, they are democrats and I am talking in a technical sense because I teach political science.
Any definition of democracy means free and fair elections, the presumption that one person has one vote. You can then add appendages like liberal democracy, constitutional democracy, etc etc.
One of the central arguments of this book, other than teamwork, is that the BJP itself is constituted by elections.
I point out that from the 1920 elections India is a group-based society. And when the British began to introduce elections in India it is limited but the principle is based on one person, one vote.
It sets off panic in India. The Muslim League is constituted precisely because they are terrified and especially the UP zamindars as they feel elections will reduce their numerical strength as they are only 25 per cent pre-Partition.
Suddenly the rule is decided by numbers.
Simultaneously, Hindu nationalists like Lala Lajpat Rai and Madan Mohan Malviya are thrilled with democracy. And why not, as Hindus are a social majority.
So the political project becomes, how do you unite Hindus? This, you always find in the BJP.
If you read their text, they sound like political liberals because they believe in political equality, but that political equality is formed on social majoritarianism.
There is no question about it that they are democrats and democracy is the core belief of the Indian Constitution.
When you talk of Babri Masjid it is that there is too much attention on who was guilty on December 6.
The real attention should be on the Nehruvian idea of secularism which was not only worried about religion in the State, but also worried about the role of Hinduism in the State.
The reason is because Hindus are a majority. The worry for Nehru was not that the Indian State will become Islamic, but there was a worry the State will become Hindu.
In that sense, in a very technical sense, the BJP's criticisms of Nehru are right. Nehru was a little stronger about rejecting Hinduism from the State. That idea of secularism clashes with the idea of democracy which is a core Constitutional value.
It is the Indian Constitution and Indian democracy that have enabled the BJP's rise. The BJP wins because people vote for them.
Those who are against the BJP should see what they are up against. They are against a democratic force which uses political equality under the background of social majoritarianism.
There is no question about that. It is a modern movement. It is not going back to some Vedic past or that kind of thing. It is a deeply modern movement with modern aims.
Don't you think that Vajpayee-Advani permanently damaged Hindu-Muslim relations that were built on trust post-Partition, till the 1980s, on the Nehruvian model?
The evidence is more complex than that as there was no shortage of riots during the Nehruvian period you are talking about.
The Nehruvian idea of secularism was so elite that there is no word for secularism in India other than in English. We say Sarv Dharam Nirpeksh. But that is not the same thing.
The Nehruvian project has failed. The idea was that secularism would socialise Indians.
It failed and I think the Congress party, which was a vehicle in achieving that, completely failed in it.
In some sense Nehruvian secularism was destined to fail. It was self-consciously elite.
Nehru wanted this idea precisely because it was alien to India.
Madhav Khosla has a very interesting book where he writes that the founders of the Indian Constitution were self-conscious that they were building a very elite project.
What they were saying is that we are going to create an Indian Constitution that will teach Indians to respect democratic values.
The outlook would become modern over a period of time through a modern Constitution and will slowly transform the way Indians thought. That failed.
And that failed long before the BJP came into the picture. The data on riots is clear on that.
The fundamental tragedy of Indian Muslims is the partition of India.
They moved from being a 25 per cent confident minority with separate electorate to 13 per cent and depending entirely on the Congress party for their survival. To me that is the founding tragedy of Indian Muslims.
The Congress project failed completely and it was unrelated to the BJP and Jan Sangh.
And the answer to your question is much more complicated than to state that the BJP came and India turned right wing.
Does it mean that Hindu majoritarianism is a way of life in Indian democracy forever?
I wouldn't disagree with that sentence.
You are looking today at Hindu Rashtra.
This is what Hindu Rashtra looks like, which has been enabled by conditions of democracy.