'The Ayush minister (Shripad Yesso Naik) himself was suffering from COVID-19 and got treated in a modern hospital.'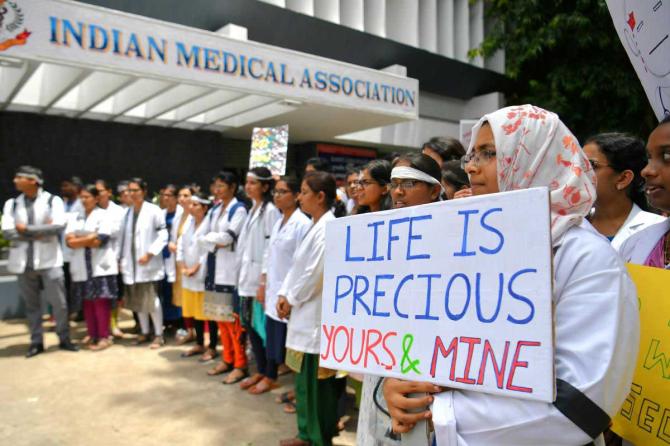 Doctors across India went on a day-long strike recently, joining the Indian Medical Association's call for withdrawal of non-essential services between 6 am to 6 pm, to protest against the Centre's notification allowing postgraduate ayurveda practitioners to train to perform 58 surgical procedures.
IMA National President Rajan Sharma tells Ritwik Sharma that the move will only end up harming Ayurveda and health care in the country.
Do you sense any shift in focus from modern to traditional medicine resulting from the government notification?
It is not a shift in focus, but a dangerous mixing of things.
It is poaching modern medicine, its books and knowledge.
It takes several years to become a doctor.
If you see the list of surgical disciplines (in the notification), you will be shocked.
Cataract, ear, head and neck surgeries, laparoscopic surgeries, endoscopic sinus surgeries... and then awarding them abbreviations such as master of surgery and doctor of medicine.
Students take NEET (the National Eligibility Cum Entrance Test) undergraduate, postgraduate and super speciality exams.
And here, you are allowing the lateral entry of half-baked doctors.
It is a joke.
The notification says that a postgraduate Ayurveda student must be trained to 'acquaint with' and 'independently perform' specific surgeries. Why is it a fear for modern medicine and what are the risks involved?
Why should I be fearful?
I am fearful for the hapless person who will be subjected to half-baked doctors.
To those who have come out with the notification I want to ask: How many have got general surgery done by an Ayurvedic doctor?
And what type of anaesthesia and drugs will they give?
There is not a shortage of doctors, but facilities.
It is a lopsided approach to think that every village will need surgeons.
I am an orthopaedic surgeon.
If I am posted at a dispensary, what will I do without an operation theatre?
Surgery is teamwork.
And last but not the least, shortage does not mean you corrupt the system.
What do you propose?
Withdraw the notification.
After so many years of Ayurveda, it has not been able to spend on research.
The Ayush minister (Shripad Yesso Naik) himself was suffering from COVID-19 and got treated in a modern hospital.
So you cannot have double standards.
I have read the 58 surgeries and want to ask a question: Will you get operated upon by these people?
In cities, we may not face the problem.
But think of the person in a village.
Even after various steps, complications occur post-surgery.
If everything can be covered by Ayurvedic doctors, why do we have primary, secondary and tertiary care hospitals?
Ayurvedic practitioners, however, say they have been performing surgeries.
Please find me a genuine Ayurveda Acharya.
I am not against Ayurveda, homoeopathy, Siddha or Unani.
What we are calling 'mixopathy' will damage Ayurveda further.
Ayurveda will lose its character because it is proposed to teach modern medicine to the practitioners.
What, according to you, are the areas that should be focused upon?
Invest in health care infrastructure.
COVID-19 has exposed the dire need of health care and we are happy that the prime minister acknowledged us and called us warriors.
We have already lost 700 colleagues.
When it was claimed that there is an Ayurvedic cure for COVID-19, why are so many suffering from it?
We respect Ayurveda, it's an ancient science.
But please revisit the teachings and invest in research.
Also, what is known as scientific temper?
We promoted plasma therapy and then questioned it too as it's not advocated everywhere.
Remdesivir was also supposed to be a weapon against COVID, but it is now being questioned.
Most Ayurveda hospitals employ our general surgeons who opt for it as a commercial venture.
If I operate in an Ayurveda hospital, that doesn't make me an Ayurvedic orthopaedic surgeon.
I am registered with the medical council and bound by the code of ethics.
The facilities weren't created for us to go and operate in government set-ups. How will you create facilities for half-baked surgeons?
Medical tourism contributes billions of dollars to India.
Now, the move to create an integrated doctor (under the proposed 'One Nation, One Health System') by 2030 will backfire on the health system.
Let all the practices remain and give the choice of treatment to the people.
Feature Presentation: Ashish Narsale/Rediff.com