'It is highly doubtful that the Trump administration will consider inserting itself into the volatile India-Pakistan dispute, especially when he has signalled his interest in prioritising deepening ties with India.'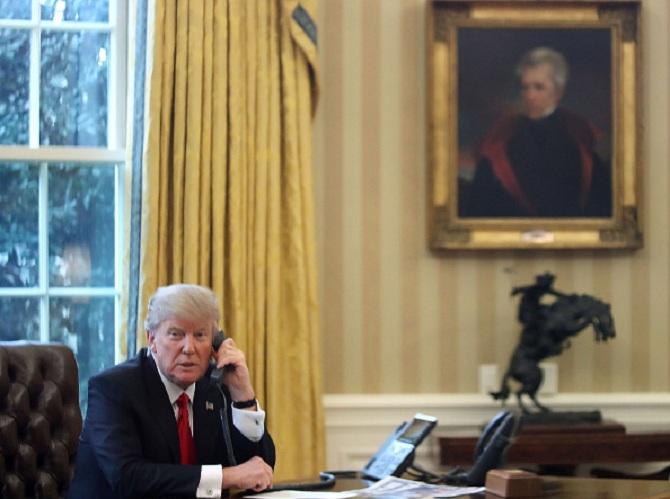 IMAGE: Donald Trump has referred to India several times, and always in warm and admiring references, Lisa Curtis points out. Photograph: Mark Wilson/Getty Images

Lisa Curtis, senior research fellow on South Asia at The Heritage Foundation's Asian Studies Centre, tells Aditi Phadnis what to expect from the new US administration.
There is considerable apprehension about the statements made by Donald Trump regarding business and economy, specifically his views on H1B visas, immigration and outsourcing -- all of which have a bearing on the Indian economy.
How do you think relations will proceed?
There is bipartisan support in the United States for deeper and wider ties with India.
Congressional members on both sides of the aisle view India as an important player in balancing China's rise and helping to secure a peaceful, democratic Asia with free and open seaways.
India has become a critical element in the broader US-Asia-Pacific policy, and Trump is likely to continue the momentum in ties.
The recent US designation of India as a 'Major Defence Partner' -- which essentially puts India on par with America's closest allies when it comes to technology transfer -- and the signing in August of an Indo-US logistics-sharing agreement that allows the US and India to access each other's military bases for resupply and refuelling are testament to the importance both the countries attach to the partnership.
One area where we could see some friction in relations in the Trump era is the H-1B visa issue.
Trump has criticised some aspects of the H-1B programme, but has also acknowledged the need for companies to access global talent.
So, we will have to see how this issue plays out.
But judging from his campaign speeches, India doesn't seem to have been a priority?
No, that's not correct. He has referred to India several times, and always in warm and admiring references.
I think he believes India is a friend of the United States and wants to take the relationship to new heights.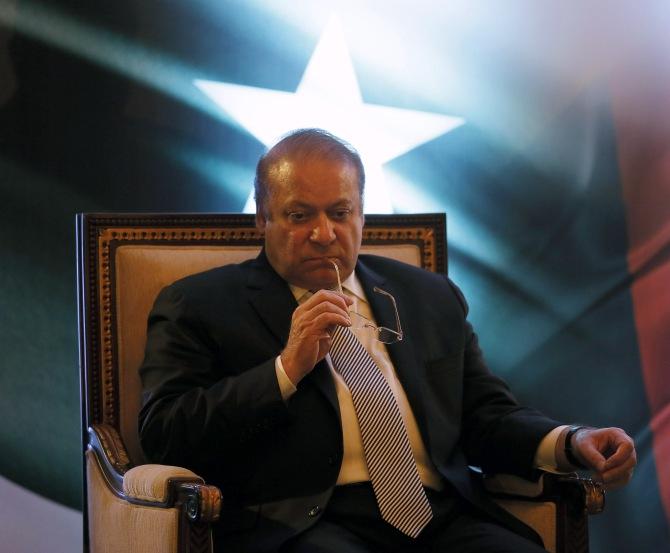 IMAGE: Pakistan Prime Minister Nawaz Sharif. Lisa Curtis cautions against reading too much into Trump's call with Sharif, saying, "It seems all Trump was doing was being warm, kind and polite."
Photograph: Dinuka Liyanawatte/Reuters
The Pakistani media has published an account of a conversation between Prime Minister Nawaz Sharif and Trump that has raised eyebrows in India.
In the course of that conversation, Trump is said to have told Sharif, 'I am ready and willing to play any role that you want me to play to address and find solutions to outstanding problems.'
This has not been refuted too strongly by the State Department either; it has been diplomatic in fending off queries....
The Pakistani government released one side of a conversation, so we have no idea what Sharif said during the phone call.
Trump's comments reflected a warm and polite exchange.
These comments seem like friendly banter that could have been made to almost any foreign leader.
It is not surprising that Pakistani leaders would take advantage of a polite and warm exchange to push their agenda of bringing international attention to Kashmir.
It seems all Trump was doing was being warm, kind and polite.
Should he have allowed himself to be led?
It was a brief congratulatory phone call and we have heard only one side.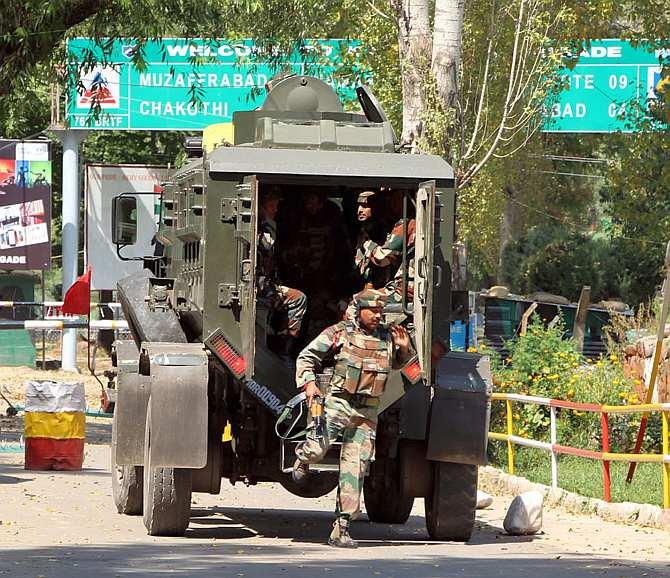 IMAGE: Indian soldiers on their way to neutralise terrorists after the Uri attack
Photograph: Umar Ganie
So, is the US going to try and mediate in the Kashmir issue?
It is highly doubtful that the Trump administration will consider inserting itself into the volatile India-Pakistan dispute, especially when he has signalled his interest in prioritising deepening ties with India.
Indeed, if there is any useful role the US can play in tamping down tensions between the two nuclear armed rivals, it is to press Pakistan to crack down on anti-India militants, who operate freely in Pakistani territory.
Can the US do anything?
A number of steps may be taken.
First, the new administration must avoid repeating the patterns and mistakes of the Obama administration on Pakistan.
While it's not in the US interest to make an enemy out of Pakistan or to designate it as a State sponsor of terrorism -- as some Congressional leaders have proposed -- the new administration must better leverage US military aid to encourage tougher policies from Pakistan against all terrorists in the country.
Adopting a completely punitive approach towards Pakistan would not serve US interests, but it is also clear that remaining on the current path of providing unconditional aid and relying solely on a policy of engagement would be foolish.
The Trump administration must link US policies on Pakistan directly to US objectives in Afghanistan and find ways to limit Pakistan's ability to frustrate US regional goals.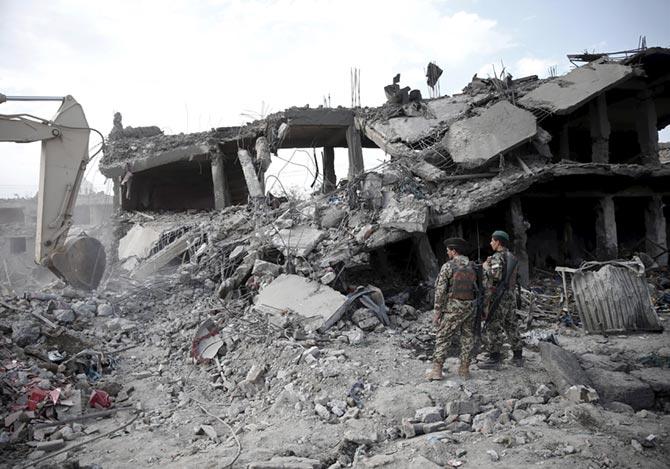 IMAGE: After a bomb blast in Kabul. The fight against the Taliban in Afghanistan will not succeed so long as the movement's leaders find safe haven in Pakistan.
Photograph: Ahmad Masood/Reuters
Successive American administrations have said that Pakistan should stop promoting terror.
But Pakistan counts itself as the biggest victim of terrorism and the US seems to believe that as well!
What will it take to get the US to see Pakistan as the originator of terrorism and not its victim?
Pakistan has suffered tremendously because of terrorism, perhaps more than any other country.
Its dual policy of fighting terrorists, who attack the Pakistani state, and supporting others, who attack its neighbours, has ended up hurting the country itself.
These groups may have different targets, but they share recruits, logistics, training facilities and the same deadly ideology.
Thus, you cannot hope to end terrorism in the country without a comprehensive approach to the problem.
On the other hand, Pakistan has valiantly borne the burden of unceasing waves of refugees from Afghanistan.
No country can sustain such a drain on its social sector, having to subsidise the livelihood of such a huge populace...
There is no doubt that the responsibility of refugees from Afghanistan has been a drain on the Pakistani economy. And while most attention is on the fight against Islamic State in Iraq, Afghanistan remains a major front in the fight against global terrorism and will likely come up quickly on Trump's radar.
US forces were given expanded authority to engage in offensive operations with their Afghan counterparts in 2016, and helped fend off Taliban advances, particularly in the northern city of Kunduz and in parts of the southern province of Helmand.
However, the incoming administration must consider whether holding the line against the Taliban is sufficient or whether increasing US and NATO troop levels might be necessary to turn up the pressure on the Taliban.
A first step would be to consult US military commanders on the ground and then listen to their advice.
In 2013, former US commander in Afghanistan General John Allen recommended keeping 20,000 US forces in the country post 2014, as the least risky option.
Unfortunately, President Obama opted for the riskier option of leaving only about half that number.
Although the US aid footprint in Afghanistan will inevitably diminish with time, Washington must maintain programmes that bolster democratic trends, contribute to economic development and regional economic integration, and that can be insulated from the pervasive corruption that plagues Afghan society.
Too much aid has been squandered over the last 15 years and a new administration will have to review aid policies and programmes, insisting on efficiency and results.
Last, the fight against the Taliban in Afghanistan will not succeed so long as the movement's leaders find safe haven in Pakistan.
The administration will have to find new avenues for convincing Pakistanis it is in their own self-interest to crack down on the Taliban and to join a peace process.
The change in administration provides an opportunity to recommit to the fight in Afghanistan and sharpen US strategy towards Pakistan in a way that brings greater stability and economic prosperity to the region.