'If Modi-Shah had not changed the leadership, one section would have parted ways with the BJP for sure.'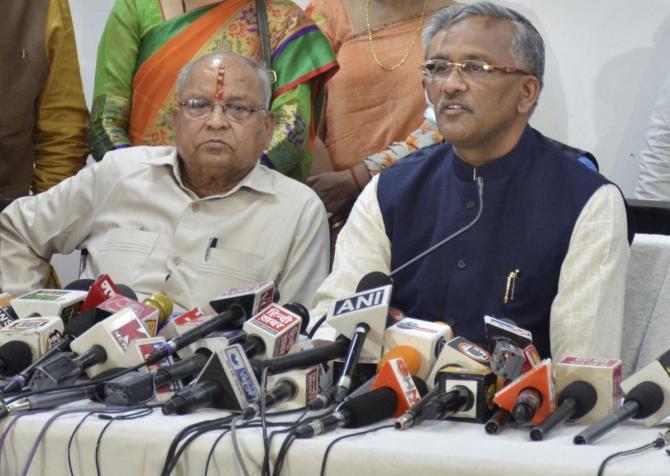 Prime Minister Narendra Damodardas Modi and Home Minister Amit Anilchandra Shah are known to staunchly back the chief ministers they appoint even in the face of resentment from respective Bharatiya Janata Party state units or public opinion.
Therefore, it came as a shock to many political observers when Uttarakhand Chief Minister Trivendra Singh Rawat was asked to resign and was replaced on Wednesday by Tirath Singh Rawat.
Syed Firdaus Ashraf/Rediff.com spoke to political observer Ajay Kumar Saxena , below, to understand why Trivendra was replaced with Tirath a year before the state goes to polls.
It is the first time that a BJP chief minister has been told to resign in the Modi-Shah era. Was Trivendra Singh Rawat so inefficient?
In politics, one needs to be well behaved and listen to everyone. This was the worst quality of Trivendra Rawat. He was not cordial and had an attitude.
It is not that previous chief ministers of Uttarakhand have not been replaced, but what is surprising is that this time they (the BJP) had 57 MLAs out of 70 and still the chief minister was being replaced.
Another surprising thing is that Trivendra Rawat had an RSS (Rashtriya Swayamsevak Sangh) background and the BJP is known to be a disciplined party. That too (he was removed) in the fourth year of his rule.
What about the corruption charges? Was that a problem for Rawat?
It was just a charge and the high court accepted it and said the charges must be probed by the CBI (Central Bureau of Investigation).
One journalist had accused him of accepting a bribe to appoint someone to a post in Jharkhand when Rawat was the BJP in charge of that state. Soon after, that the journalist was charged with sedition.
The case went to the Supreme Court where he (the journalist) got a stay on the high court ruling. All this has been written in the media.
Why is it that no BJP chief minister of Uttarakhand has been able to complete his full term since 2000 when the state came into existence? Be it Nityanand Swamy, Bhagat Singh Koshiyari or B C Khanduri, even Ramesh Pokhriyal?
Congress leader N D Tiwari completed his five-year term as Uttarakhand chief minister, but in the BJP there are many ambitious leaders within the party.
Once they appoint anyone chief minister, others group up to throw that leader out.
With so many factions, does it become difficult for the BJP high command in Delhi to satisfy the various groups within the local BJP?
In politics one has to listen to people and do work for the people. The problem with (Trivendra) Rawat was that he thought what he is doing is right. He stopped listening to others.
Do you think the new chief minister will be able to make gains for the BJP in next year's assembly elections?
Yes, of course, because he has come from student politics. He is a grassroot leader. He has no airs. He is a good administrator and he listens to everyone.
They are expecting that their party will come out with flying colours in next year's assembly elections.
Is the BJP not trying to repeat the mistake of Jharkhand where they did not listen to dissident leaders against then chief minister Raghubar Das and went on to contest elections, only to lose?
Politicians have to understand that their image precedes them. When there was a survey of chief ministers, Trivendra stood last. Even if you do good work it does not matter in politics, what matters is your image. You have to have a good image in politics.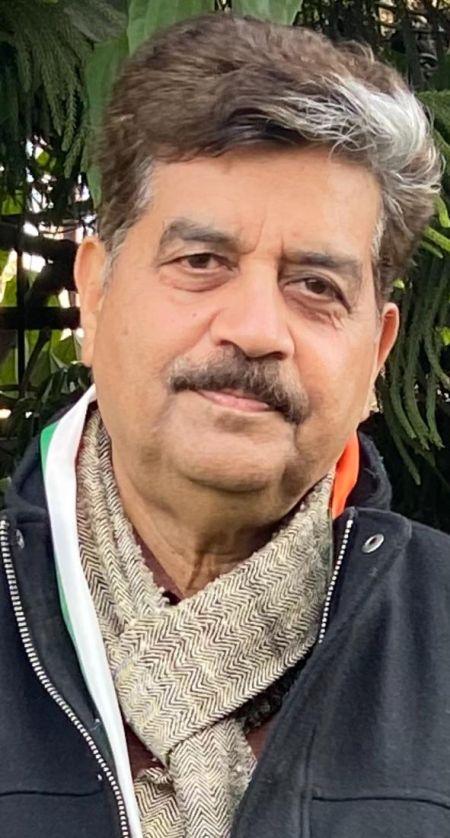 Why did Trivendra Rawat want the Char Dham management, including Kedarnath and Badrinath, under state control?
The Vishwa Hindu Parishad was very upset because of this move. He did everything on his own. He declared Garisain as a commissionerate. (This was the third commissionerate after Garhwal and Kumaon). Trivendra thought that he had to take things in his hand to promote tourism in the state.
Why was Trivendra Rawat, who could not win a bypoll in 2014, chosen as CM? Is it because he was close to (currently, the Maharashtra governor) Bhagat Singh Koshiyari, who is an influential political leader from Uttarakhand?
It is because Modi and Shah thought that those who are from the RSS will become chief ministers. This is how Manoharlal Khattar became chief minister of Haryana and Trivendra Rawat became chief minister of Uttarakhand.
He never had any mass base. He only got the job because he was an RSS pracharak. In the Uttarakhand election, the BJP won so big in 2017 and that was due to the Modi wave. They did not see any big leader within the BJP in Uttarakhand then.
Tirath Singh Rawat has now become the CM. However, many political pundits were expecting Union Education Minister Ramesh Pokhriyal to become the CM. Why was Tirath Singh chosen?
If they had done that, then the education minister's job would have been vacant. The Haridwar Lok Sabha seat too would have seen another election if Pokhriyal would have become chief minister.
They also had to balance the Brahmin-Thakur politics of Uttarakhand. Moreover, Tirath's name in politics was clean. Politics is like many scorpions in one bottle.
Tirath was not in the race for CM. Other names like Ajay Bhatt and Pokhriyal were in the forefront, but then his name was announced all of a sudden.
What message do you think Modi andShah are giving to BJP workers in Uttarakhand?
Modi-Shah saved a revolt in the Uttarakhand BJP. If they had not changed the leadership, one section would have parted ways with the BJP for sure.
Will the Congress benefit from this?
They are fighting with each other even though they are in the Opposition. Each Congress leader is playing their own drums and that too when they are out of power.
Harish Rawat is playing his own tunes and so is Pritam Singh. They all think that they are contenders for the chief minister's post.
Congress leaders of Uttarakhand have the philosophy of that advertisement, '[Uski kameez meri kameez se safed kaise.'