'The Pakistani defence minister talks of throwing a nuclear bomb on India. And if someone throws ink on your face, you call it violence?'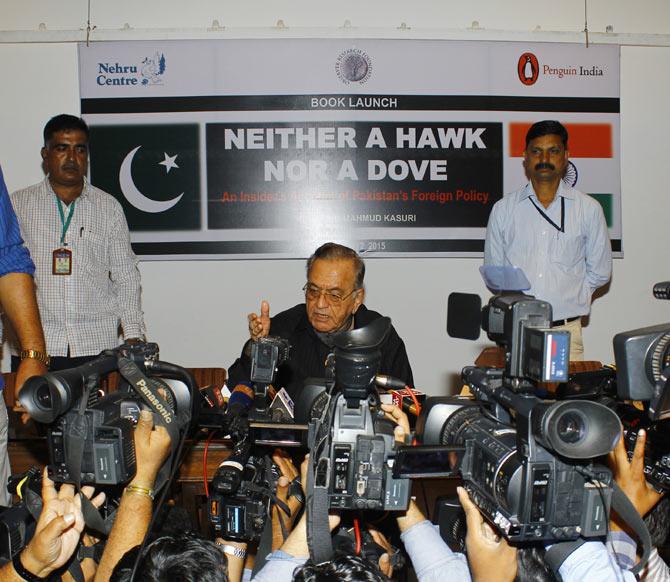 Shiv Sainiks on Monday, October 12, morning flung ink at Sudheendra Kulkarni, chairman of the Observer Research Foundation, to protest the launch of former Pakistan foreign minister Khurshid Mahmud Kasuri's book Neither A Hawk Nor a Dove: An Insider's Account of Pakistan's Foreign Policy, which was being hosted by the ORF, and demanding its cancellation.
Only last week, the Shiv Sena held out a threat to the legendary Pakistani ghazal artiste Ghulam Ali, forcing him to cancel his concert in Mumbai.
Clearly, the Shiv Sena, partner in the Maharshtra government along with the Bharatiya Janata Party, has chosen to play the Opposition's role in the state, even if it embarrasses its alliance partner.
Speaking to Syed Firdaus Ashraf/Rediff.com, the Shiv Sena's Rajya Sabha member and editor of its daily newspaper, Saamana, Sanjay Raut defends the attack on Kulkarni.
Asked about the BJP, Raut says: "I know what kind of statements (Chief Minister) Devendra Fadnavis made when he was in the Opposition. Today he is making different statements."
Earlier, Raut termed those supporting Kasuri's book launch event 'intellectual Kasabs.'
You are calling those organising Kasuri's book release event 'intellectual Kasabs.' That is such a harsh thing to say!
Some people don't understand the sentiment of our country and are becoming agents of Pakistan. These people don't understand why we are only against Pakistan in spite of the fact that we have other Islamic countries as neighbours, why our people are so angry with Pakistan. Why don't they understand?
For the last 50, 60 years Pakistan is doing terrorism and violence in our country. You don't call that violence, but only when ink is thrown in your face you talk of violence.
If this is violence, then what is happening in Kashmir, is that not violence?
Every day our soldiers are dying and civilians are under attack. In Mumbai terrorists like Ajmal Kasab enter and kill our people and policemen.
The Pakistani defence minister talks of throwing a nuclear bomb on India. And if someone throws ink on your face, you call it violence?
Please change the definition of violence.
So we should not talk peace with Pakistan.
We cannot talk peace with Pakistan. We have been trying to do that for the last 60 years. How many times will we talk peace with them?
They are saying that Kasuri is a different man today. Let me tell them that whenever a Pakistani politician is sitting in power he is against India.
This same Kasuri met Hurriyat Conference leaders when he was the foreign minister of Pakistan. He gave these Hurriyat guys the idea to come under one roof as that would help Pakistan.
Today, you are inviting the same Kasuri! He strengthened the Hurriyat and now you are telling me Kasuri is different. This is wrong. Pakistan is Pakistan.
Kasuri says the two nations were close to solving the Kashmir issue, and he has written about it in his book. Why are you opposing the release of the book? Don't we have the right to know what happened?
All this intellect they get only after leaving power and coming to India. My advice to Kasuri is you say the same thing sitting in Pakistan. He says Kargil was a mistake. It will be better if he sits in Islamabad and says such things. He does not need to come to India. We can hear all these things from there.
And our agents of Pakistan, what do they think? Kya yeh desh mara hua hai? Yeh desh, zinda desh hai (are we a dead nation? No, we are a living nation).
Pakistani agents? That is too grave an allegation.
You see how Pakistanis say they will take Kashmir away from India and that they will break up India. And these people say we will hold Kasuri's programme by hook or by crook.
Why use violence against Mr Kulkarni?
This was a very mild reaction. To throw black ink on such people is a very mild reaction from our movement.
Since you talk of violence, we have seen (Pakistan-inspired) violence in Delhi, Mumbai and Kashmir. Maybe, Kulkarni is not aware of that.
Your alliance partner in Maharashtra, the BJP, supports Kasuri's event.
Check what the BJP used to say before and what they are saying now. Today they are talking like a ruling party. This language is used by people who are in power.
What is your message to Maharashtra Chief Minister Devendra Fadnavis on this issue?
I know what kind of statements Fadnavis made when he was in the Opposition. Today he is making different statements. Fadnavis says the (Kasuri) event will happen with police security, but will not tolerate if any anti-Indian statement is made. What does he mean by that?
It means he is talking from both sides of his mouth. They call it 'double dholki' in Marathi.
IMAGE: Former Pakistan foreign minister Khurshid Mahmud Kasuri at the launch of his book in Mumbai on Monday, October 12. Photograph: Hitesh Harisinghani/Rediff.com