'The Opposition thinks since the ruling party is following Savarkar's Hindutva philosophy, they want to regain their lost political mileage (by attacking Savarkar).'
'By doing so, they think they will get their power back.'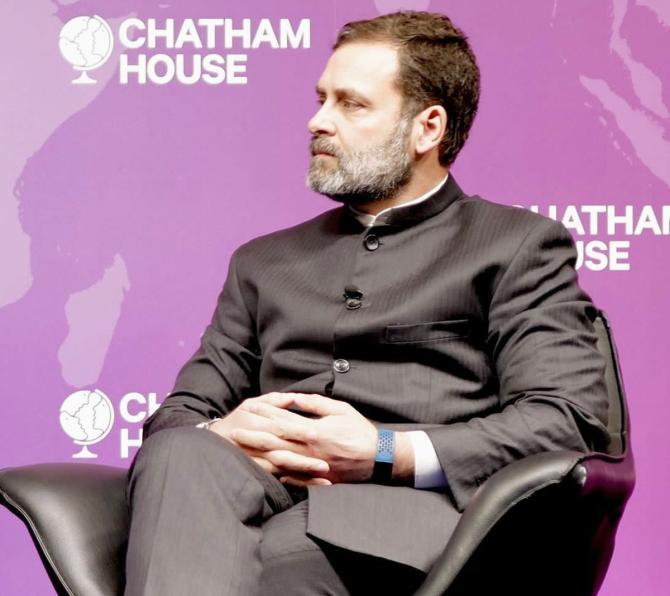 Satyaki Savarkar, Vinayak Damodar Savarkar's grandnephew, has moved a Pune court with a criminal defamation complaint against Congress leader Rahul Gandhi.
Satyaki's move came after Rahul's statements at an event in London against Savarkar, which the grandnephew feels are "false and baseless".
Satyaki's grandfather Narayan Damodar Savarkar was Savarkar's brother .
"I am filing this defamation case because I am a blood relative to him," Satyaki tells Syed Firdaus Ashraf/Rediff.com over the telephone.
"Many of my friends and colleagues have started asking me about the legacy of Veer Savarkar and about his contribution to the freedom struggle. And when Rahul Gandhi makes such statements, it is defamatory to us as a family and insulting," he adds.
Rahul Gandhi has been speaking against Savarkar for years now, so what prompted you to file a defamation case against him now?
Rahul Gandhi's speeches against Veer Savarkarji has reached the masses. He is all the time talking about his mercy petition and pension, whereas the truth is that the masses know these allegations against him are not true.
This time Rahul Gandhi said in London that Savarkar along with 5-6 friends beat up one Muslim man and that scene was enjoyable to him. He further said that this act of Savarkar, which he wrote about, was an act of cowardice.
This statement of Rahul Gandhi has insulted Veer Savarkar in many ways because this incident is imaginary.
Veer Savarkar never wrote anything like this as Rahul Gandhi is stating.
If you look at Veer Savarkar's thoughts you will see that he talks about every human being should be looked up to as human first, which is above his caste, creed and religion. He was a rational thinker. He was pro-democracy.
You are saying that the objectionable part that he beat up a Muslim man is not true as claimed by Rahul Gandhi. Is that the only reason you are filing a case against him?
Yes, because this incident never happened.
Veer Savarkarji has not written about this incident in his lifetime, so how can Rahul Gandhi make a statement like this?
It is a false statement from his side.
He is creating a bad image in the eyes of the public for Veer Savarkar.
I consulted my lawyer, Sangram Kolhatkar, and we did a fact check on whether Rahul Gandhi's statement on video is true and to our surprise we found out that this video is indeed true. It is available on his YouTube channel. We confirmed it and only then filed a case of defamation against Rahul Gandhi.
I interviewed Vikram Sampath about his book on Savarkar where he has written about the incident in which Savarkar as a teenager attacked a mosque. So, it is possible that the incident referred to by Rahul Gandhi cannot be denied, isn't it?
But Veer Savarkarji has not written about this incident that Rahul Gandhi is talking about.
He never wrote that as a teenager he was enjoying the beating up of a Muslim man with 5-6 friends.
You mean to say some other author must have written about this incident, but Savarkar himself never wrote about it?
Exactly, because Rahul Gandhi says, 'Savarkarji ne kitab likha hai usme yeh likha hai -- and the fact is Savarkar never wrote about this incident.
In 1926 there was a biography of Savarkar by an author, Chitragupta. Apparently, Chitragupta was Savarkar himself writing under a pseudonym so maybe Rahul Gandhi was referring to this book?
This author Chitragupta was not Savarkar, he was someone else.
And if you go back in history no one knows who this author is, but it surely is not Veer Savarkarji.
For sure he wrote the book My Transportation For Life, but not any other book under the pseudonym of Chitragupta.
This is the allegation against Savarkar, that he wrote his own biography under a pseudonym in which he gave himself the 'Veer' title and since then became known as 'Veer Savarkar'.
This is a false story. He never gave himself the name Swatantra Veer Savarkar.
It was given to him by the public and then I believe by Vaishampayanji who called Savarkarji as 'Veer'. Later Acharya Pralhad Keshav Atre called him 'Swatantryaveer'.
Have you read this book by Chitragupta on Savarkar? Is there any mention in it about the beating up of a Muslim man which Rahul Gandhi has mentioned?
No, I have not read this book. Moreover, this book is not written by Veer Savarkar, so how can Rahul Gandhi make such claims about the Muslim beating incident?
When Indira Gandhi praised Savarkar after his death, how did he get the tag of a coward?
It is due to Mani Shankar Aiyar in 2004. He (as petroleum minister) removed the plaque commemorating Veer Savarkar at the freedom fighters memorial in Andaman's Cellular jail where he was imprisoned by the British.
He then started this campaign on Savarkar's clemency petition and sustenance allowance. I believe he did it because Savarkar coined the word 'Hindutva'.
Now, we have a pro-Hindutva government at the Centre and the Opposition thinks that since the ruling party is following Savarkar's Hindutva philosophy, as he is the father of Hindutva, then they want to regain their lost political mileage (by attacking Savarkar).
By doing so, they think they will get their power back.