'It's better to part ways on a happy note than staying together nursing hard feelings.'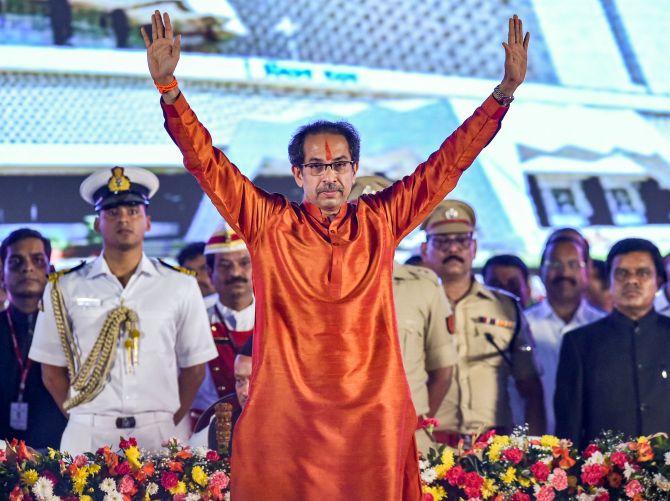 Ashok Shinde -- the three-time Shiv Sena MLA from Hinganghat in Maharashtra's Wardha district -- quit the party and joined the Congress.
"The Shiv Sena doesn't need an honest worker like me in the party today. These things happen when the party welcomes new people from all around," Shinde tells Prasanna D Zore/Rediff.com.
You quit the Shiv Sena last month and joined the Congress on August 3. Why?
Why shall I not? Does anybody have any problem with my entry in the Congress?
Isn't the Congress a constituent of the Maha Vikas Aghadi (MVA, the three-party government led by the Shiv Sena and also consisting of the Nationalist Congress Party and Congress)?
If the Shiv Sena can accept partnership with the Congress for running the government, then why should anybody have any problem with me joining the Congress?
Why did you quit the party who you represented thrice as an MLA from Hinganghat, Wardha, and which once made you a minister of state in the Manohar Joshi government?
I think the Shiv Sena doesn't need an honest worker like me in the party today. These things happen when the party welcomes new people from all around.
What makes you feel that the Shiv Sena doesn't need you anymore?
If you look at the newly appointed Shiv Sena leaders at the local level (in Wardha district from where Shinde belongs) and the arrogance they have been showing after taking over, the brazen decisions they took after becoming office bearers -- they could do it only when they fully know they have the backing of the senior leadership.
If their decisions are going to ruin the party's image at the grassroots level, then workers like me who have cultivated a clean image among our supporters are left with no option but distance ourselves from the party and the leaders who impose their shamelessness on us.
Are you talking about Anant Gudhe, the three-time former Shiv Sena MP from Amravati?
Yes.
Do you think he will harm the Shiv Sena's prospects in Wardha?
You will all see that in the days ahead. It won't be proper to predict the future now.
People like him survive only because of money power. They end up corrupting the party they are part of.
Shiv Sena pramukhanchya charni basun aamhi he shiklo nahi (This is not what we learnt at the feet of Shiv Sena chief and founder Balasaheb Thackeray). The familial bonds we have shared with him and experienced during his reign are sorely missing today.
Now, they want party workers who can fill fuel in their luxury cars, make arrangements for alcohol and mutton, and spends lavishly on their lifestyles. Ordinary workers like me have no respect in the party today.
Are you saying that Uddhav Thackeray is soft on leaders like Anant Gudhe?
I will not comment much on this issuem but I think he (Uddhav) has been very busy coping with disasters facing the state. I think running the state must not be leaving him with much time and space to look into party matters. I am not at all blaming him given the responsibility that he is shouldering.
Did you bring the issues you have been facing to Uddhav Thackeray's attention?
I have written to him about all the problems plaguing the party in Wardha and have sent letters to him through Anilbhau Desai, Gajabhau (Gajanan) Kirtikar (both senior party leaders). Unfortunately, I did not get any response from him (Uddhav Thackeray).
Perhaps, one reason could be that some people against whom I have complained must not have allowed my letters to reach him.
I am a farmer, not a businessman like others. I can't afford to visit Mumbai four times a month and highlight the problems of the region or humiliation heaped on ordinary leaders in the region.
People who visit Mumbai every week (from Wardha) are the people earning through illicit means and have the shamelessness to manipulate the feelings of ordinary workers.
Why did you choose to join the Congress after quitting Shiv Sena?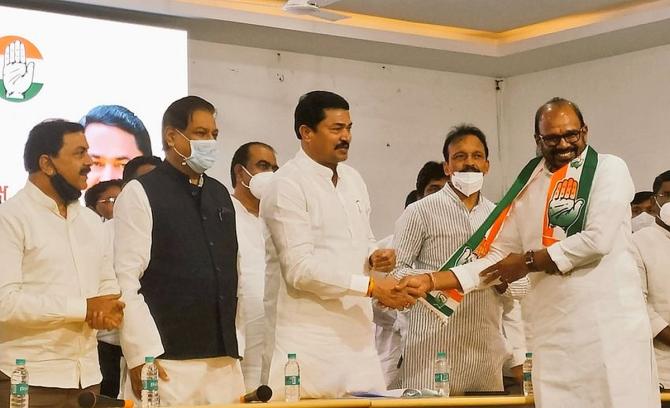 My father and mother belonged to the Congress; my family has traditionally been Congress-wadis.
We had rebelled against our own families for the love of Balasaheb Thackeray and shouldered the responsibility of expanding the party's base at the grassroots.
I have no regrets of joining a party which my parents had always supported. Joining the Congress was the easiest choice.
The Congress is one party that sincerely believes in taking all sections of our society together and that is the need of the hour too.
We need Ram, but we need Shabri's Ram (a leader who is compassionate about the welfare of the poor, downtrodden and the minorities). Our nation needs uplifting on a gigantic scale. Other parties do not have these qualities and that is what attracted me towards the Congress.
You will be unfurling the Congress flag in Hinganghat from where you were elected thrice as a Shiv Sena MLA. Won't you feel bad about working against the Shiv Sena?
I worked as a Shiv Sainik for 33 years in the region. I will feel bad about it. If you are the one who laid the foundation (of the party), built plinths, staircases, and built a strong home, then you get your brothers married and have their families raised in the same house.
Then some issues crop up and unwillingly you have to step out in search of a new house. But then that is fine. It's better to part ways on a happy note than staying together nursing hard feelings.
How do you look at Maharashtra Congress President Nana Patole's leadership style?
It is important to act aggressively on issues that are close to your heart. Have you seen labourers lifting huge electric poles or digging deep pits? They can't summon their energies without being aggressive or shouting aggressively. One has to show some aggression while fulfilling such heavy duty tasks. Such aggression helps people around you prepare for difficult battles ahead.
Do you have any message for the Shiv Sena and Uddhav Thackeray?
No. He is Maharashtra's chief minister and a successful chief minister at that among other CMs in the country and I am definitely proud of him. Like many, I also respect him as an able administrator.
The Congress too is part-and-parcel of the same government.
After Uddhav Thackeray becoming chief minister, many leaders from the Shiv Sena have quit the party to join the NCP or Congress. Is it because of weak party leadership?
People like Gudhe are responsible for loyal party workers leaving the Shiv Sena. These leaders make sure that people like me don't get a chance to have their voices heard by the party leadership. It is important (for party leaders) to step up to find out the reasons why sincere party workers are leaving Shiv Sena.
I think saheb (Uddhav Thackeray) will look into these matters soon enough. They too must be seeing what is happening on the ground and in areas far away from the state's capital.
Is it possible that Uddhav Thackeray is focused more on running the MVA government than running party affairs?
It is only natural (given his position as Maharashtra chief minister). Running a three-party government is not an easy task.
To that add, political machinations of its opponents (the BJP) that is trying every trick to ensure the MVA government falls and natural disasters that the state has been witnessing since he took over. It requires huge energy to show best efforts at the government and party level.
I must say that he (Uddhav Thackeray) is indeed weathering far too many storms very bravely. He is working very effectively and with strength as the chief minister.
But isn't the party getting affected because of this?
He might have been giving less time for party affairs, but I am sure he will soon make amends. I am sure instead of me saying anything on this issue, he must be himself taking note of it.