'Nitish Kumar's government has proved during these floods that it is a helpless government.'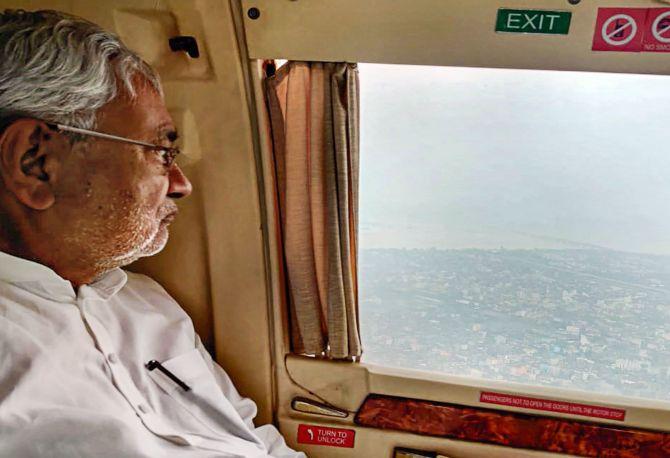 Last fortnight, incessant rains wreaked havoc in Patna, flooding the capital city of Bihar and throwing life out of gear.
Many localities in the city were submerged in chest deep water and disaster response forces rescued thousands stranded in their homes, including Deputy Chief Minister Sushil Kumar Modi.
Amid the gloom and despair, one politician was seen riding on a tractor through the flooded streets of Patna, distributing relief material and rescuing stranded people wherever he could.
Rajesh Ranjan, popularly known as Pappu Yadav -- a former MP who was defeated in the 2019 Lok Sabha election from Madhepura, a seat he represented twice -- was said to be the only major politician of the state to be seen among the people when they needed help.
The 53-year-old chief of the Jan Adhikar Party led a team of dozens for relief and rescue work in Patna, often wading through waterlogged localities.
Using a JCB machine, a tractor, a four-wheeler or a two-wheeler as the situation demanded, Yadav and his team rescued people from the worst-hit areas of Rajendra Nagar, Kankarbagh, Kadam Kuan, Patliputra Colony, Gola Road and Bazar Samiti.
He also reached out to several girl students confined to their hostels and helped them by providing food and got them out safely.
Local newspapers and channels described him as 'the only leader vigorously engaged in rescue and relief distribution' and made him out to be a hero.
Yadav, who was earlier with Lalu Prasad Yadav's Rashtriya Janata Dal, was sentenced to life imprisonment for his involvement in the murder of Communist Party of India-Marxist leader Ajit Sarkar in Purnea district in 1998.
In 2013, he was acquitted by the Patna high court. He has repeatedly claimed that political opponents had framed him in the case.
Pappu Yadav spoke to Imran Khan in Patna before going out to a waterlogged rural area with a tractor full of relief materials, including cooked food, fresh water and medicines.
What prompted you to help flood victims in Patna for days at a stretch when most of the leaders from the ruling National Democratic Alliance and Opposition Grand Alliance were missing or unavailable?
My first and last concern was to help the people in time of need. When people were suffering, how could I close my eyes and ears?
Whatever little I did and am still doing for the victims in Patna and neighbouring areas is simply sewa (service).
It is humanitarian service without expecting anything in return.
I have been doing it for over two decades in flood-prone Kosi in north Bihar and the Seemanchal region.
As for the first time in recent decades, thousands of people suffered in Patna due to man-made floods, my work, help and sewa were noticed and highlighted.
This is nothing new for me. I will continue this in future also.
I had visited Bhuj in Gujarat in 2001 after the earthquake with relief material and had donated Rs 4 crore to the PM's relief fund after the worst Kosi floods in 2008 when I was lodged in Tihar jail.
You are being hailed as the only politician helping people in the waterlogged areas.
Look, I am not a mere politician. For me politics is sewa.
I have been doing whatever possible to help people -- rich and poor.
Patna is the centre of power. Those who run the Bihar government live here. But when thousands of people, including the elderly, women and children were crying for help; for water, milk, and foods; for mosquito repellents and sanitary pads, after their houses were inundated, these leaders were missing.
What was shocking that even Opposition leaders preferred to stay indoors.
This is a reality today. Vidura's niti (of truth and welfare) is not followed in politics, Chanakya's niti is in practice instead.
Politicians are guided by vested interests. They are not interested in serving people in the time of crisis.
Today, leaders are talking one thing and doing another. They did not want to be in direct contact or eager to meet with common people, particularly the poor.
They are deliberately maintaining a gap as like feudal lords in modern democracy.
For me, society comes first, followed by the family. My own interest comes last. I am not a power-seeker.
What was your experience helping people in flooded areas? You also waded through chest-deep water in many cases to reach out to them, handing over water bottles and food packets.
The situation was the worst in Rajendra Nagar, a posh locality where senior BJP (Bharatiya Janata Party) leader and Deputy Chief Minister Sushil Kumar Modi was also stranded at his residence for three days and was rescued along with his family by an NDRF (National Disaster Response Force) team.
Despite having the entire government machinery at his disposal, Modi left his neighbours at the mercy of God. He did not bother to visit them and inquire about their safety and well-being after he was shifted to his official residence in the high security zone near Chief Minister Nitish Kumar's official residence.
Modi's neighbours in Rajendra Nagar informed me that he had disappointed them and exposed his selfish nature.
A stranded resident, not far from Modi's house, narrated a painful story of how the deputy CM ignored a cry for help from a child and his parents when he was being rescued.
Modi could have helped the child, but he hardly bothered to do it.
It is really shameful and I have no hesitation to say that such leaders do not deserve to be in top Constitutional posts.
What can people in trouble expect from such a leader?
If he failed to help his neighbours, how will he help people across the state? There was no risk for him. Had anyone seen him wading through the water?
I also provided relief material to caretakers, drivers and security guards at Modi's residence. One can imagine how serious he was about helping people.
What about Nitish Kumar? He is being blamed for the worst-ever flooding of Patna city.
Nitish Kumar is in power since 2005, except for a brief hiatus in 2014.
What happened in Patna recently was purely a man-made disaster. Drains were clogged, pump houses were not working and there was no preparedness to face such a situation.
Consequently, after heavy rainfall for 60 hours, the entire Patna was flooded.
Where was Nitish Kumar for four days when people were fighting for survival?
Nitish knows how to get votes. He has been seeking votes in the name of development and good governance. Both these claims were exposed.
His perception is no longer what it used to be among the people. He came to power exploiting fear of Lalu-Rabri rule, which is no more.
I demand a probe into the man-made waterlogging in Patna under the monitoring of the Patna high court.
The state government claimed that Rs 23,000 crore was spent on drainage and sewerage in last 15 years in Patna. It must be probed.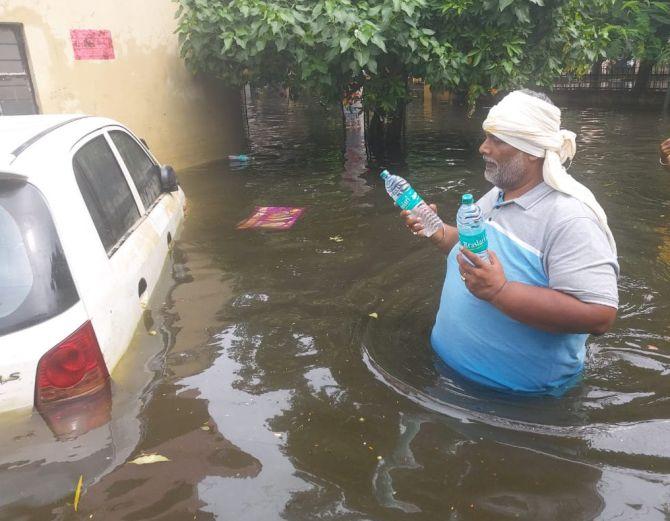 BJP-JD-U leaders say Pappu Yadav has no right to question their top leadership and government.
I am a son of Bihar, a human being and above all, known to serve humanity without ifs and buts.
Nitish Kumar's NDA government has proved during these floods that it is a helpless government. This was seen by all, thanks to social media.
I witnessed how children and elderly were crying for drinking water and milk in flooded Patna, which is a stronghold of the BJP since the mid-1990s. But the BJP leaders were not there to help them.
Where did the NDA's 150 MLAs, MLCs and 39 MPs go?
BJP MP and former Union minister Ram Kirpal Yadav fell from a makeshift boat when he was posing for a photo in a flood-affected area.
Senior BJP leader and Union Minister Ravi Shankar Prasad, who is the MP from Patna, ritualistically visited flooded areas without entering into the stinky water.
People are ashamed of such leaders. These BJP leaders have betrayed and cheated their own voters.
It is totally wrong to claim that RSS (Rashtriya Swayamsevak Sangh) men were working for relief and rescue. I did not see any RSS man even at its state headquarters in Rajendra Nagar.
How are you managing your sewa as you call it in waterlogged areas since September 30?
Initially, I along with my party workers and leaders jumped in without sensing that the problem was a big one.
My money was exhausted on the first day itself. Then I sold my mother's land and utilised the Rs 50 lakh earned for relief work.
Later, impressed by my work, people have come forward and donated in cash and kind.
Look at how the parking space at the apartment where I live has been turned into a godown with bags of rations, food ingredients, spices, vegetables, fruits and water bottles.
More than two dozen people are busy cooking food for distribution since the last 10 days.
I have also set up three mega medical camps after the water receded as fear of an epidemic outbreak looms large. Hundreds of dengue cases have been tested positive.