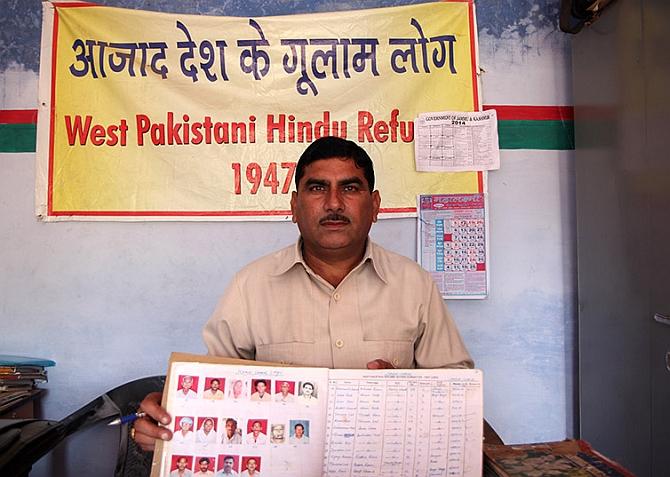 In 1947, In the wake of Pakistani aggression in Jammu and Kashmir, about 5,464 families migrated from the then West Pakistan. Since then, they have been residing mainly in Jammu, Kathua and Rajouri Districts of Jammu Division.
They are citizens of India and have the right to vote in parliamentary elections. However, they are not permanent residents of the state as per the terms mentioned in the Jammu and Kashmir constitution. They do not enjoy voting rights in the state assembly and local bodies.
Prime Minister Narendra Modi, who was apprised of the matter, promised to grant them Permanent Resident Certificates within six months.
The refugees say they are willing to give Modi and Bharatiya Janata Party chief Amit Shah time to come good on their promise.
Labha Ram Gandhi, chairman of the West Pakistani Refugees Action Commitee, spoke to Rediff.com contributor Upasna Pandey.
Why has there been a delay in the process of getting the Permanent Resident Certificates for West Pakistan refugees?
For all these years, our representatives who would go and meet the Union home minister or the prime minister, have failed to highlight our plight. So we have not seen any progress.
Till 2000, we were at least getting some government jobs, but now the state government asks for the PRC for any small or big facility or eligibility.
I am an ex-serviceman. My background would have been verified at least 3-4 times during my job tenure, but soon after my retirement, the government says my children need a PRC to be entitled for any government jobs or other entitlements.
So, we decided that we should meet the prime minister and BJP chief Amit Shah. They have promised to take up this issue on priority and sought around six months to resolve all our concerns.
Where are the West Pakistani refugee families residing in Jammu and Kashmir? What are your demands?
There are around 25,465 refugee families living across seven tehsils -- Akhnoor, Jammu, Riasi, Bishna, Sambha, Hiranagar and Kathua -- all near the India-Pakistan border.
In 1947, when the families migrated to India, there were around 5,464 families.
We do not have any voting rights in the local governance, at panchayat and state assembly elections, which means no one is willing to pay heed to our problems and resolve these.
We can vote in the general elections, but we cannot benefit from key government programmes like the Indira Vikas Yojana.
In India, we have Bangladesh and Myanmar citizens who have entitlement to many government programmes, but we don't have it.
It is also difficult for West Pakistan refugee families to engage in social commitments. People are hesitant to get into marital relationships, as we do not have any clear identity in the state.
This issue has been a bone of contention between the coalition partners Peoples Democratic Party and the BJP and in the 'agenda for alliance' the coalition had promised to take 'measures for sustenance and livelihood of West Pakistani refugees'.
There has been strong opposition from radical groups to your demands for citizenship...
There are extremist groups in Kashmir who have been opposing our demands all these years. They want to keep Kashmir isolated from all those who are also entitled to live in the state.
There is an independent MLA in Kashmir, Sheikh Abdul Rashid, who is extremely vocal about his protest each time this issue is raised in the state assembly.
But we are hopeful that the government will be able to deliver on the promises, which have been pending since India's independence. We are very positive about it.
What is your expectations from the government?
We want the government to grant us permanent citizenship and voting rights in assembly elections, civic bodies, and panchayats.
In the Assam state assembly, there are Bangladesh migrants who have been elected to represent people of the state and we don't even have the right to vote in our state.
We will wait for the next few months for the government to deliver, or else, we will have to begin a public agitation.
Photograph: Labha Ram Gandhi
Photograph Courtesy: esamskriti.com