'Everyone has to take some step in solving this deadlock -- civil society, separatist leaders, the government.'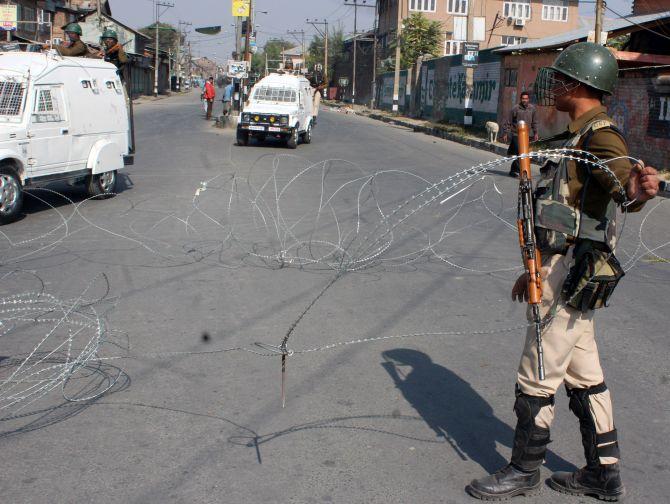 IMAGE: Curfew-like restrictions and a strike called by separatist leaders has left Kashmir crippled for 112 days. Photograph: Umar Ganie
A five-member delegation led by senior Bharatiya Janata Party leader Yashwant Sinha completed a three-day visit to Kashmir on October 27 during which it met various stakeholders to 'understand the situation' and 'share the pain' of the people.
Normal life in the Kashmir Valley has been disrupted for 112 consecutive days after the death of Hizbul Mujahideen terrorist Burhan Wani on July 8.
Amidst this gloom, the Sinha-led delegation meeting separatist leaders and other stakeholders in Kashmir was seen as a ray of hope.
Sushoba Barve, from the Centre for Dialogue and Reconciliation and a member of Sinha's delegation, spoke to Rediff.com's Syed Firdaus Ashraf.
What was the agenda for your delegation?
Our organisation -- the Centre for Dialogue and Reconciliation -- has set up a Kashmir advisory group.
Yashwant Sinha, Jairam Ramesh, Brinda Karat, Wajahat Habibullah, Professor Badri Raina, Air Vice Marshal Kapil Kak (retired) are all members of this group.
We had a meeting last week and it was decided that the ground situation in Kashmir was serious and whoever could go should travel to Kashmir.
Each of us went in an individual capacity. We don't represent any political party or group.
What did you discuss and whom did you meet?
We went to listen to the people, to share in their pain and grief.
We met all the stakeholders.
On the first day, we met several separatist leaders -- Syed Ali Shah Geelani, Mirwaiz Umar Farooq, Shabbir Shah and some other people.
On the following day, we met business leaders, writers, journalists and academics.
You met Hurriyat leaders who are responsible for the unrest in Kashmir for 110 days.
Peace has to be made on both sides -- the government as well as the separatists.
You cannot break a deadlock alone.
To break a deadlock, you have to speak to both sides. You cannot speak to only one side.
One has to explore possibilities and we had a positive response.
Let us hope that we keep continuing this interaction.
Our group was not denied a meeting by any group, be it a separatist group or civil society.
They (the Hurriyat leaders) had not met the parliamentary delegation, which had gone earlier.
We would like to build on that and continue our efforts.
Why is the Hurriyat not lifting the forced curfew? People in the Valley have suffered so much owing to this curfew.
I am sorry, but I can't say anything on this issue as the people discussed this with us in confidence.
We have to see what change happens on the ground.
Everyone has to take some step in solving this deadlock -- civil society, separatist leaders, the government.
The fact is how much do we care for the people who have died and been injured.
Have we reached out to them?
The responsibility for normalising the situation rests on everybody.
Do you think these talks will help restore normalcy in Kashmir?
Yes. We went with government permission to meet every state leader.
To that extent, the government has supported us.
Theek hai, we went in an individual capacity. It is a fact that our meeting was not sponsored by the government.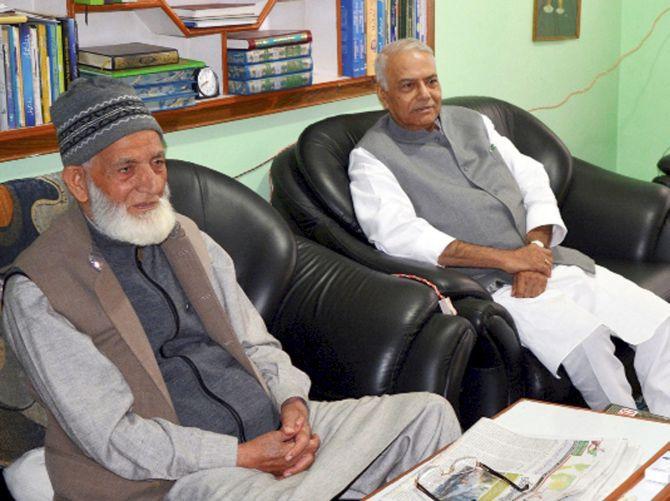 IMAGE: BJP leader Yashwant Sinha interacts with Syed Ali Shah Geelani at the separatist leader's home. Photograph: PTI photo
Did you discuss the use of pellet guns by the security forces in Kashmir?
People are upset and angry about the use of pellet guns.
Despite the fact that each party in Parliament urged the government to withdraw the guns, it hasn't been done yet.
They say if there are riots in Haryana, Gujarat or anywhere in India no such measures are used to control the crowd.
They wonder why they are subjected to such harsh action.
This is a question we as a nation and the government has to answer.
Why are the Kashmiris so angry with the Narendra Modi government?
You must ask them, why should I answer the question?
We went and stated what our aim was. We are an independent group.
We said we have humanity in our heart. We went there to share the pain of Kashmir.
I think if you go to Kashmir, you have to have the right language to reach out to the people. This is what I will say.
When will you go again?
I will not say anything on this issue. We have just come back. We will meet and decide what should be our next step.
Are you going to report your findings to the government?
We will meet people in the government also.
Are you hopeful of a solution? Do you think this deadlock will be broken?
I cannot tell you that. Only time can will say.
How can I predict anything? We have made our effort and done our bit, so let us see how things develop on the ground whether some breakthrough happens or not. That is all I can say.