'Many people thought that a Hindu nationalist party's government would take bold steps vis-a-vis Kashmir. But sadly their approach has been led by military and security priorities.'
'We would suggest to India that she initiate the dialogue following the Vajpayee model. That is the way forward. Otherwise, there is a looming threat. We are seeing educated youth joining militancy.'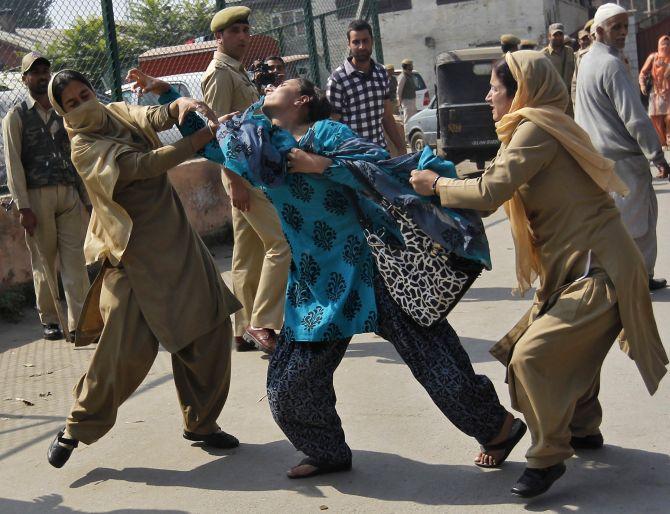 IMAGE: A protester scuffles with policemen in Srinagar. Photograph: Danish Ismail/Reuters
Mirwaiz Umar Farooq heads the moderate faction of the separatist amalgam, the All-Parties Hurriyat Conference, in Kashmir. Considered to be 'pro-dialogue' in comparison to the 'hawk' Syed Ali Shah Geelani, the Mirwaiz has led his Hurriyat delegation in several rounds of talks with the previous National Democratic Alliance and United Progressive Alliance governments at the Centre.
An influential politician and religious leader in Kashmir, the Mirwaiz feels ignored by Delhi despite his favouring and holding talks with successive governments at the Centre.
In this interview with Pervez Majeed for Rediff.com, the Mirwaiz, image, below, shares his views about the Modi government and Kashmir.
The separatist movement is now 26 years old. If you are asked to honestly list your achievements, what would you say?
I agree there are several lacunae and shortcomings in our movement. That's why I am of the opinion that this is a time when we should review our strategy. And I want that all resistance leaders should do it together.
Over the years, we have gained some experiences, got some lessons and we should learn from them. It is not enough if we just sit at home and issue press statements from there. That's not enough. We need to be on the ground with the people.
These days, you are seeking alternate ways to protest other than shutdowns. What prompted that?
I believe we need to review our strategy. When we call for protests and shutdowns, people largely take it as a day for picnics and the youth play cricket. We are kept under house arrest; most parts of Srinagar are clamped down. And it has become such a routine that our calls don't attract attention.
I do accept the relevance of shutdown as a mode of protest, but I think our purpose is not served. So in consultation with other separatist leaders, we will try to devise alternate ways to protest.
The Peoples Democratic Party is considered soft on separatists. Do you find any difference between the PDP and National Conference governments in the state?
Absolutely not. There was a perception that the Mufti (Mohammad Sayeed) government will give dissenting voices some political space. In fact, he used to chant goli se nahi bili se... (he) was advocating a level playing field for us.
But, once in power, his government too started doing what the previous one did. So it is proven now that instead of the so-called elected government, it is the police and security agencies which decide how to deal with the pro-freedom camp. Mufti's claims stand nullified.
In his regime, dissenting voices are being strangulated. Kashmir has been converted into a police state.
IMAGE: Mirwaiz Umar Farooq
Before Narendra Modi took over as prime minister, in an interview you had hoped he would move forward on Kashmir and initiate a dialogue process. Since he has not offered any dialogue so far, are you disappointed?
Of course, we are disappointed. We expected that the legacy of (then prime minister Atal Bihari) Vajpayee would be carried forward by his (Modi's) government. Vajpayee offered us a dialogue process, saying we will talk under the ambit of 'insaniyat (humanity)' rather than the Constitution. That had paved the way for India-Pakistan and Hurriyat-New Delhi talks.
We expected Modi would follow the Vajpayee doctrine of insaniyat. We had expected that the policy of Vajpayee would be revisited by the new government. Many people thought that a Hindu nationalist party's government would take bold steps vis-a-vis Kashmir. But sadly their approach has been led by military and security priorities.
Modi visited Kashmir several times, spoke of development and the youth, but didn't talk about the political aspect of Kashmir. We are not against development, but the real issue is the political one.
I think if they (the central government) want to make any headway in Kashmir, they should revisit the Vajpayee policy. They have to adopt a humanist approach.
In the past, you braved opposition and threats by other separatist groups and militants for holding talks with successive governments. Do you feel let down because you have not been invited for talks for so long?
I believe dialogue is part of resistance because through it we convey our stand to the other party. I am always in favour of engaging with India and Pakistan, because we have a strong case.
Though sadly our previous rounds of talks could not bring any results. India has to realise that she can't suppress the voices calling for a resolution; she can't push it under the carpet for long.
After 1947, the third generation of Kashmir has got aligned with this struggle. We would suggest to India that she should accept realities and initiate the dialogue following the Vajpayee model. That is the way forward.
Otherwise, there is a looming threat; Kashmiri youth are being pushed to the wall. We are seeing educated youth joining militancy. It is because of the intransigent approach of India. It is because the democratic political space for them has shrunk. They are radicalised, they are angry.
Do you mean the Centre's decision not to invite you for talks has pushed the youth towards militancy?
For some time now, we have been witnessing this new phenomenon of educated youth being attracted to militancy. It is because there are no other ways to protest.
Students at universities and colleges are not allowed to form student organisations. They are interrogated and arrested for their posts on social media.
When there is no dialogue vis-a-vis Kashmir at any level, they are disappointed. Now the ball is in India's court. I foresee new resentment and new challenges.
Do you think militancy has any role in resolving the Kashmir issue?
There is no doubt that a gun pulled out the Kashmir issue from cold storage. But I feel currently, we need to strengthen our peaceful political movement.
In the years 2008 to 2010, massive protests led by people only got international attention. So, I believe our focus now should be on a peaceful political movement. We should strengthen our struggle on an academic level.
On several occasions Islamic State flags have been waved during protests, including at the Jamia Masjid area of Srinagar, which is believed to be your stronghold.
I don't approve of that. I have been reiterating that our movement has nothing to do with the ideology of Islamic State. Ours is a public and political struggle. There are some elements, which are trying to defame us.
And, yes, there are people who in a fit of emotions endorse it without having any thought about its repercussions. Ours is an indigenous movement for political and human rights.
I don't rule out that some people are trying to push our movement towards the Islamic State type of thought, but I don't see any relevance between Islamic State and the Kashmir issue.
What do you think -- is Kashmir a religious issue or a political one?
It is a political and human issue and has to be solved with that spirit.
I believe when we talk of resolution, we have to take along the people of all regions, including Azad Kashmir (Pakistan occupied Kashmir) and Gilgit and Baltistan. People from all regions and religions have a stake.
Despite your boycott calls, people massively vote and elect their representatives. Do you agree the state assembly too has a representative character?
We can't snatch their right of representation, but that is of a developmental nature only. In their election campaigns they talk about sadak, bijli, paani issues, so let them claim that right. But about the political aspirations, it is the Hurriyat Conference which represents the people and not those people in the assembly.
Are you in touch with the Government of India at any level?
No, since the NDA government came into power, there is no official, unofficial, track-II or back channel contact.