'All is well in Visakhapatnam for now.'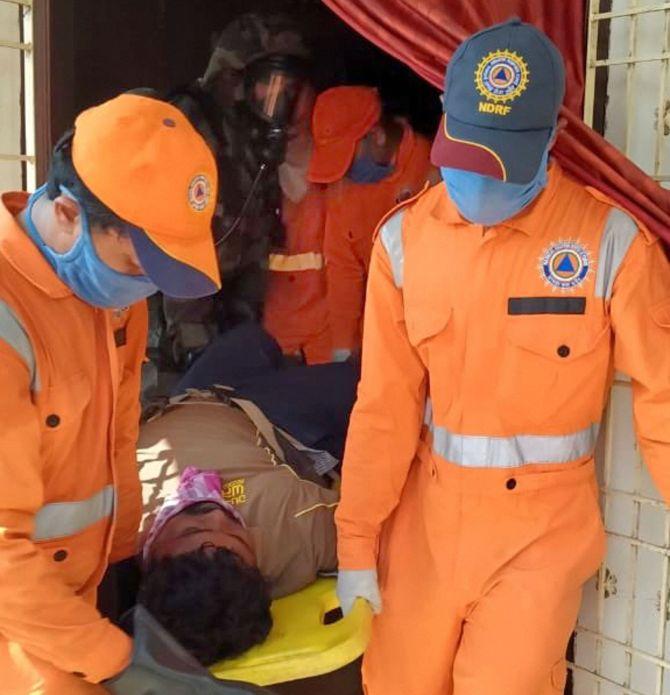 Early on Thursday, May 7, when news broke that there was leakage of styrene gas at the LG Poylmers factory in Visakhapatnam killing some people, it led to panic.
Soon, videos and photographs of people collapsing on the road or falling unconscious from the gas leak started flooding social media, reinforcing the worry on everyone's mind: Will this blow up into a Bhopal-like gas tragedy?
Prime Minister Narendra Damodardas Modi tweeted at 10.02 am, 'I pray for everyone's safety and wellbeing at Visakhapatnam.'
At press time the death toll from the styrene gas leak is eight, with more than a hundred admitted to hospital.
Dr B K Naik, the district hospitals coordinator, Visakhapatnam, spoke to Syed Firdaus Ashraf/Rediff.com and assured everyone that the situation was very much under control and there is no way one can compare this accident with the Bhopal gas tragedy of 1984 in which over 3,000 people perished and whose effects are being felt even today.
Around 4.30 am, we got the first phone call stating that there was a gas leak at LG Polymers and the situation was getting serious.
Immediately, we started organising all ambulances in the district and started sending them across to the factory and nearby areas.
There were many people lying unconscious and many of them were facing dyspnea (shortness of breath) and we got all those patients admitted to different district hospitals. Some patients went to private hospitals on their own.
After reaching the hospital we found that besides dyspnea, the other problems patients were facing was nausea, reeling sensation or some of them were suddenly becoming unconscious.
Luckily, the administration was able to stop the gas leak from the company soon, therefore the number of patients didn't increase.
By 1.30 pm we got 255 patients admitted in all the district hospitals. I don't know the number of patients admitted in private hospitals and small nursing homes across the districts.
We are trying to collate the data of private hospital patients and by evening we will get a clear picture as to how many patients were affected by the gas leak.
Right now, the condition of every patient is okay and they are recovering well. Every patient who was brought alive to any government district hospital is doing well and is undergoing treatment.
Unfortunately, we could not save eight lives as they had already passed away before reaching the hospital but then again this is the figure from government hospitals at 1.30 pm.&
On social media people are calling this as another Bhopal gas tragedy. The Visakhapatnam gas tragedy is NOT like Bhopal gas tragedy as the situation is completely under control now.&
The intensity of the gas leak and deaths were too high in Bhopal while here timely action has saved lives.
All is well in Visakhapatnam for now.