'Every religion is sacred and beautiful. There's no reason for people to hate each other because they practise different faiths.'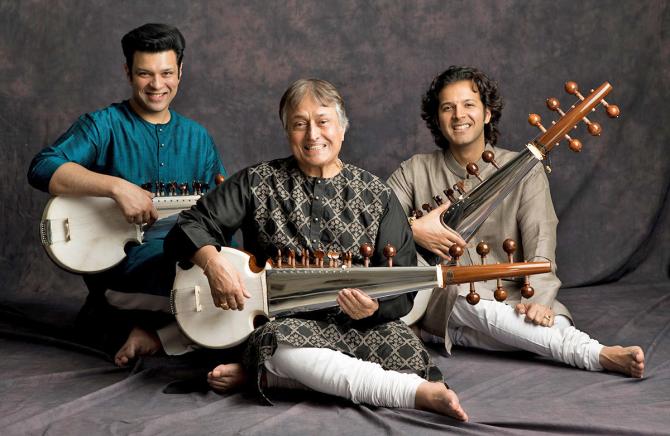 Ustad Amjad Ali Khan, born into the illustrious Bangash lineage, gave his first rendition when he was just six. Since then, he has become an institution in the world of music and is the recipient of the Padma Vibhushan, the UNESCO Award and UNICEF's National Ambassadorship, among several other honours.
This year, on the occasion of Republic Day, the sarod maestro and his sons, Amaan Ali Bangash and Ayaan Ali Bangash, bring us Mahatma Gandhi's favourite bhajan, Vaishnav jana toh.
The three-minute rendition, released by Panorama Music, celebrates 75 years of India's Independence: You can watch it here (external link).
Ustad Amjad Ali Khan, in a conversation with Rediff.com Senior Contributor Roshmila Bhattacharya, explains the power of music, insists schools should begin the day with the seven musical notes and reveals the 'gift' the pandemic gave him.
In 2018, on Mahatma Gandhi's 150th birth anniversary, you and your sons performed at the UN Day Concert, along with the Refugee Band conducted by Lindiya Yankovskaya. The theme was Traditions of Peace and Non-Violence.
Yes. I was also awarded the Gandhi Memorial Medal by UNESCO's director general in Paris on Mahatma Gandhi's 125th birth anniversary.
I played Raag Bapukauns, which I had created especially for him.
You could have created another raag this time too. Why did you choose a rendition of Vaishnav jana toh?
There are two worlds in this universe. One, the world of sound. The other, the world of words, lyrics and language.
We belong to the former where, if you are out of tune, people realise it immediately. Our world is transparent; there's no place for manipulation.
But, fortunately or unfortunately, the world of language is ruling today.
So, though we've been playing Raag Darbari and Raag Malkauns all our lives, we felt this time we needed Vaishnav jana toh, a song popular with people all over the country and the world, to spread the message of universal peace and brotherhood.
I was the first to play this bhajan on the sarod, along with Vande Mataram. I have also played the Ram dhun -- Raghupati Raghav Raja Ram -- with (the late) Ustad Bismillah Khansahab at concerts.
With the dawn of the 21st century, we had believed there would be peace, harmony and togetherness in the world; instead, we are fighting each other on the grounds of religion and race.
We need people like Mahatma Gandhi and all those freedom fighters, thanks to whom we are celebrating 75 years of India's Independence, to help us realise the dream of a united world.
You have never differentiated on the basis of religion.
No, in our family, we respect all religions.
My wife Subhalakshmi and I, Ayaan, his wife Neema Sharma and their sons Zohaan and Abeer, Amaan... all of us believe that we belong to every religion in the world.
This is something I've never read or even heard anyone say.
Our family believes that every religion is sacred and beautiful; it's a way of life. There's no reason for people to hate each other because they practise different faiths.
Neighbouring countries should not try to harm each other because, in a crisis, it's good neighbours who come to help.
Like water, fire, air, flowers, fragrance and colours, music doesn't belong to any religion. Be it Indian, Chinese, European or folk music, the sounds and the seven notes are the same. It is language that makes them different.
Even at home, it's a line that tells you if the music is from Punjab, Rajasthan, Gujarat or Bengal.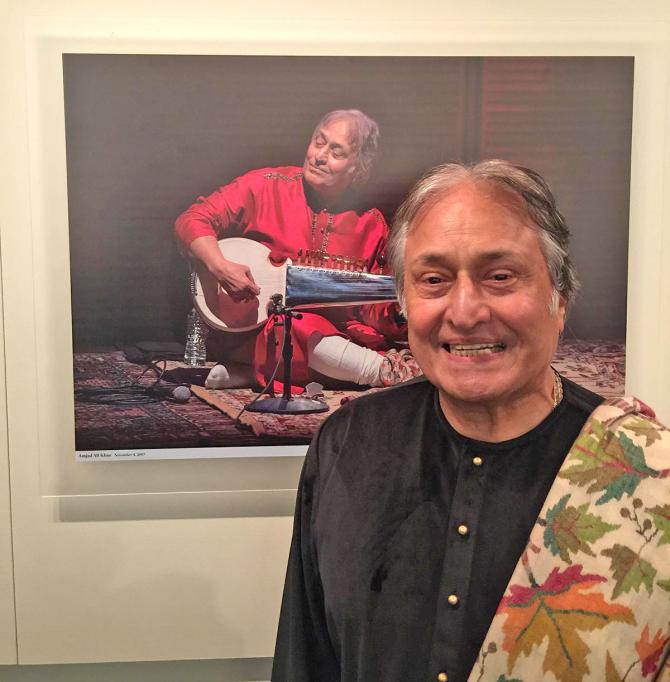 What, according to you, is the reason for the discord and disharmony in today's world?
(Sighing) Education could not create compassion. My father and my guru (Haafiz Ali Khan) believed music is education.
Every human being is born with sound, with rhythm. The heartbeat itself is rhythm.
Music is God's gift of us. It can make cattle give more milk, help plants grow faster, even cure certain patients through music therapy.
When I was in school, my principal recognised children with creative blessings and encouraged them. Now, children enter a classroom and are told to open their notebook.
In my younger days, I performed at schools and colleges across the country.
Now, in my free time, I teach at universities like Stanford, Indiana, Washington and the University of New Mexico.
Music should be made compulsory in every school.
Most schools begin their day with patriotic songs or shlokaw; I think it should be Sa Re Ga Ma Pa Dha Ni Sa because the seven notes are connected with the sensitive cells of the brain.
Sargam is very important to nurture the mind and the body.
I pray every child, particularly every girl child, lives their dreams and achieves their goals.
Talking of the girl child, you have been championing women empowerment.
We are connected with several charitable organisations which look after the poor, particularly young girls. Child trafficking is a great social evil.
It's ironic that, despite all these organisations, women are still denied stature and respect.
In our schools and colleges, children are only asked their father's name and hardly any guru talks about his or her mother.
I've told my sons their first guru is their mother. Whenever they perform, they should introduce themselves as the children of Amjad Ali Khan and Subhalakshmi.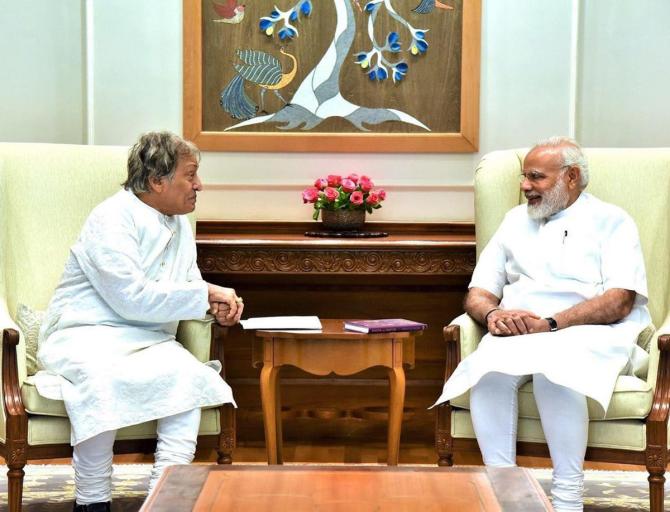 In the 75th year of India's Independence, where do you see our country going?
India's greatest message is the non-violence that Mahatma Gandhi propagated.
I'm also proud of our prime minister's efforts to make India one of the most powerful countries in the world.
Narendra Modiji has dealt with the pandemic well.
I'm praying we get rid of COVID soon because the creative world is really suffering.
For two years, musicians have been sitting at home, their concerts cancelled.
Even yours?
My sons and I collaborated with Joe Walsh on the Prayers album and with Sharon Isbin on Strings For Peace.
There were concerts planned all over the world.
We could travel to the US a few times, but we are waiting to return to London's Royal Albert Hall and the Sydney Opera House, which are institutions where every musician looks forward to performing in.
There have been virtual concerts, but there's nothing like performing in a concert hall before a live audience.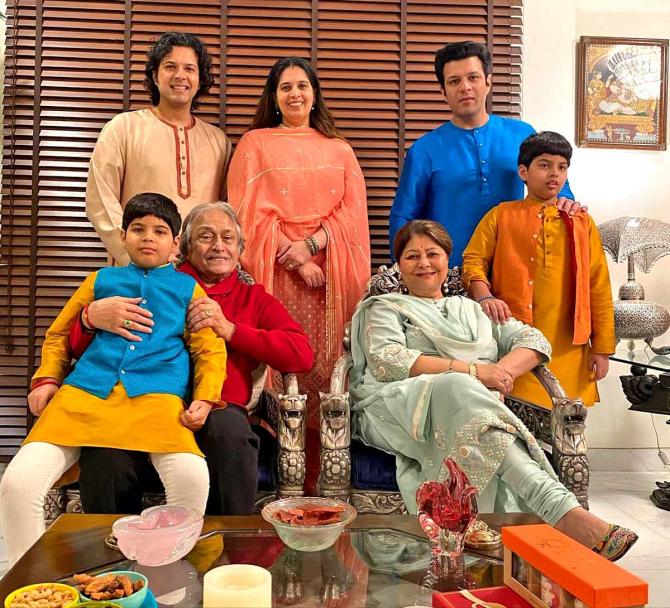 Did anything good come out of the pandemic?
Yes. Since school was shut, my grandchildren, Ayaan's nine-year twins, Zohaan and Abeer, started playing the sarod.
On my 75th birthday (October 9, 2020), they gifted me their first track, Our Love, which is there on YouTube.
It was the pandemic's biggest gift to me.
As a father, how fulfilling is it to have your sons follow in your footsteps and go on to become iconic exponents of the sarod themselves?
I'm grateful to God first for bringing Amaan and Ayaan into our lives and then for this opportunity to continue the guru-shishya parampara.
My father's disciples, including (the late) Pandit Bhimsen Joshi, lived with us in our house in Gwalior which has now been converted into a museum, Sarod Ghar, and houses all the instruments of my forefathers.
Gradually, this parampara disintegrated as gurus could no longer afford it.
But, as my sons, Ayaan and Amaan, have the right to live with their guru and I'm grateful they were around to take care of us during the pandemic.
It's also made the learning and teaching process very effective because I can teach them anytime and, together, we can rediscover the many traditional ragas I learnt in my childhood.
Before they were born, I was travelling alone. Even after they started playing, we performed separately all over the world. But the demand for three sarods is more than that for solos and duets.
You've written two books, My Father, Our Fraternity: The Story Of Haafiz Ali Khan And My World and Master On Masters.
Yes, and Amaan and Ayaan have written a book on me, Abba -- God's Greatest Gift To Us, along with 50 Maestros, 50 Recordings: The Best Of Indian Classical Music.
Any more books?
I've been writing my autobiography these last two years. At the appropriate time, Penguin has expressed their desire to release it.