'They are geopolitical, commercial, educational, cultural and about innovation.'
'Also, they are about a common value system.'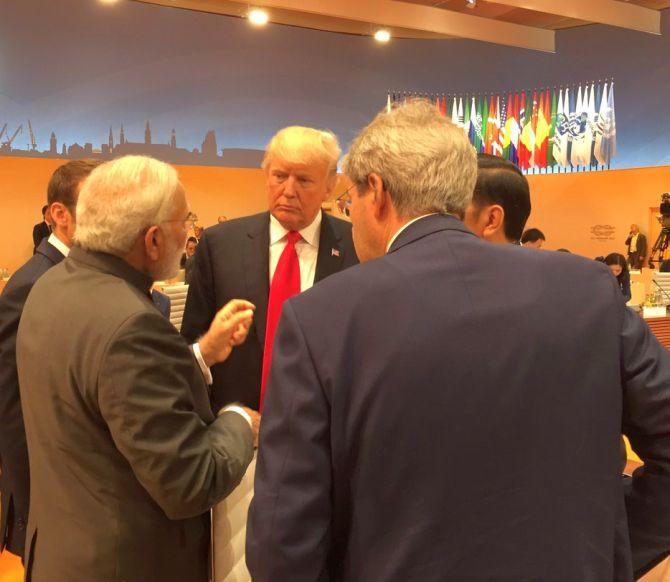 IMAGE: Prime Minister Narendra D Modi chats with US President Donald J Trump at the G-20 summit in Hamburg, July 8, 2017. Photograph: Kind courtesy Arvind Panagariya
The United States-India Strategic Partnership Forum was formed last month by 29 major companies, splitting from the larger and much older US-India Business Council that had dominated business dialogue between the two nations.
After heading the USIBC as its CEO for many years, Dr Mukesh Aghi has now been picked to lead the USISPF.
The new group includes top executives from Mastercard, PepsiCo, Cisco among others.
During a visit to Delhi, he clears the confusion around what led to the split and tells Subhayan Chakraborty about the group's plan to facilitate healthcare investments in untapped destinations such as Uttar Pradesh.
What led to the US-India Strategic Partnership Forum being created, out of the original US-India Business Council?
You have to look at the direction the US-India relationship is headed. It is not only about trade anymore, it is much deeper and broad.
They are geopolitical, commercial, educational, cultural and about innovation.
Also, they are about a common value system.
So the board felt that we need to have an organisation that focuses on all these issues.
So, we decided by a 29-0, unanimous vote, that we needed to create this entity and drive the relationship in a much stronger and deeper fashion.
How exactly does the USISPF plan on operating differently than the USIBC?
We are now an independent entity. Our board consists of CEOs and chairmen of large companies, and most of them have some form of investment in India.
So, I leverage my board in different sectors to see what policy challenges those businesses are facing so that we can inform both governments.
The second factor is my management team. I have been a CEO earlier of a multi-billion dollar company in both countries. So, I understand issues from a ground level perspective.
What are your main focus areas?
India's requirements as a nation is in two broad areas. First is job creation and the second is improving the quality of life of its citizens.
Job creation is going to come through more and more foreign investments.
The US is also looking at India pertaining to two broad areas: Economic prosperity, which is good for the United States, and that a militarily strong India is good for regional stability.
Our main focus today is on how to bring more US investments to India and assist in more technology transfers.
How do you hope to do that since there's already an inherent push against tech transfer within US firms?
Well, Boeing and Lockheed have already committed to producing in India, while technology companies like Cisco are already doing some manufacturing and a lot of advanced research in India.
Most of the companies on our board are actively looking to step up their activities in India and shore up investments.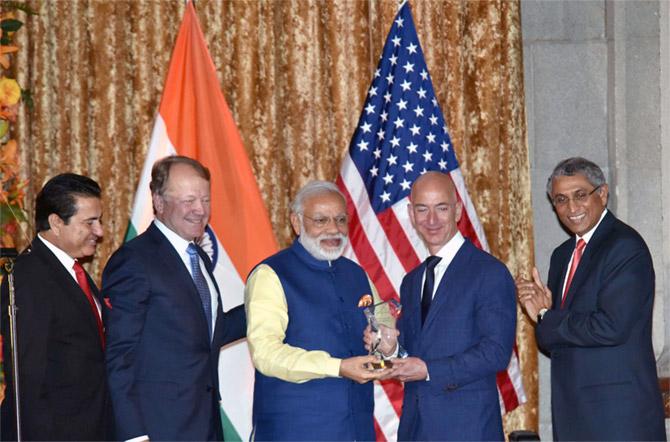 IMAGE: Then USIBC President Dr Mukesh Aghi, left, CISCO CEO John Chambers, second from left, watch Prime Minister Narendra D Modi present the USIBC Global Leadership Award to Amazon founder Jeff Bezos, Washington, DC, June 7, 2016. Photograph: Press Information Bureau
Are all the board members of USISPF working in their personal capacity since many member companies,including Board Chairman John T Chambers' Cisco, also continue to be a part of the original USIBC?
You have to understand that Cisco may be a part of the USIBC, but is represented through Chambers in USISPF.
Also, we have Anand Mahindra, executive chairman of the Mahindra Group, Charles R Kaye, CEO of Warburg Pincus, Marc Allen, the president of Boeing International.
So, the members don't have to choose between it and their original organisation?
Absolutely not. They can have memberships in both. There's nothing wrong with that.
We have set up the secretariat in Delhi with a full team, apart from once each in New York, Washington, DC and Palo Alto.
On the trade front, the US government has recently underscored the nation's significant merchandise trade deficit with India.
Given the nature of both economies and the way they operate, is there any way around it?
I feel trade cannot be dictated through artificial sets.
Global trade is defined in a way that you automatically find balance.
However, if you start manipulating your currency, then you can have a much stronger trade balance in your favour, just like what China has done with the US.
That's the reason behind all the sentiments expressed by the president (Donald J Trump). But India has remained a much more open economy.
Also, overall, India is a trade deficit nation. So, I don't think it is manipulating anything.