'Only on two occasions has the RSS thrown itself completely on the side of the BJP.'
'In 1977 in the wake of the Emergency. And in 2014 with Modi.'
'Now, I've been told that this is not going to happen in 2019.'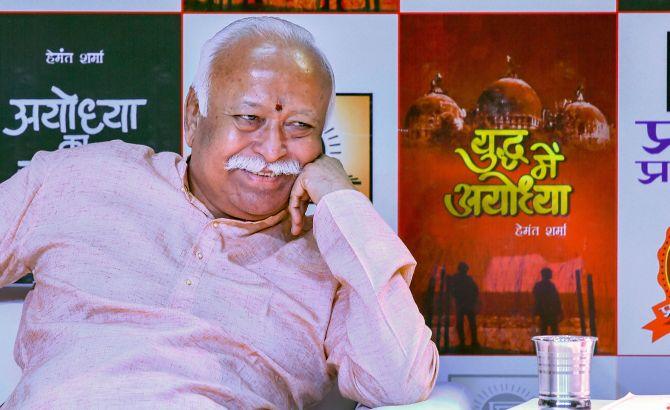 Is the Rashtriya Swayamsevak Sangh turning into a more moderate organisation? That's the question in the minds of many people after its chief Mohan Bhagwat's address at the Sangh's three-day event 'Future of Bharat: An RSS Perspective' on September 17, 18 and 19, 2018.
Walter K Andersen, senior adjunct professor of South Asia Studies at Johns Hopkins University, believes that the change is not sudden and the RSS is a very different organisation than it was two or three decades ago.
Dr Andersen's is an authoritative voice on the RSS, having first co-authored The Brotherhood in Saffron, with Shridhar Damle in 1987.
This year, the duo has followed up the book with another one called The RSS: A View to the Inside. Dr Andersen says he felt the need for another book in view of how much the RSS has changed since he wrote the first one.
"One, it is much bigger than it was before. And two, it has established an enormous range of affiliated organisations around it, which penetrate virtually all parts of Indian society. It is the only organisation like that in India," Dr Andersen tells Rediff.com's Utkarsh Mishra.
The first of a multi-part interview.
Your book shows how the RSS is changing itself in order to avoid creating trouble for the BJP.
I don't think that's a good explanation of why it's changing. Because the RSS has some differences (with the BJP), they are not the same organisations.
What I really wanted to do in writing the book was to show how the RSS has changed, and it has changed in very significant ways.
One, it is much bigger than it was before. And secondly, it has established an enormous range of affiliated organisations around it, which penetrate virtually all parts of Indian society.
That is an interesting development all in itself. It's the only organisation like that in India.
Now, that development has had some consequences.
One is it has mobilised into the Sangh family a far more diverse membership and they don't always have the same views, they sometimes represent different views.
Let me give you an example. (Take) Foreign Direct Investment. This government looks at FDI as very valuable in creating jobs, and it is a political compulsion that it has, to create jobs.
But not all parts of the Sangh family are as enthusiastic about FDI. For example, the Swadeshi Jagran Manch was organised to oppose FDI and continues to do so.
The Bharatiya Mazdoor Sangh, the labour affiliate (of the RSS), also opposes FDI, as does the Bharatiya Kisan Sangh, the farm affiliate. Because their members find that there are aspects of FDI that goes against their interests.
I gave that long example to demonstrate that what the RSS has done and is doing increasingly is to serve as a mediator (to sort out) differences among its various affiliates.
In this case, it is on the issue of FDI between the government on one hand and some of the affiliates like the SJM on the other.
And that's what we try to show in the book, that various interests are represented (by its affiliates) and how the RSS is sought to serve as a mediator.
It is very different from when we wrote the first book three decades ago. At that time, the major function (of the RSS) was 'character building', that was training in the individual shakhas.
The idea behind that was that the RSS will train young men who then develop 'character' to use that kind of 'perfected self' in perfecting India.
And behind that the RSS has always had a kind of ideological theme, which was that for this to happen, what these young men should do was to unify Hindu society.
Because that was seen as a reason for India's weakness in the past and continuing weakness now is that you have divisions in society.
Now that creates a dilemma. The dilemma which we have noted in the book was Hindutva versus Hinduism.
Hindutva is a very equalitarian notion, that people should be as equal as possible. But Hinduism is not an equalitarian notion, it has a hierarchy.
That is an issue that the RSS, increasingly, faces some kind of a dilemma on.
So are these changes being wrought to make the RSS more popular or just to be on the side of the BJP?
Well, no organisation wants itself to be disliked.
All organisations want themselves to be liked, particularly in society so that they can operate without restrictions.
Now regarding the BJP, it is interesting because when people talk about the RSS they automatically think of the BJP.
But I am reminded of what one very senior person in the RSS told me that when you talk to journalists about us, keep in mind to say that we are not a political party and we don't want to be one.
Our mission is quite different from that of a political party. We are in a kind of educational mode, whereas the political party is there to govern.
Now that doesn't mean the RSS takes no interest in policy issues. In fact we have a whole chapter on it in the book.
The chapter on the affiliates (shows) that (the RSS) is more involved in the policy process than ever before, and that's because of the growth of affiliates.
All the affiliates have programmes. The Indian government is so pervasive that it is hard to avoid interacting with it.
For example, take education. Schools have to follow state norms on what is to be taught; and there are other norms on safety, health and so on. And the RSS has an affiliate which runs, by far, the largest private school system in India.
Those schools have to conform, in order to be certified.
Now, because there's a sense of what constitutes a good education, the RSS takes advice from them and, therefore, (it) comes out with certain views on it.
Let's take agriculture. Farmers want as high procurement prices as possible, they want as lower prices possible for inputs like water, electricity etc. Now the RSS has a very active farmers' group. They want these things to happen.
Therefore, the RSS has to address these issues on their behalf within the larger Sangh family. Therefore, it is getting more and more politicised.
Another example that in some ways is more politically relevant is land acquisition and labour.
Now, many economists have argued, many in the BJP have argued that you need to liberalise the regulations in these two areas in order to grow the economy and get people to invest.
And there were proposals to have national laws on those two subjects that didn't pass (in Parliament).
A lot of people argue that it didn't pass because the Opposition was against it and I argue that no, that's not the reason; they didn't pass basically because there was huge difference within the RSS family about that.
You had the Bharatiya Mazdoor Sangh dead set against those (legislations) and the Bharatiya Kisan Sangh, and there were some in favour as well, like the BJP.
So the issue was debated.
The RSS has a system of calling groups together periodically during the year to discuss certain issues (both) at the state-level as well as at the national level. And on this one, at the national level, they couldn't reach a consensus.
So what they often do, in fact it is a typical decision making system, is to put the issue on side and come back to it.
Now on these two issues they haven't really come to a conclusion, so they had a very interesting way out of this.
On these two areas the Indian Constitution allows the states to consider legislation if the Centre allows them to do so. In this case the Centre did, and you have several states that passed labour legislation as well as land acquisition legislation.
But the reason they couldn't do it initially was because there were such basic differences within the RSS family.
Has Prime Minister Modi succeeded in making himself a bigger Hindu figure than the RSS? We saw what happened to Pravin Togadia who was becoming critical of Modi.
It is an open secret that the RSS helped in ousting Togadia, because he 'became problematic' for the RSS family. So he had to go.
The RSS family has generally not been keen on instability. They want things to be worked out among themselves. And, hence, they have these very elaborate and frequent meetings.
In fact the book begins with one such meeting held in Delhi shortly after the (2014 Lok Sabha) elections, in which various affiliates gathered to talk, for several days, about what are the major issues facing their respective organisations and then they called in government people to explain government policies on the various issues they had brought up.
And I think probably Prime Minister Modi had attended that and the rest of coordination meetings as well.
So this is what the RSS is doing. And therefore it is taking an unprecedented interest in the policy process.
Now that's different from the electoral process.
Only on two occasions has the RSS thrown itself completely on the side of the BJP.
In the first (instance) it was the predecessor of the BJP, that is the Jana Sangh. That was in 1977 in the wake of the Emergency.
And (then) in 2014 with Modi.
And the reason it did so is fear that, in both cases, the Congress party (if it wins the election) will engage in efforts to restrict its activities.
Now, I've been told that this is not going to happen in 2019.
That doesn't mean there won't be swayamsevaks who work, they always have to, in their individual capacities. And, of course, within the RSS there is certain sympathy for the BJP.
Not entirely though, there have been cases where the RSS and its membership have almost literally sat on their hands during elections.
The year 1984 is a good example.
There were a lot of people not happy with how the new BJP in 1980 was formed and so didn't take an active interest. It was not until much later that they began to get actively involved (with the process).
Coming back to the first question, every year the head of the RSS issues the Vijayadashami speech.
That is the major speech the head of the RSS gives and it is coming up in just a matter of weeks.
I met Mohan Bhagwat (recently) and he was saying that they are in the process of starting to draft that speech.
The last Vijayadashami speech was very critical of the government. It argued that the farmers were not getting their just rewards; that small business was suffering; that, too often, the decision makers were relying on Western concepts that may not be applicable in the Indian situation.
In fact I showed a copy of that Vijayadashami speech to a colleague of mine at John Hopkins University without telling him who wrote it and to whom it was addressed. He looked at it and said, 'My goodness, this is really a critical statement'.
When people tell me that the RSS is totally in lockstep with the BJP, all I do is read the last two Vijayadashami speeches. And the one that is coming up now, you will find it's actually quite critical.
The RSS is a very different kind of organisation than the BJP.
The BJP runs, like all political parties, from election to election.
The RSS has a much longer outlook; it looks a 100 years ahead. It is not dependent on passing social developments. It tries to build structures that will last generations.
Its own survival as an organisation to carry on is in many ways critical to the RSS and here we get back to Togadia.
Togadia was actually attacking the RSS in some fundamental ways. And no organisation will take this well. It doesn't like to be attacked.
Now in political parties they kick the individual out. The RSS has been reluctant to kick people out. They ease them out or they do what I call that wonderful Indian thing of outcasting.
People in Indian families don't like to kick someone out, what they do is just stop associating with them. So the RSS has a very similar way.
In the case of Togadia they had to go further. He was just becoming impossible.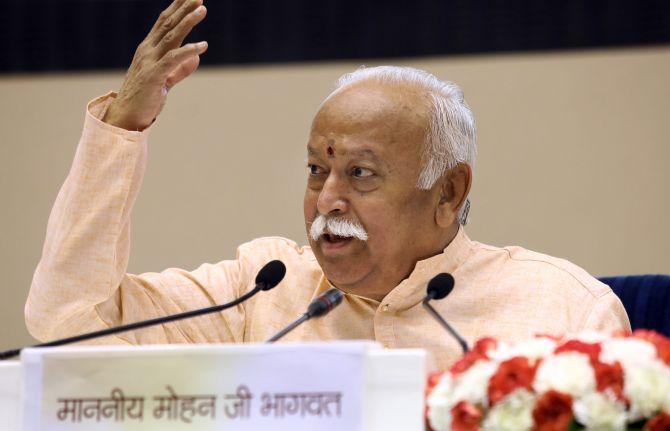 What will happen if there is a confrontation between Modi and Bhagwat in the same way as between then RSS sarsanghchalak K S Sudarshan and then prime minister Atal Bihari Vajpyee?
You write that Modi is quite popular among the RSS cadre. Will Bhagwat risk losing support in such a case?
They would both try to avoid an open confrontation. Because each respects the other, they were both born in the same year -- 1950.
In their mutual career they have crossed lines with each other. And they know that each has a function to perform.
Bhagwat knows that Modi is the political leader of India with both domestic and international responsibilities.
And Modi recognises that the RSS is engaged in the effort to train young men who will then give service to society.
But that doesn't mean they necessarily agree with each other.
One has only to read last year's Vijayadashami speech. It was a kind of lecture from the RSS to the Modi government that there are certain issues you need to pay more attention to.
And I'm told reliably that the next one is going to be similar to that.
You say the RSS won't involve itself in the 2019 election the way it did in 2014.
That's what we have been told, that they don't intend to do so.
In both cases when they did (involve themselves in elections) there was a fear that the Congress, if it came back to power, will impose restrictions on their activities.
I don't think they are nearly as concerned these days that that will happen.
But if an organisation, with such a large following, that claims to be apolitical, throws its complete weight behind a political party...
It's not totally apolitical though. The BJP, after all, is a political party. So they are obviously deeply engaged in politics.
There are quite a few swayamsevaks who like politics or engage in politics as well.
So much so that you may recall during the 2014 elections, Bhagwat had to issue statements reminding swayamsevaks were engaged in politics who seemed to be enjoying it a little bit too much, that their first loyalty is to the RSS. Not to a political party.
That's a certain tension that is there.
What I am asking is isn't it similar to a religious guru asking his followers to vote for a particular party or candidate?
The RSS membership, or sometimes the organisation, gets involved in politics where the BJP organisation is weak.
I will give you the example of the 2015 Bihar elections which is in the book. The BJP is rather weak in rural Bihar. The RSS, however, does have shakhas (there).
Important questions in any democracy are what kind of candidate should we nominate and what are the issues that people in certain area are interested in.
So what the RSS did in Bihar, and may do it elsewhere, is to provide advice that here are the issues people are concerned about and here are people who are popular who might win.
Now the BJP is in the process of organising these booth-level committees. This is one of Amit Shah's efforts.
I am told that at some places they have been successful but not so much at other places. And there you will find swayamsevaks helping it out.
But as I said, it is not necessary that this should happen. The year 1984 is a good example where most of the RSS just sat on its hands and didn't do much.
And it showed in the results, where the BJP won only two seats.