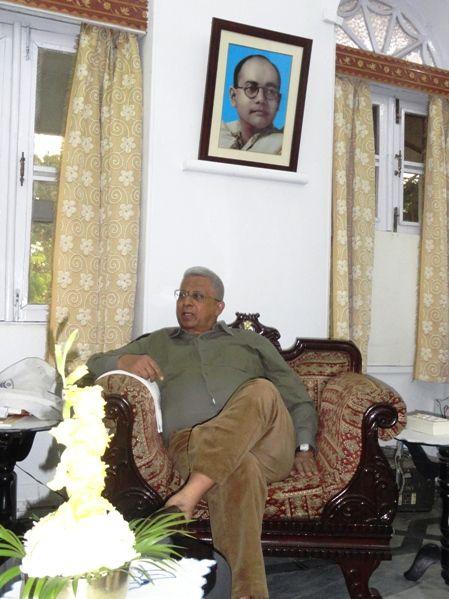 'As a governor, I have every right to speak my mind if I feel the security of my country is at stake.'
'Why is it that we would have to shed tears when Muslims are killed or tortured, but have to keep mum when the Hindus receive the same treatment?'
"I am not secular, I am a Hindu," says Tripura Governor Tathagata Roy.
The fact that this comment had stirred up a controversy a few months ago doesn't perturb Roy in the least.
For, he reasons, "We often misinterpret the word 'secular' and that creates all the trouble."
An avid reader, Roy is busy at the moment writing his autobiography.
During an informal chat with Indrani Roy/Rediff.com at the majestic Raj Bhavan in Tripura, the governor discusses his religious stand, his tweets about Yakub Memon's funeral procession, the present government's alleged intolerance among other issues.
You have always been a voracious reader. Now that you are the governor of Tripura (away from active politics), are you getting more time to read?
I am addicted to the printed word. Even when I was busy, I would read anything and everything that I came across, even a thonga (paper packet).
Our family was very close to Bengali writer Pramathanath Bishi and thanks to him (whom I called jethu), books filled up every corner of our home.
Bishijethu inculcated into me the habit of reading and analysing.
Books helped me form opinions and aided me to put an end to wrong notions.
Even when I was into active politics, I always managed to squeeze out time to read. Now, of course, I am getting more time. However, I am more of a writer now than a reader.
You are writing books now?
Yes, some time back, I had penned My People Uprooted: The Exodus of Hindus from East Pakistan and Bangladesh. It was brought out by a New Delhi publisher. Now I am busy translating this book into Bengali.
Why did you choose this subject?
Strangely, though a lot has been written about the Partition of Bengal and torture of the Muslims, nothing much has been written about the plight of the Hindus in East Pakistan and Bangladesh.
Such a partial stand perturbed me and motivated me to write this book. It will take me another six months to complete the translation.
Besides, I am penning an autobiography in English. The latter is meant for my daughter and my non-Bengali son-in-law. They are settled in the US and are not too well conversant in Bengali. My autobiography, once published, will help them understand me better (smiles).
Your brother Saugata Roy (he was in the Congress earlier and is now in the Trinamool Congress) and you have always followed different political ideologies. Has that ever disrupted the harmony at home?
(Smiles). Never. As youngsters, we used fight tooth and nail, much to our parents' chagrin. We fought last when we were in our teens. Since then, we have been good friends. Sadly, because of our busy schedule, we rarely meet these days.
We only see each other at the annual family gathering during bhai phonta (Bengali for Bhai Dooj) at our cousin's place in Kolkata.
Earlier, we occasionally bumped into each other at the dentist's, but now that doesn't happen. I have got rid of my entire set of teeth (smiles).
Now that you are based in Tripura, you get to observe Bengal politics from a distance.
I hold a Constitutional post now. And I belong to West Bengal's neighbouring state.
Hence, it will be improper for me to comment on the politics of the state.
Do you think the condition of West Bengal has improved under Chief Minister Mamata Banerjee's leadership?
The condition of Bengal has not improved in recent times. There are no two ways about it.
The condition of Bengal has deteriorated, you mean?
(Grins) Your attempt to extract a controversial comment from me would be futile as I would not make any political comment about West Bengal.
My ties with Bengal are now personal. I have a home there, a family and a few good friends. I take interest in them and not in the politics of that state.
There was a huge controversy about your tweets on Yakub Memon's funeral procession. (Soon after Memon was hanged in July, the Tripura governor tweeted -- 'Intelligence shd keep a tab on all, expt relatives & close friends, who assembled bfr Yakub Memon's corpse. Many are potential terrorists' and also 'Governors ought to be concerned abt security of state. Intelligence keeping tab on Yakub's mourners is preventing terror. Better than cure').
I think people raised a hue and cry over nothing. Memon was hanged according to a Supreme Court order, right? Then why was there so much drama? Also, people never questioned the propriety of my tweet.
They kept saying it was improper for a governor to make such a comment. This logic is ludicrous.
As a governor, I have every right to speak my mind if I feel the security of my country is at stake.
Moreover, a report published by a leading daily in early August stated that the diktat of Dawood Ibrahim and Chhota Shakeel may have been behind the huge turn-up at Memon's funeral procession.
The daily quoted its source in the Mumbai police as saying that underworld dons called up several of their associates in Mumbai and asked them to attend the funeral.
My tweet, therefore, was valid, you see!
You also tweeted that you are not secular, but a Hindu. . .
Yes, of course! The problem is that we often misinterpret the word 'secular.' The word 'secular' should mean 'bereft of religion.' It is the state of being separate from religion.
In that context, I am not secular. I am a worshipper of Goddess Kali.
Every morning after a walk, I visit the local Shiva temple and pay my respects. Shiva and Kali are Hindu gods. Therefore, I am a Hindu and not secular. What's the harm in admitting that?
We mustn't forget that the word 'secular' was never included in our Constitution in the beginning. The 42nd Amendment incorporated the term in the Constitution's Preamble.
I am not a pseudo-secular and I am proud of it.
A lot is being said about the Narendra Modi government's 'intolerance'.
Yes. We saw a lot of Akademi awardees returning their honours. But strangely, all the activities continued till the Bihar elections. After that, not a sound could be heard.
And has anyone tried to find out how many of the awardees return their award money?
Writer Nayantara Sehgal returned the money. The media has the evidence.
(Grimaces) Let's not forget Sehgal's close ties with the Gandhi family.
What did her nephew Rajiv Gandhi say during the massacre of the Sikhs in 1984 -- 'When a big tree falls, the earth shakes.' Isn't that intolerance? At times, I am tired of the present society's double standards.
People like Sehgal or actor Aamir Khan who cry themselves hoarse over India's 'intolerance' do that under some kind of duress from some quarters.
I don't support torture of the Muslims. It's despicable. But then too atrocities against the Hindus should be denounced with equal vigour. When Khaleda Zia came to power in Bengladesh in 2001, thousands of Hindus were tortured.
Bangladeshi journalist and writer Shahriar Kabir wrote many books, including Bangladeshe Shamprodayik Nirjaton, on the issue, but strangely, Indians chose to keep mum on the torture of the Hindus in Bangladesh. How many editorials have been written on the eviction of the Kasmiri Pandits in India?
Three noted Bengali intellectuals were evicted from East Pakistan -- Ashok Mitra (from Dhaka), Tapan Raychaudhury (from Barishal) and Sunil Gangopadhyay (from Faridpur).
Gangopadhyay made some mention of the incident in his famed novel Purbo Paschim , but Mitra and Raychaudhuri completely suppressed the issue in their respective autobiographies, Apila Chapila and Bangalanama. This biased attitude troubles me.
Why is it that we would have to shed tears when Muslims are killed or tortured, but have to keep mum when the Hindus receive the same treatment?
Many of us talk at length about the so-called Gujarat genocide of 2002. I don't support such heinous incidents. But hasn't there been any riot in India before 2002?
Also, the violence in Gujarat (which many refer to as genocide) was sparked off after 59 Hindu pilgrims were burnt alive. But people conveniently forget to mention this.
In Gujarat, 790 Muslims got killed and 250 Hindus were murdered.
Much before the Gujarat incident, Moradabad saw a riot in 1980 that killed as many as 1,000. In 1984, 3,000 Sikhs were butchered in Delhi.
None of these riots should have happened and people should discuss them with equal hatred. But why is it that most of us only tend to remember the Gujarat riot? My fight is against this hypocrisy.
As a governor, I am barred from speaking my mind now. But once I am out of this chair, I shall be as vocal as ever.
What is your opinion about Rohith Vemula's suicide?
Without getting into any controversy, I have to say that Vemula's is not the only student suicide that has happened in India's history. And such an incident should not be allowed to be blown out of proportion.
Do you support the arrest of JNU (Jawharlal Nehru University) student Kanhaiya Kumar?
(Pauses) Any government has the right to take an appropriate step when it feels that the security and integrity of the country are at stake.
What is your opinion about Narendra Modi as prime minister?
Everyone knows about my political affiliation prior to becoming the governor of Tripura. Now, I have to represent my state at the Centre and Modi is my prime minister as well. Hence, it would be improper for me to comment on him.
Will India ever be a superpower?
If we dig into history, we would see that post World War II, Japan and Germany were ravaged, yet they became developed nations within a short span. But India failed to keep pace with them.
Whose fault pulled India back? Indians should ask this question. They must find out which political party is to blame.
For the last couple of years, India is progressing; it's doing really well economically. The global economy at present is under pressure. Many countries are witnessing negative growth rate. But our country continues to maintain a growth rate of 6 to 7 per cent.
This is because of some positive reforms and that is commendable. If India maintains this pace of growth, I am quite certain Bharat abar jagat sabhaye sreshto ashon lobe (India will again become the best civilisation of the world).
Photograph: Noor Islam